MADSTEEZ Launches Kobe Bryant Prints to Benefit Heart of Los Angeles Charity
"Kobe's an inspirational figure beyond just basketball and this print is a way for everyone to celebrate and honor his legacy."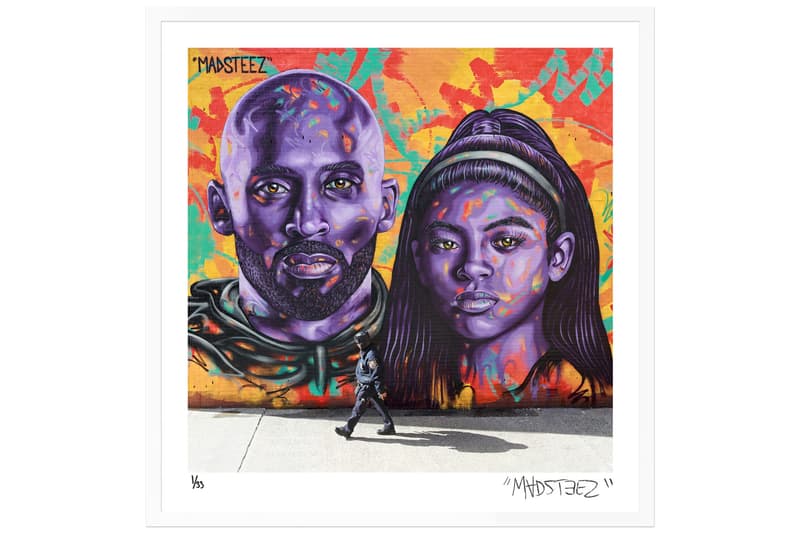 In honor of Kobe Bryant Day this Monday, 1xRUN is teaming up with celebrated NYC-based visual artist MADSTEEZ on an edition of prints featuring the late legendary athlete and his daughter, Gianna Bryant. The print portrays the artist's large-scale mural at the Yat Sen Intermediate School in New York City's Chinatown neighborhood. MADSTEEZ collaborated with East Village Walls to create the mural, chosen by the school's students, this past February.
"Today we are partnering with visual artist Madsteez to reproduce a mural he painted just weeks after the tragic death of the 18 time NBA All-Star and his daughter earlier in the year," said 1xRUN in a statement. MADSTEEZ added: "Kobe's an inspirational figure beyond just basketball and this print is a way for everyone to celebrate and honor his legacy."
Thirty percent of the proceeds from the sale will directly benefit the Heart of Los Angeles non-profit organization that has launched initiatives dedicated to after-school academic, arts, athletics and wellness programs for underserved youth. The WEENmamba 2:24 prints arrive in 16", "24" and oversized editions. Prices range between $65-$450 USD. Purchase one now on 1xRUN's website.
In related stories, Plastic Gallery celebrates Kobe Bryant's legacy with a new "8/24" virtual exhibition.