Joe Bradley Isn't Concerned About Having an Artistic Style
The artist reveals his process at the famed Elaine de Kooning House.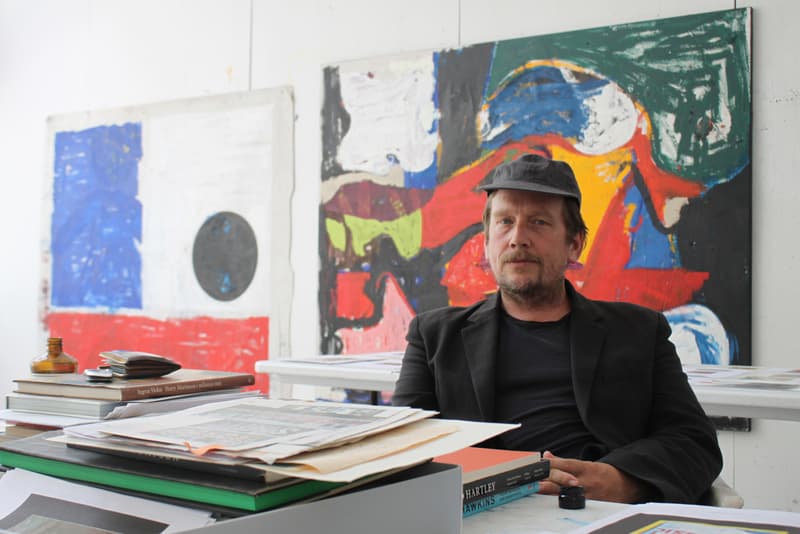 Joe Bradley could care less about developing a signature style when it comes to the paintings or mixed-media works that he creates. The New York City-based artist's visual language often teeters freely between personal and historical references depending on his mood. He navigates recognizable modes of abstraction across his unruly-looking compositions that feature child-like scrawling and human figures while injecting blotchy blocks of color that draw inspiration from minimalism techniques.
Oftentimes, Bradley incorporates cryptic signs and symbols in his whimsical drawings that only he is able to translate. In his drawing practice, he utilizes unconventional materials such as cardboard scraps, loose paper, and even sticky notes. Although there are references to art history throughout his works, they never settle into certainty. For his Schmagoo Paintings (2008), Bradley illustrated diverse iconography using grease pencil on raw canvas, spotlighting amusing subject matter with bold gestural appliqués. For the series, he gleaned children's drawings, comic book sketches, cave paintings and ideograms for inspiration.
The symbols featured in his works lack any specific meaning, with the artist placing emphasis more on the process rather than the final result. From his large-scale oil paintings to his silkscreens and sculptures made using found materials, anyone examining the artist's discordant array of works in his expansive oeuvre will spot no visual cues connecting one work to another.
In many ways, Bradley's practice is a reflection of the art world itself with the artist finding humor in the ever-changing trends of art history. The only thing that remains consistent is the artist's intuitive approach to creating work as well as his reliance on using found materials to touch on themes surrounding memory and the environment. "I don't really worry about style. Ideally, there's a certain amount of momentum in the studio and the paintings kind of make themselves. I'm just here to turn the lights on," Bradley said to HYPEBEAST.
"I don't really worry about style."
Bradley is currently spearheading a residency at the famed Elaine de Kooning House in East Hampton, New York. The artist's last stay at the iconic estate was back in 2012. The multi-purpose space has hosted events, exhibitions, and informal artist residencies since 2011. Lizzi Bougatsos, Jonah Freeman and Justin Lowe, Liz Markus, Scott and Tyson Reeder, John Riepenhoff and Michael Williams are among the artists who have turned the de Kooning house into a temporary home and work space. The most recent artist taking up residency was iconic graffiti artist and painter Eric Haze, who had an extended stay at the house due to COVID-19. 
We reached out to Bradley at the Elaine de Kooning House to discuss his latest body of work, which he is finishing for a show slated to open in September at Eva Presenhuber in Zurich. Read the interview below and visit Elaine de Kooning House's website for more on its artists-in-residence.
HYPEBEAST: Tell us about your previous experience at the Elaine de Kooning House. What was it like working in that environment versus your own studio?
Joe Bradley: My last stay at the Elaine de Kooning House was back in 2012. I spent the summer here with my family. The house is in the woods between Springs and Sag Harbor out on the east end of Long Island. Very pretty area. The studio has a great feel to it. Lots of natural light. I don't think I worked very hard that first summer, but I did manage to make some drawings. My own studio is in Long Island City in the industrial zone. Very different scene. Working out here without the noise and hustle of the city is fantastic.
Describe your work atmosphere. What does the setting look like? Do you play music while you're painting, and if so, what type? Are there any people around while you paint?
I try to maintain a tidy studio. I keep a lot of inspirational material around- books, comics, pages torn out of magazines, etc. This stuff piles up over time. I'm usually working on a number of paintings, which might be tacked up on the wall or laying on the floor. One table I devote to drawing — pencils, pens and paper. This summer I've been listening to podcasts or audiobooks in the studio rather than music. I don't know why. I just finished listening to the Gospels. Reading the Bible, it's just too boring. But I've enjoyed listening to it.
"I think it's important to take a break from time to time."
You create paintings, drawings, sculptures and mixed-media works. Why are you fascinated by these mediums?
I would say painting is the most challenging, and the most rewarding. It doesn't seem to get any easier over time either. I've narrowed my focus down to just painting and drawing, which feels like more than enough.
How do you get yourself out of a creative block?
I think it's important to take a break from time to time. If you enjoy life and don't let yourself get uptight about work, you won't have creative blocks. Or if you have one, it won't bother you too much.