A Slave Trader Statue Has Been Replaced by a New Work of a #BlackLivesMatter Activist
The statue, by the British sculptor Marc Quinn, was installed in secret at dawn.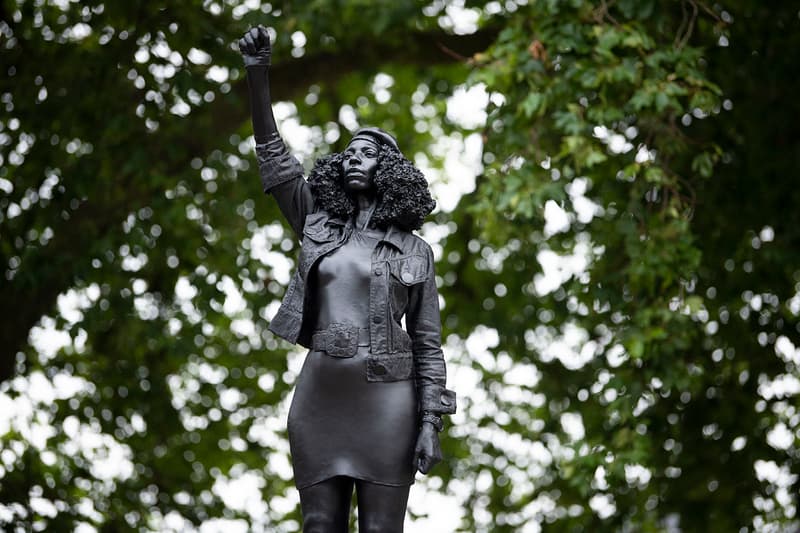 In one of the most memorable images of Britain's #BlackLivesMatter protests in June, a statue of the British slave trader Edward Colston was toppled from its plinth and rolled into Bristol Harbour. The removal prompted a widespread, incendiary debate in the U.K. about which historical figures should be commemorated with statues, and what should fill the vacant spot left by the statue's toppling; the artist Banksy was among those who offered a replacement.
Now, the space where the statue once sat has been filled with a new work: a sculpture of Jen Reid, a protestor who was photographed standing on the former statue's plinth in the aftermath of its removal.
The new statue, titled 'A Surge of Power (Jen Reid) 2020', was created by the British artist Marc Quinn. It shows Reid standing with one fist raised – a symbol of the Black Power movement, and a direct reference to the photograph taken of her. It was erected at dawn by a team directed by the artist, who used a crane to lift the work onto the vacant plinth.
Though Quinn's team did not seek official permission to erect the statue, they have broken no laws in placing it. Nevertheless, the artist does not intend for it to remain there indefinitely. Speaking to The Guardian, he said that it would be "extremely difficult to move…but it is ultimately moveable. This is not a permanent artwork."
The statue of Colston has since been retrieved from the bottom of Bristol Harbour, and is being restored ahead of a proposed new installation within the Bristol Museum. The graffiti and detritus that it collected will be preserved as part of its restoration.
Institutions around the world continue to grapple with how to deal with racist historical works; earlier this month, the University of Kentucky was threatened with legal action over plans to remove a mural depicting slavery.