'Crash Bandicoot 4: It's About Time' May Be the 'Crash' Sequel Fans Always Deserved
We got hands-on time with the upcoming title, and it's a pretty difficult platformer.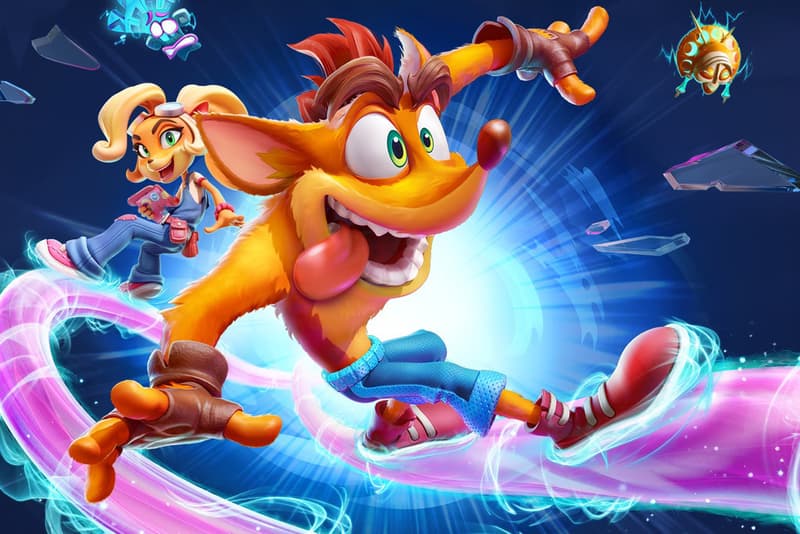 In 1996, Crash Bandicoot made it to the Sony PlayStation as an exclusive title, and it quickly joined the ranks of Mario and Sonic as not only its respective console's mascot but a prominent figure in gaming itself. Original developers Naughty Dog spawned two highly acclaimed sequels, Crash Bandicoot 2: Cortex Strikes Back in 1997 and Crash Bandicoot 3: Warped in 1998.
But after Naughty Dog's initial trilogy run on the original PlayStation, Sony's mascot Crash Bandicoot spawned several titles that failed to capture the appeal and design of the classic titles, subsequently damaging the franchise for close to two decades. The most destructive installment may have been the first core title to not be developed by Naughty Dog as the series made its anticipated transition to the PlayStation 2. However, Crash Bandicoot: The Wrath of Cortex was developed by Traveler's Tale and published by its new owners at Universal Studios. After toying with new concepts, the team only had 12 months to complete the title. As such, a lot of the charm these games are known for was missing, load times were excessive and not a lot of innovation was actually made. It was received with mixed reception following its 2004 release, and the IP fell into a mire of equally as panned installments until the franchise went into hiatus in 2011.
However, around 2016 developer Vicarious Visions got their hands on the IP and remade the original three Crash games with fully-remastered textures, updated level design and retained mechanics for the PlayStation 4, while Toys for Bob developed the game for the Nintendo Switch release in 2018. Crash Bandicoot N. Sane Trilogy was critically acclaimed upon release and sparked a remaster for Spyro the Dragon, another of the classic PlayStation mascots. Because the devs showed they understand the formula that made Crash so beloved, it's only appropriate for Toys for Bob to take the helm on a new entry of the series. Moreover, it's only right the team bill its first standalone Crash title as the official sequel to the original trilogy of games.
Crash Bandicoot 4: It's About Time takes place directly after Crash Bandicoot 3: Warped, ignoring The Wrath of Cortex and any other Crash title that had come after it. So much so that the announcement trailer shows characters actively "misremembering" the number of times Crash has had adventures. Decades after the events of the last game, the evil Dr. Cortex, Dr. N. Tropy and Uka Uka escape from their space-time prison by creating a rip in the fabric of time itself. As a result, they open up a multiverse in an attempt to enact revenge for their imprisonment. Now Crash and his sister Coco must team up once again, this time alongside four new Quantum Masks companions, to set things right.
We had a hands-off preview where we got to talk to the Toys for Bob dev team about the new title, as well as a hands-on demo that featured three levels, one of which stars Dr. Cortex as a playable character. In both instances, we were thoroughly impressed with what we saw and feel optimistic that this will be the Crash Bandicoot 4 fans have always deserved. And from what we've played, it appears Toys for Bobs really wants to challenge its players.
The first two levels featured Crash gameplay with stages structured similarly to the typical stages found in the original titles. There's an ice level complete with ice-themed baddies and slippery-ice platforms. And there's another jungle level with prehistoric creatures and a T-Rex chasing after you like the giant boulder and bear from previous games. Throughout the levels, you smash the typical variation of crates (including the old Aku Aku mask), collect Wompa fruit, which now rewards its own gem, and partake in all the distinctive platforming fans expect. Crash still spins and pounds his foes, he still slides and retains his double jump from Crash 3. But new elements like the ability to grind through sections of a level on vines or using the power of the Quantum Masks to progress through stages don't detract from the basics, they only accentuate them.
Mastering timing has always been part of the Crash formula, but these new mechanics add an extra layer to the mix, making these sequences far more complex. They also add a puzzle-like quality to the traditional platforming Crash has always been about. This is showcased most in the ice level where you have access to a Quantum Mask that slows down time. With this, Nitro crates no longer break when you touch them and can be used as platforms. When the mask is activated, the countdown for TNT crate explosions is delayed. This opens up an entirely new avenue for the developers to experiment with the established formula and make the basics more complex as a challenge to old and new fans alike.
There are two ways to play this game: in Retro Mode, you play through stages with a set amount of lives with opportunities to increase your life stock as you progress. If you lose all your lives, you have to start the stage all over again. In Modern Mode, there are unlimited chances to try the stage, and you will always restart the game at your last checkpoint. We thought we'd want to approach the title traditionally with Retro Mode, but because Toys for Bob wants to kill you so much, Modern Mode is the only way to play the game and maintain a quality-of-life experience. The game is tough, and it wants you to die a lot.
The ice stage reminded us of the newly introduced levels in Toys for Bob's Crash Bandicoot N. Sane Trilogy remake, which were touted as the most difficult stages in the games and took a lot of trial and error to clear. Although all the trial and error isn't necessarily needed to clear stages in Crash 4, it is required to nab all the boxes, clear the returning bonus stages and be rewarded with all the level's gems. Which is made even more difficult with the new mechanics. Crash 4 may very well be the "Dark Souls" of Crash Bandicoot games, and there's no telling how that will be received from casual and hardcore fans.
However, we had a few concerns that we hope are ironed out in Crash 4's official release in October. The Cortex levels don't really feel like traditional Crash Bandicoot, even though his gameplay took place in the same ice stage available to Crash. Cortex shoots to harm his foes, so you can't jump on baddies. He has no traditional double jump like Crash, so instead, he uses his jetpack to propel him far. He even uses his gun to change foes into desired solid or bouncy platforms to progress. Hopefully, there are only a few Cortex stages in the final product as a separate mode instead of integration to the story.
Crash's new design and voice are slightly questionable as well. He doesn't sound like the old Crash at all; his new voice is extremely high. It's kind of jarring hearing him shout so high-pitched during his cartoony death animations. Landing boxes need to be much bigger as well. You practically have to double jump in order to feel secure in landing on a simple platform. We asked if the landing boxes would be similar to the original titles or the remaster, which hardcore fans and speedrunners criticized for changing the landing boxes. The answer is Crash 4 was made from scratch alongside the new artstyle. It was built on Unreal Engine 4 and has its own "feel" despite being fine-tuned to play like a traditional Crash game.
We know what we've played is by no means the final product and that more has to go into refining gameplay, but we truly hope landing boxes, as well as hitboxes, are thoroughly reexamined. Those are the only things keeping the title from being a welcoming return to one of gaming's most beloved mascot characters.
Crash Bandicoot 4: It's About Time will release for the PlayStation 4 October 2, 2020.