Stay Home Snaps: Joe Freshgoods
The Chicago-based artist is staying rooted with routine and classic R&B.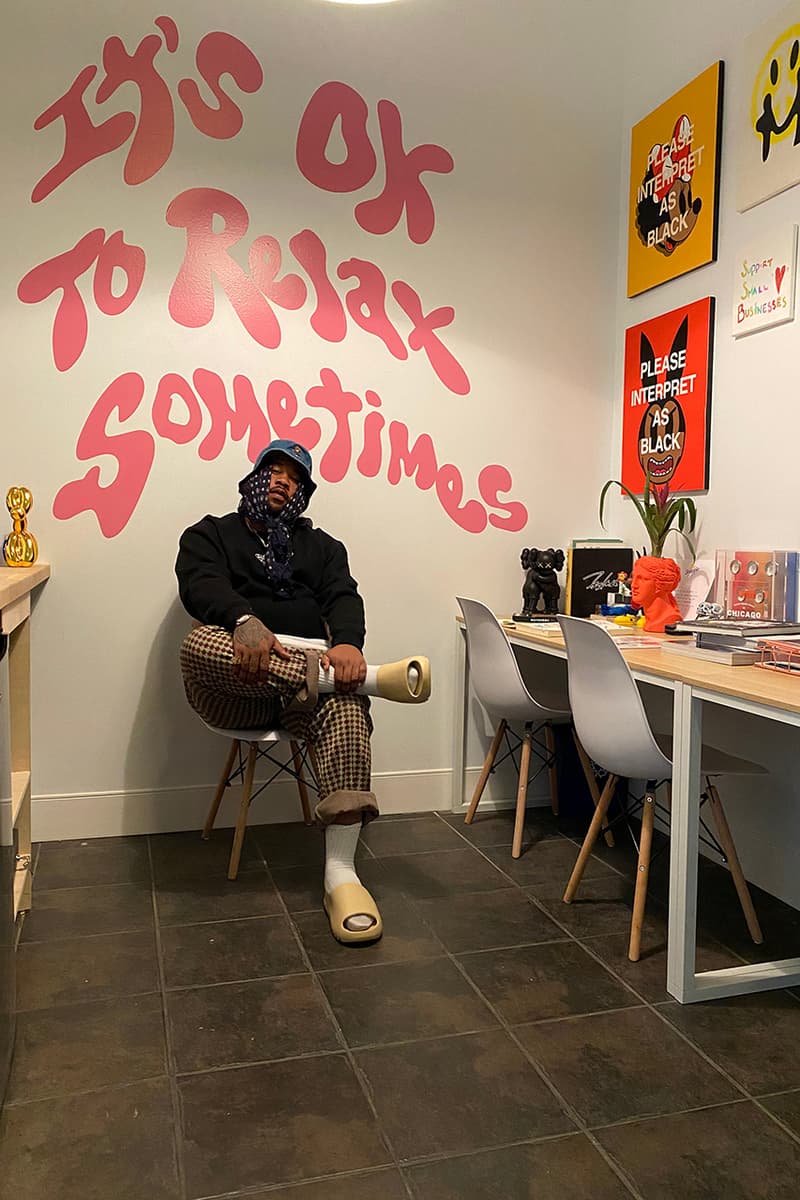 Stay Home Snaps: Joe Freshgoods
The Chicago-based artist is staying rooted with routine and classic R&B.
Never one to mince time, Joe "Freshgoods" Robinson' is using his stay-home routine to channel his artistic talents with charitable intent and support for local black creatives. Though the ongoing protests have reinvigorated his desire for social progress — and to call out injustice — Robinson is still makes time to unwind with classic tunes and tackling household tasks.
In an ever-uncertain world, maintaining a clear headspace is critical. For Joe Freshgoods, the winning strategy also includes a reliable routine, elevated by mood-boosting scents and sounds.
What's your daily quarantine routine?
I usually — and unfortunately — lay in bed for like 20 minutes recapping social media and laughing at sh*t when I first wake up, brush my teeth, wash my face, hop in the shower and go for my morning walk and coffee run. Then it's work and homeschooling my daughter.
Where in your home do you like to work?
I usually like to work at my studio or my office at home, depending on the workload for the day.
What do you wear while working from home?
Durag, track pants, sweats… and white tees from Target.
Do you wear any footwear at home? If so, what shoes?
Crocs and those YEEZY slides. I'm not a fan of having socks on at the crib so I just like to wear stuff that can let my toes breathe, being comfortable is like my whole thing.
What are you eating now?
Oranges and water. I've also been BBQ-ing a lot lately on days the weather is good.
What are you listening to, watching and doing for fun?
As of late I've been listening to a lot of R&B from the early 90's or just vintage soul music. Mary J. Blige's My Life has been in constant rotation, as well as Roy Ayers. Music that my mom used to clean up to is helping me get by, it provides a sense of calm for me. I haven't been watching that much TV, just reading and organizing my house. There's been a lot of things I've put off doing around the house so I've been using the time to do it all.
How do you stay in a positive headspace while in isolation? How are you staying creative?
The first few weeks it was a little tough to get inspiration while all this was going on, I decided to not watch the news as much and focus on ways I can help give back. Helping people through my art has given me a lot of hope and kept me busy.
Do you have any advice for creatives who aren't used to working from home?
Working from home could be frustrating because of distractions, I think it's key to have a routine set in place and comfort in order for your work days to go by smoothly. Light candles, listen to rain sounds, drink plenty of water and you'll hopefully be fine. [Laughs] Works for me.