Michael B. Jordan Calls on Hollywood to "Invest in Black Staff" in Impassioned Speech
Speaking to a Los Angeles crowd about his movie roles and what they've taught him about racial injustice.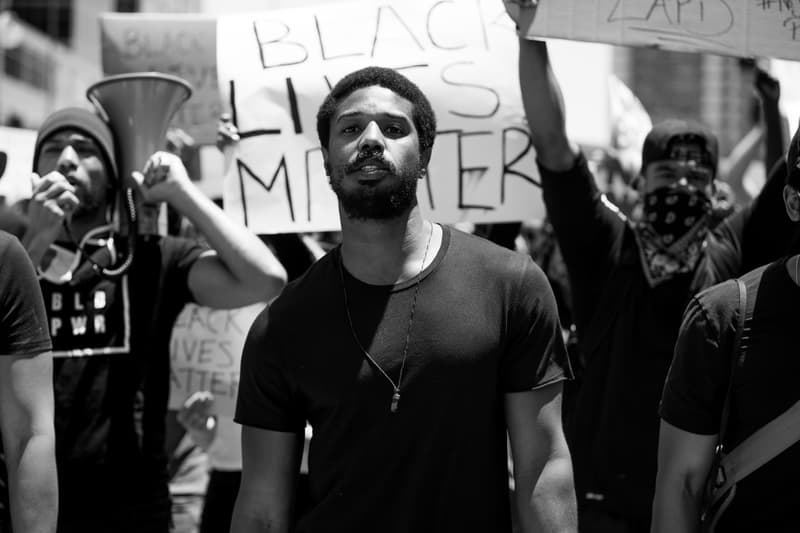 Michael B. Jordan spoke out against racial injustice and police brutality Saturday at a Black Lives Matter demonstration in Los Angeles that was organized by the Big 4 agencies: ICM Partners, CAA, UTA, and WME. Jordan, who played a 22-year-old man killed by a police officer in 2013's Fruitvale Station, shared that Hollywood needs "to go on notice" and turn words into action.
He highlighted the experiences surrounding some of his memorable film roles, such as Erik Killmonger from Black Panther, Guy Montag from Fahrenheit 451, and more, speaking on how each role taught him something unique about race relations, racial and social justice.
"I learned his tactics. I learned his mentality," Jordan said about his role as young defense attorney Bryan Stevenson in 2019's Just Mercy. "I learned his approach to things. Very calm. Very strategic. Very thoughtful. You have to be proximal. You have to be close to [the] issues. We have to be close to the issues. That is why I love everyone out here because we have to be here together. Shoulder to shoulder."
The actor also shared the steps his production team has taken to prioritize inclusion but concluded that more needed to be done. "Invest in Black staff," he shared, demanding that companies increase their diversity and inclusivity policies, further calling on them to contract private security as opposed to police. "You committed to a 50/50 gender parity in 2020," he said. "Where is the challenge to commit to black hiring? Black content led by black executives, black consultants. Are you policing our storytelling as well? Let us bring our darkness to the light."
Catch Michael B. Jordan's impassioned speech in its entirety below.
Elsewhere, Alexis Ohanian has resigned from the board of Reddit, further asking to be replaced by a Black candidate.