A Lil Wayne and Nicki Minaj Album Might be in the Works
"It's scary…but I would definitely do it."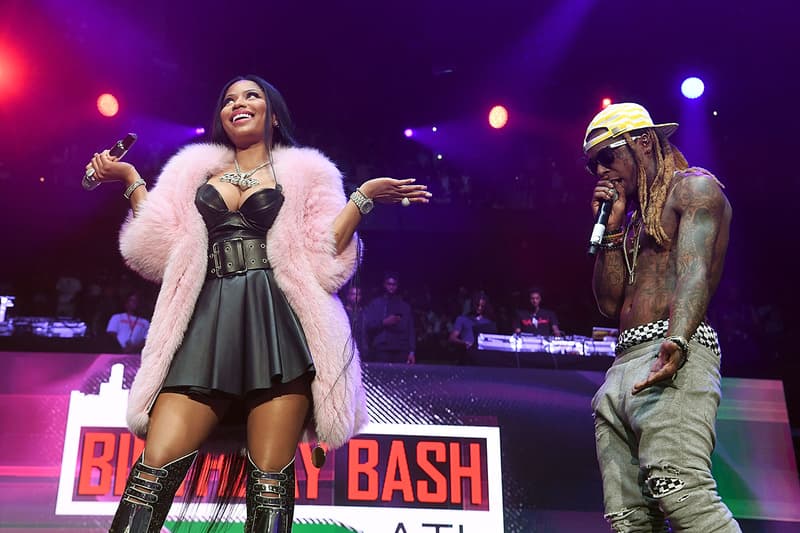 After more than a decade of collaboration, a full-length album from Lil Wayne and Nicki Minaj appears to be happening, after Wayne confirmed that the two have begun working together.
Minaj appeared as a guest on Wayne's Young Money Radio, where Wayne introduced her as ""the First Lady of Young Money and the Queen of every f*cking thing."
During their discussion, Wayne raised the subject of a collaboration, saying  "We doing our joint album…a lot of the fans been asking about it. When we gon' do this?" Minaj responded, "You already know, your wish is my command."
Later in the interview, Minaj voiced some apprehension about appearing alongside her former mentor, saying ""It's scary. It's scary to put a verse on something after you put a verse on it…it's like me really, really having to think so much…I gotta go hard. I can't just, you know, wing it. So that's the only thing I would be scared of. But I would definitely do it. Whenever you say the word."
The two artists have a long history of collaborations: Wayne appeared on Minaj's debut mixtape, Playtime is Over, in 2007. The two have since worked together on some of Minaj's most successful singles, including "Only" in 2014 and "Truffle Butter" in 2015.
Elsewhere in the interview, Minaj talked about the success of her remix of Doja Cat's "Say So", which reached number one on the US Billboard Hot 100. "I have never built my career on whether or not something goes number one," Minaj said. "Most of the things that stick forever in rap, they don't go number one."
She also discusses the challenges she faced early in her career as a woman in rap. "I think people don't realize the work that goes into it," she said. "Because if you're not going to work, why bother…"It was getting someone to take you serious, and that was the whole thing I was worried about. I didn't know if you would take me serious, because at the time people had really given up on female rappers."
Before that album surfaces, check out the animated video for Wayne's "I Don't Sleep."