The 'Community' Reunion With Donald Glover Is Happening
Troy and Abed reuniting (say it in song).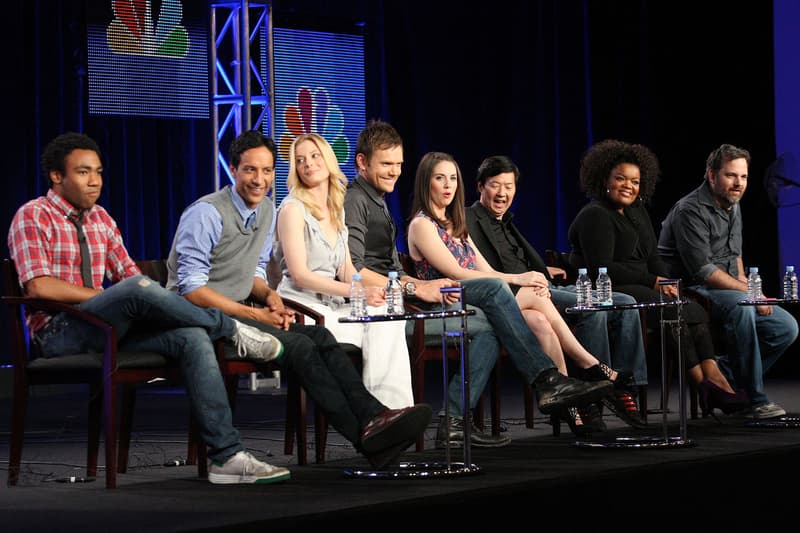 The students of Greendale Community College are getting back together for a special Zoom call table read with show creator Dan Harmon, featuring all notable cast members — Donald Glover, Joel McHale, Gillian Jacobs, Danny Pudi, Yvette Nicole Brown, Alison Brie, Jim Rash and Ken Jeong — with the exception of Chevy Chase who plays Pierce, thus reuniting Troy and Abed for the first time since 2014.
Reading from Community's season five "Cooperative Polygraphy" bottle episode, the group members retreat to their regular study table after Pierce's funeral, while they wait to hear the execution of his will from his lawyer, this time voiced by Pedro Pascal as the original actor for the role Walton Goggins couldn't make it. Harmon wrote on Instagram: "He's on some Disney show where Boba Fett's in college with Yoda's niece. In keeping with that theme, the part of Troy will be played by Lando. Yes, for real, the whole gang is back together. We got Horse Girl, we got Card Shark, we got 'em all."
As part of coronavirus relief efforts to benefit two charities, José Andrés' World Central Kitchen and Frontline Foods, fans can donate to the Community fund on World Central Kitchen that will aid in supplying food to frontline responders and vulnerable communities.
Last month, we reported that Joe Russo is optimistic about a Community movie: "We'd certainly be willing to do it. We love our Community family… That cast, we're all still very close to all of them. It'd certainly be schedule-depending for us. But I believe there will be a Community movie, especially now that it's doing so well on streaming."
For now, we are getting six seasons and a Zoom call, of which the former can be streamed in its entirety on Netflix and Hulu, and the latter will be aired on Monday, May 18 at 2 p.m. PDT on Community's YouTube page.
In other entertainment news, Elon Musk returns to The Joe Rogan Experience for a two-hour interview.