Spotify Introduces Artist Fundraising Pick Feature
Continuing its Coronavirus (COVID-19) aid efforts.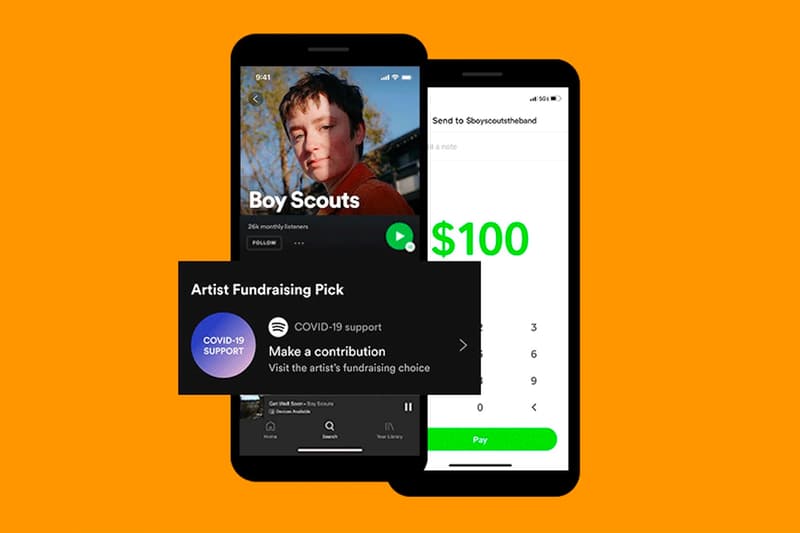 Spotify is continuing its Coronavirus (COVID-19) aid efforts with the Artist Fundraising Pick.
The newest in-app feature allows artists to generate financial support for themselves, their bands, or their crews, along with the option to raise money for a verified organization. Artists can highlight this fundraising activity on their profile, similar and in addition to their Artist's Pick, and those who wish to participate can do so via Cash App, GoFundMe and PayPal.
"This is an incredibly difficult time for many Spotify users and people around the world — and there are many worthy causes to support at this time," the streaming service wrote. "With this feature, we simply hope to enable those who have the interest and means to support artists in this time of great need, and to create another opportunity for our COVID-19 Music Relief partners to find the financial support they need to continue working in music and lift our industry."
Spotify's Artist Fundraising Pick follows its COVID-19 Music Relief project launched in late March, when the company announced partnerships with a number of music charities like PRS Foundation, MusiCares and Help Musicians, to aid artists in need of financial relief, along with matching the donations to the charities of up to $10 million USD.
In other music news, Eminem donated "Mom's Spaghetti" to health workers in Detroit.