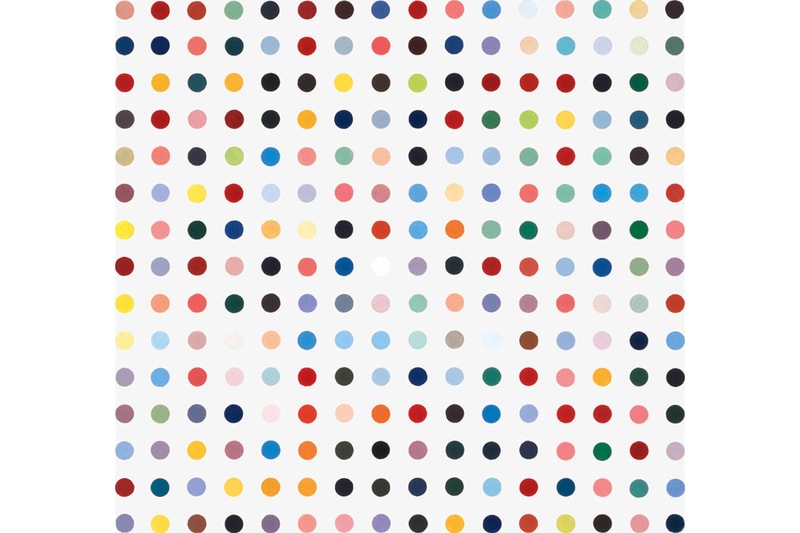 MSCHF Cuts Up $30,000 USD Damien Hirst Spot Print Into 88 Dots
Each dot is sold on its own for $480 USD.
---
After grabbing attention with their Nike Air Max 97 "Jesus Shoes" with water sourced from the River Jordan in the soles, Brooklyn-based creative label MSCHF has unveiled their latest project, titled Severed Spots. The artists and designers behind MSCHF purchased a Damien Hirst spot print for $30,000 USD, before cutting out all 88 of its dots. Starting today, they are selling each dot for $480 USD, while the original work — now just a piece of paper with 88 holes and the artist's signature — will go up for auction starting at $126,500 USD.
MSCHF's decision to cut up and auction off the work is an act of protest against investors who buy fractions of expensive artworks. "We're getting more overt, at large, about playing this speculative game…" reads the manifesto for the project. "The key to runaway art world success is: merchandising! Who wants to make one-offs when the market has so much appetite? But let's take it a step further — maybe we don't need more zombie wallworks, we just need to distribute the ones we've got!"
The collective is known for their unprecedented projects. Last year, they auctioned off a laptop infected with six of the world's most malicious computer viruses for $1.3 million USD. A messaging system that texts you AI-generated pictures of feet and an app that lets you watch Netflix at work by making it look like you're on a conference call, are also among the group's previous drops.
Take a closer look at MSCHF's project or bid for 88 Holes on Severed Spot's website.
In other news, Phillips and K11 MUSEA are bringing Daniel Arsham's Ash & Pyrite Eroded Porsche to Hong Kong for the first time.