Knxwledge Can't Stop Working
The prolific producer has spent his career letting his music speak for itself. Now he opens up.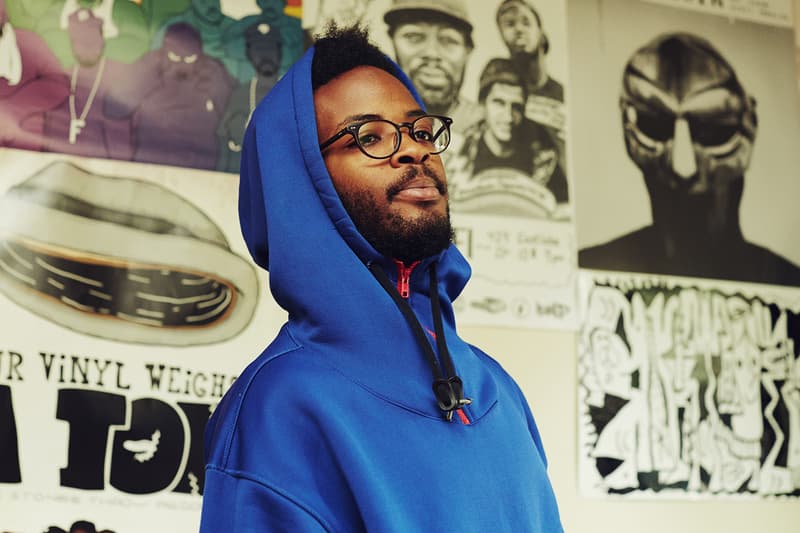 32-year-old Glen Boothe, known professionally as Knxwledge, has never stopped making music. Since 2010, the producer has released over 100 extended projects on Bandcamp. Up until he was 18, he spent five days a week in his family's pentecostal church in New Jersey, his schedule filled with choir rehearsals and hand-me-down instruments offered to him only after he was done cleaning the place.
"I just have the work ethic my parents gave me, and the good faith you feel me? I grew up very religious," he tells HYPEBEAST. "I don't really practice it that much anymore but I definitely have this wild whim of faith that's like, 'Times are bad, but that's only right now.'"
The Boss SP-303 Dr. Sample, a now discontinued machine championed by Madlib, J Dilla and MF Doom, sparked true creativity in Knxwledge for the first time. He learned sampling techniques by recording the old-school radio stations playing throughout his family home and flipping his church's sermons and choir performances.
His instrumentals are immediately recognizable for their warmth and nostalgia. A Knxwledge song is minimalist to a degree, yet abstract thanks to the perfect selection of a '90s R&B ballad or a soul sample that's just outside the realm of familiarity.
His love of sampling made Los Angeles-based label Stones Throw Records the perfect partner. After studying the endless discography of Madlib growing up, Knxwledge now starred on the same label with him. Stones Throw also led to the introduction of kindred spirit and collaborator Anderson .Paak on their 2016 album Yes Lawd!.
Knxwledge's structurally loose, but charisma-filled production was a perfect match for Paak's soulful smoothness, and the LP would go on to be one of the year's most critically acclaimed. True to form, Knxwledge followed up that effort with an entire 12-track remix album.
He's found clarity in his personal outlook, too. Despite all of his success, the GRAMMY-nominated producer is grounded and lives in the present. 1988, named after his birth year, is Knxwledge's first studio album since his 2015 Stones Throw debut, Hud Dreems. The song titles are a call for patience, gratitude and maturity. Together, the tracks read as a mission statement when listed in order: "Don't be afraid, because tomorrow's not promised. Do you. That's all we can do…"
In honor of his new album release, Knxwledge opened up to HYPEBEAST about his recent inspirations, finding faith in a rigid work ethic and the growing solace gained from his music.
HYPEBEAST: Most of the songs on 1988 are titled with appreciation and gratitude in mind. Do you feel like that's something that's missing today?
Knxwledge: Everyone's losing the sense of hard work and just a little patience. You don't gotta wait your whole lifetime for everything, but you gotta know the difference between right and wrong. Just be better. Everyone self-medicates also, so no matter what kind of person you are, you have something or someone that keeps you sane.
How have you managed to stay so even-keeled in an industry that can bring a lot of frustration and disappointment?
I honestly think it just comes down to work ethic. All of us are out here, but not all of us are grown. For the most part we all want to live on our own and be happy and free and all that. But we gotta work, so I didn't have any expectations of putting out beat tapes and remix tapes for a living I guess, but I worked really hard when I was younger. Just wild jobs, labor jobs that don't need to be named. Midnight shifts for years and years with my dad. It gave me the mentality of, "If you're gonna work — you have to work, first of all — you might as well work twice as hard as everybody else."
Both my parents still work. They refuse to stop f*cking working. I don't blame them honestly, because once you stop working other sh*t stops working. I just have the work ethic my parents gave me, and the good faith, you feel me? I grew up very religious. I was in church for five days a week for a good solid 18 years of my life. I don't really practice it that much anymore but I definitely have this wild whim of faith that's like, "times are bad, but that's only right now."
Things will be alright. Eventually. I don't know if you'll be able to look back on it and smile and laugh, but you gotta keep it moving because what else you gonna do?
With depression and anxiety especially, constantly worrying about things will make you go through those emotions twice before anything actually unfolds.
Yeah bro, exactly. There's no need to be stressed. There's no need to be out here not being true. But I don't know man, who's happy? Who's out here that's actually super f*cking happy? Even if they're well-off or whatever, and f*ck money, just pure happiness, joy, happy to be alive? So we're out here trying to not be sad and depressed so we can try and live longer… Not everyone's dream will come true and sh*t, so of course we all get sad, you feel me? I'm not Drake, I'm making weird, hard-to-hear sounding beats all day and I'm getting by for now.
A lot of people would probably classify the music that you're making as something that gives them solace.
People definitely say this and it definitely has an impact on me. I've been doing this for years and years. They don't make music, and I know what making music does for me and how it makes me feel. So sh*t, for a person that can't make music but might love music as much as I do, that's possible and that's crazy. So I understand it wholeheartedly.
But even solace by today's standards has its limitations.
It's so easy to get distracted, man. And hard not to watch. Everybody's just watching and nobody's doing anything. And if they're doing anything, they're doing what they just watched. It's annoying.
Even with this new record, you've dropped legitimately 20 or more projects since your last album with Stones Throw in Hud Dreems. How many years were you working on 1988?
I'd say the last five years. I know there are a few [songs] that are probably older than that on there, but I had the idea for 1988 forever. Eight's kind of my thing, like all my releases, everything's like $8.88 or $0.88 or whatever. My birthday's on Sunday, March 8. I was born in '88.
What was your workflow like for this project?
I've been trying to build up a solid workstation that I'm comfortable with. One solid workstation with like a supercomputer where I could get everything done, but nah bro, I got laptops over here like all open. I got the one supercomputer that's not going anywhere and I f*ck with Apple for making it. It's fantastic, I'll say. I bought that thing so I could literally circulate and combine all the beats from these laptops, from this MP and these iPads into one beat folder n this big a** computer. And I'd sit and sort through that sh*t. By the time I got it into one folder I didn't even want to sort through it. There was just too much stuff. I've been using Ableton for years so there's sh*t from like Ableton 4 and Ableton 11 is about to come out…
"Of course we all get sad, you feel me? I'm not Drake. I'm making weird, hard-to-hear sounding beats all day and I'm getting by for now."
At a certain point, the DAW interface has got to be like a video game for you.
Bro, I'm over here playing Street Fighter. I'm three years late. Of course I'm not that old, you feel me, but I definitely spent a little time in the arcades. For some reason I jumped back into Street Fighter V on the PC. I'm streaming and everything. It's fun. I almost had to leave next week for some Capcom event for Street Fighter with Mndsgn but it got cancelled because of the f*cking virus, but they're gonna reschedule.
That sh*t really bridges the time with the music. A thousand percent, I love it. That's what's cool about these games too, you play them online, you get washed and they're laggy but you can also just chill in training mode and practice combos like it's the 1990s still.
You can just let your brain wander and you're not really focusing on anything for a minute.
Exactly. You get a lot of that when you're older, man. The brain starts slowing down and you're just thinking about singular things. Thinking about the needs of life more so than the fun. You definitely gotta assess yourself, I mean we're here, music's great, but, "Does he leave the house? Does he eat vegetables?" It's rugged out here if you're not taking care of yourself. The music will take care of you, but not your body.
What are you listening to right now?
Honestly, I've only been listening to what's been happening over here. I can't really get caught up — I mean I do obviously because I remix all this shit.I can't sit in front of the computer that long just making beats. I gotta see what else is hot, but I don't know where these sources come from. They pop up though, dude. All these random verses, the Meek stuff — I went to school in Philly, that's where that's from. I go to the studio, people play me a bunch of stuff
How's your approach to sampling changed over time?
It's more so just, "What's the sample? Oh, the sample is this," now. I don't know, I wonder if [producers] did that back in the day, if they were like, "Oh yeah, I f*cking flew 40 hours for this record in Africa but here it goes." I wonder if that was like tight back in the day like how it is now.
Because now that trip is cut down to five minutes of searching on YouTube.
Yeah, it took somebody their whole adulthood or whole f*cking life to make. I have this weird, wild appreciation for sampling. So much that if a person actually hit me up, I mean, I'd have to make sure it was genuinely them, like I would literally figure out the stats and I would give all that sh*t to that person. It's their music, you feel me? I don't have any kind of system. Like if Meek hit me up — and he already heard them and it's fine — but if he was like, "Yo take this down, this sh*t is a**," I would have to take it down. I definitely have wild respect for all genres and all musicians because my church and my immediate family were all musicians. It's hard work.
The vocal sample on the intro track "dont be afraid" definitely stands out. Was that a flip of Skyy's "Real Love" or did you have a vocalist actually record the loop and mess with the pitch?
I don't know if Kieth Sweat wrote it, I think the group Kut Klose wrote it, but it's definitely a rip from the same Skyy joint, obviously same lyrics, they just flipped it into a crazy.. if you listen to the original it's just a super slow '90s R&B slap. It's so good. I could literally play that whole record through nonstop. Sing every word. No bad melodies on that one. That's kind of my thing. I'm really melody driven.
"I want to keep learning. Just be better overall. Not even with my lo-fi beats to study to. Just as a man and a human being."
When you're picking a sample, especially a vocal one, are you thinking conceptually about what best represents a song's theme or are you more so going with the flow?
Nah, I always go with the feeling. Like I don't really spend too much time on a track. It's either getting saved or it's not. But good ones that sound good now, they might not sound good in the morning. When you called me I was just listening to my little brother who sent me a song. He's been working on his writing. I listen to f*cking songs all day. The most simple, the most perfect songs. Well, to me. The most well-written songs are the most simple and I've been trying to explain that to him. but he finally sent me one that's dope so when I get off the phone I'm gonna finish mixing it. He recorded it with Apple headphones like a psychopath.
That whole theme of simplicity and less is more seems like it's been a solid foundation for you. How else has that impacted your life?
In the grand scheme, not that I'm like a f*cking philosopher or anything, but I wanna teach kids how to maneuver around Ableton. I was thinking before that, I have all this old gear just piling up and I kind of want to give this sh*t away, but social media is so suss that it's like… I definitely want to figure it out so I can give it away because it's hard for people to get equipment. It'd be dope if it was kids and not grown ass dudes who are gonna let it sit in a corner.
You team up with your NxWorries partner, Anderson .Paak for "itkanbe[sonice]" and you both have hinted at a full-length follow-up. How's that going?
It's ill. We work super fast, like we work the same honestly. We just get up whenever we can. I'm a little ways from the studio but when I go over there I stay for a few days and we get a bunch of sh*t done. I don't know when this year, but we'll definitely finish it up sometime this year. Got a bunch of sh*t to sort through. Gotta make the storyline and we're trying to get some features on there too which is why it might take a little bit.
Since it has been five years in between Hud Dreems and 1988, and in the spirit of your name, what do you want to try and learn over these next five years?
I want to keep learning. Just be better overall. Not even with my lo-fi beats to study to. Just as a man and a human being I guess. Just be overall tight. Be five years older. Cook a few more dishes. Have a better f*cking weed plug. Just the simple things.