First Look at Timothée Chalamet in Denis Villeneuve's 'Dune'
The young actor will play the film's lead protagonist, Paul Atreides.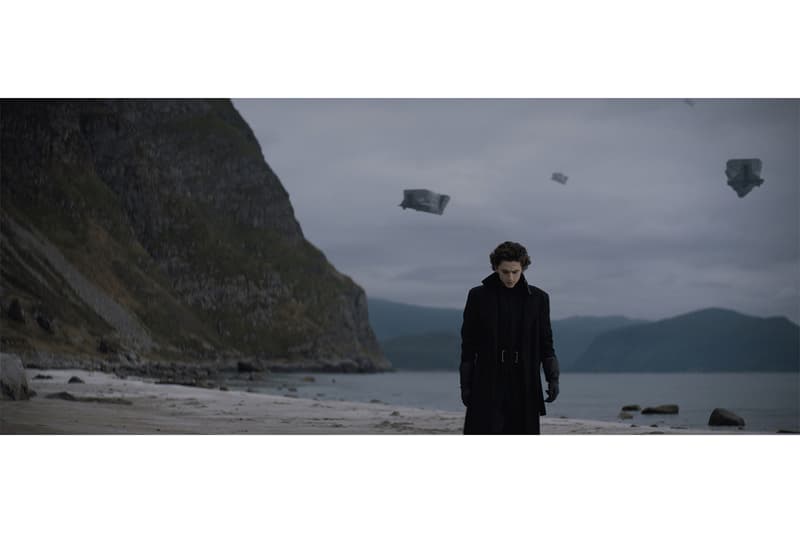 The first official look at Denis Villeneuve's filmic rendition of Frank Herbert's sci-fi epic Dune has finally arrived, courtesy of Vanity Fair. The first still from the film showcases Timothée Chalamet as Paul Atreides, who can be seen walking on his home planet of Caladan as spaceships transport his family to their new home of Arrakis in the frame's backdrop.
For those unfamiliar with Herbert's sci-fi tour de force, Atreides, a young royal, leaves his home for the desolate mining planet of Arrakis, where his family oversees the extraction of spice, a drug-like resource vital to the galaxy. With the inheritance of the desert planet, Atreides and his family become the rival of royal families around the galaxy, as well as the planet's own indigenous population, the Fremen.
"The immediately appealing thing about Paul was the fact that in a story of such detail and scale and world-building, the protagonist is on an anti-hero's-journey of sorts," Chalamet said about joining the film, which marks his first time leading a major motion picture. "He thinks he's going to be sort of a young general studying his father and his leadership of a fighting force before he comes of age, hopefully a decade later, or something like that."
Chalamet will be joined by an impressive roster that includes Oscar Isaac, Javier Bardem, Zenadaya, Rebecca Ferguson, Stellan Skarsgård, Dave Bautista, and more.
Though Frank Herbert's novel is nearly 55 years ago, the story has yet to falter in terms of its colossal influence within the sci-fi universe. David Lynch originally directed and penned the script for the 1984 adaptation, with the Sicario, Arrival, and Blade Runner 2049 filmmaker now offering up his own twist on the seismic story, which is expected to hit theaters on December 18.
For more entertainment news, The Batman will not be an origin story.