Disrupting Fashion With Bajowoo of 99%IS-
The illustrious designer behind the black eyeshadow graces HYPEBEAST Korea's latest digital cover.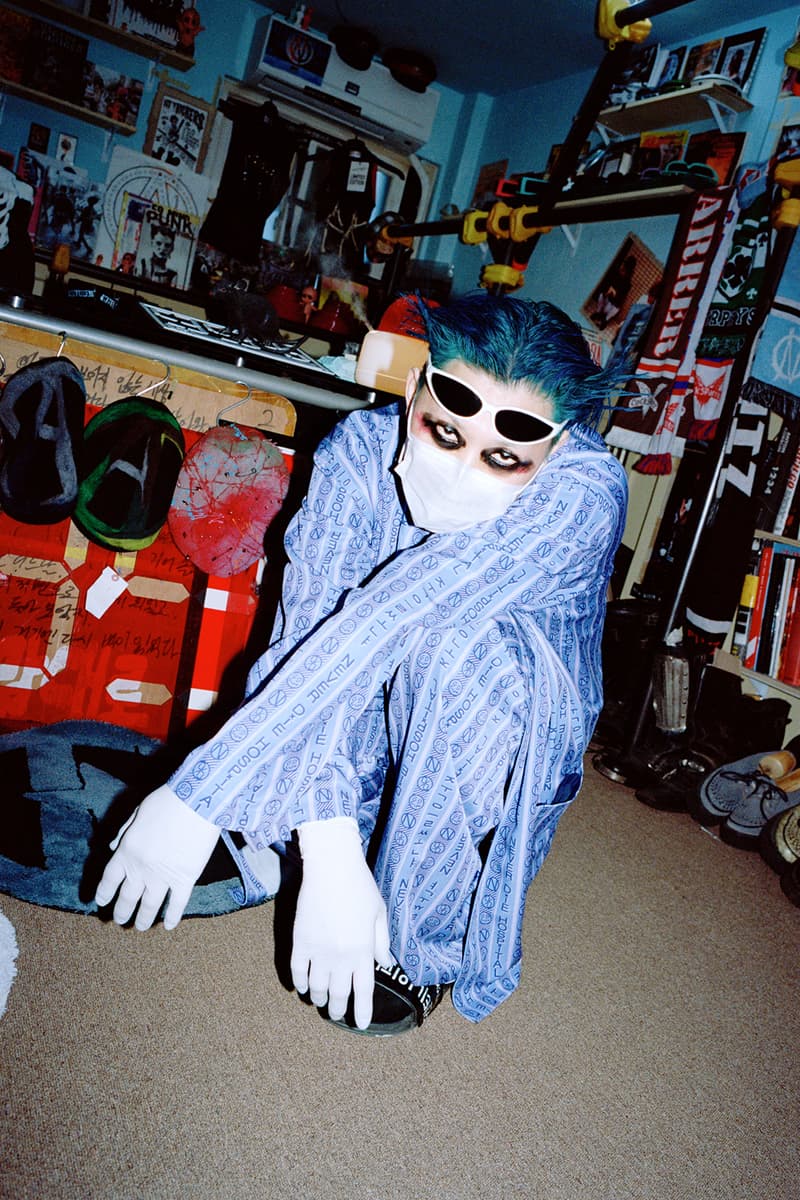 1 of 4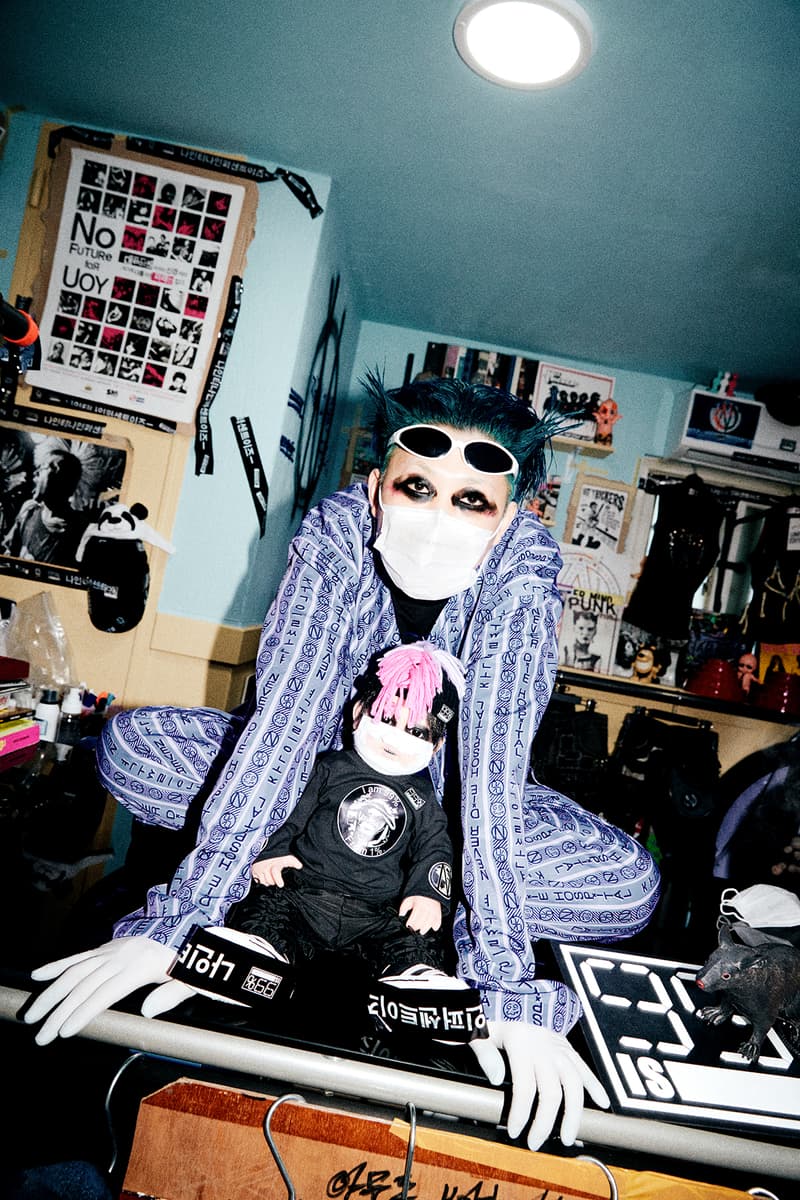 2 of 4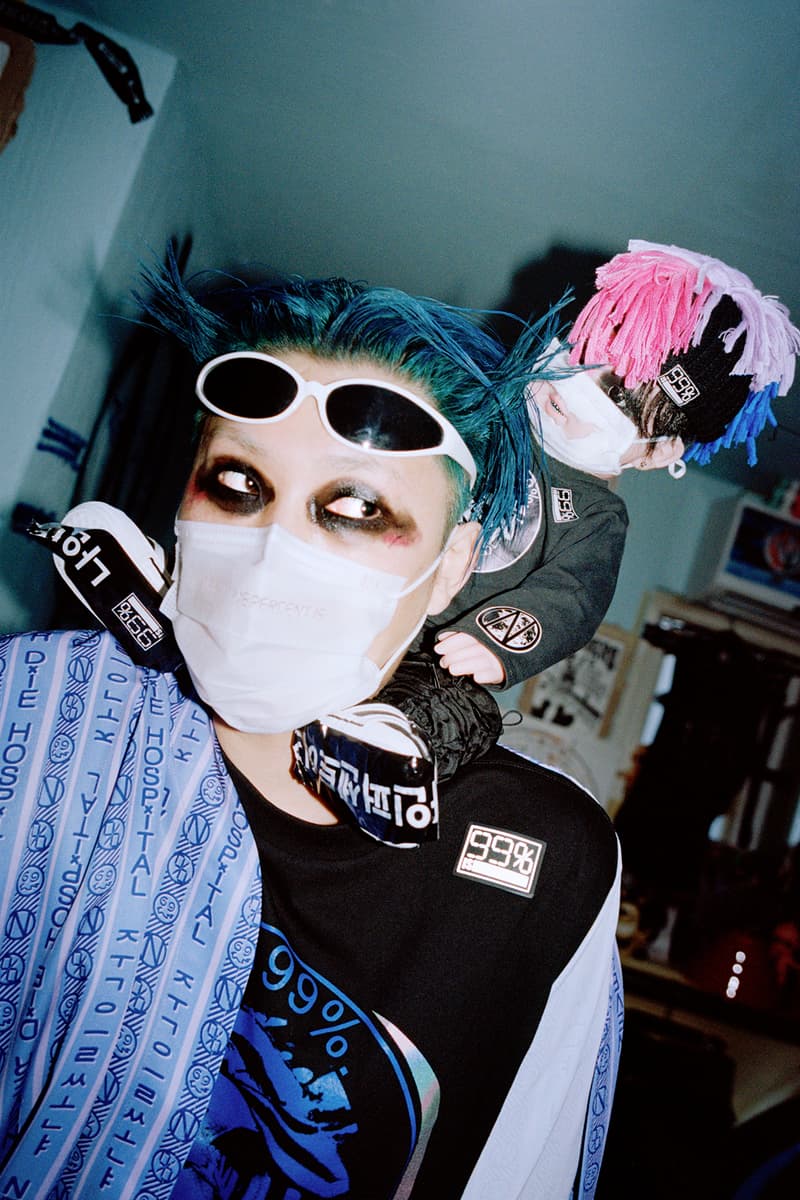 3 of 4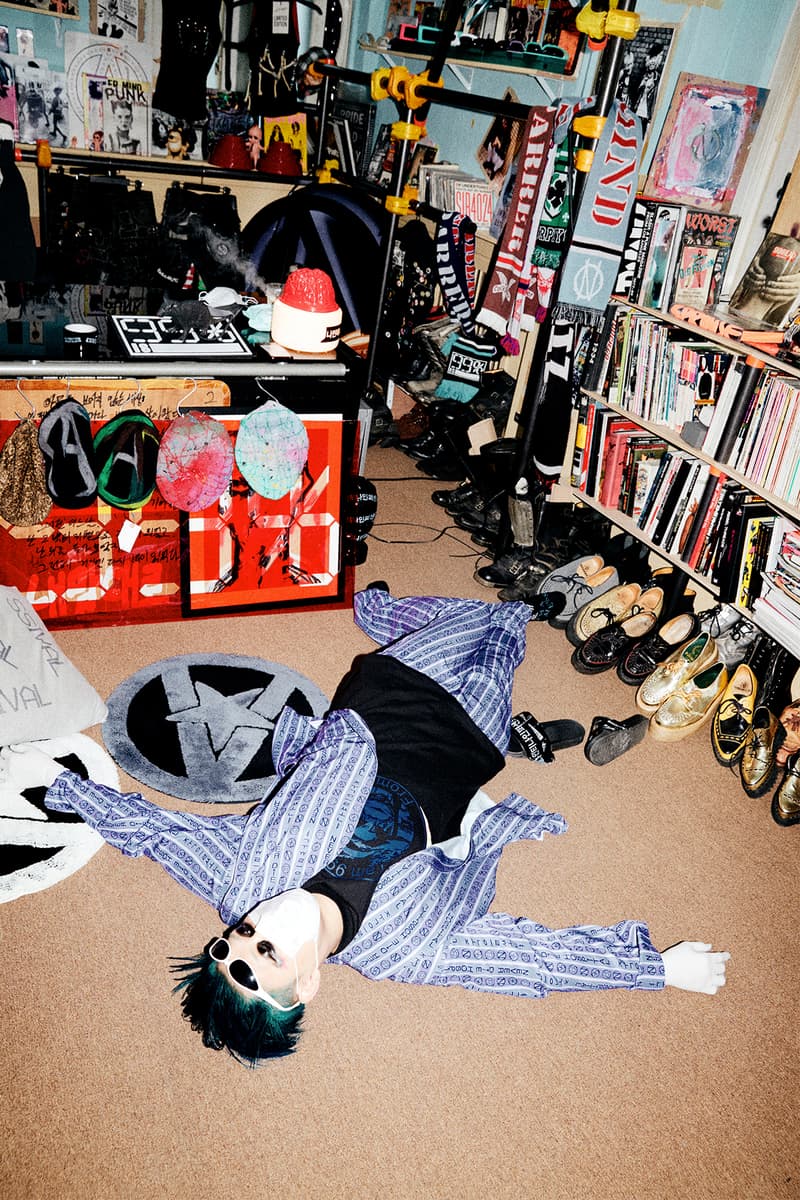 4 of 4
Disrupting Fashion With Bajowoo of 99%IS-
The illustrious designer behind the black eyeshadow graces HYPEBEAST Korea's latest digital cover.
From the black eyeshadow to his iconic ripped mask and exotic hairstyles, 99%IS- frontman Bajowoo (real name Park Jong-woo) might be best described by his unicorn-like eccentricity. For years, the designer has been developing his own punk-fueled world of style, disrupting the luxury-fashion ecosystem through his anti-fashion design. While hip-hop today has maintained itself within the mainstream, Bajowoo's foundational punk leanings have led to fans from some of hip-hop's largest, including Travis Scott, Offset and Playboy Carti.
For HYPEBEAST Korea's latest spring Digital Cover, we sat down with Bajowoo at his Seoul studio, discussing how he's disrupting the global fashion scene, his future plans as a designer, and more.
The ripped mask is the trademark of Bajowoo, but it doesn't seem like you're tearing holes in them these days. Is that because of the coronavirus?
It's dangerous, so I'm trying to keep them closed these days. I don't always punch holes in the masks. The back of my mask packages provide instructions on when to and when not to make holes on the mask.
Making and not making holes in the masks; how are they different?
You can wear them in two different ways: "HIDE" and "SMILE." The torn area of the mask makes it seem like you're smiling, and when you're placed in a situation where you need a smile, you can simply use the "SMILE" mode. On the other hand, if you want to be alone or want to hide your feelings, you can use the "HIDE" version. However, the original name of the mask is "HIDE." To be honest, I was going to launch a black mask this month, under the name "SILENCE," but the production halted since the spread of COVID-19.
There must've been high demand for the masks.
The price is fairly reasonable now, but I think people were reluctant at first because of the price. Then people started hoarding masks through this opportunity, especially foreigners who would buy a lot, wear them and send me pictures through Instagram. The masks are now sold out and exporting them is not legal [in South Korea] anymore.
Why did you start wearing masks?
Because I like punk culture and riding motorcycles, I started making and wearing leather masks ever since I was young. I grew used to wearing masks when I moved to Japan to study abroad. Masks are not unusual in Japan, as Japanese people hate doing harm to others. I wore them every day, also because I have weak lungs. I didn't mind when people questioned if my masks were for show or not. The reason I punched holes in them was because it felt stuffy. I would have an itchy nose and also needed to drink. So one day, I started making holes in my mask so I could drink with a straw. Honestly, there is no special reason for wearing masks. I am planning to restart production once the situation gets better.
"It means that the 1% that do what they want gets to take everything."
When did you first appear in public as Bajowoo?
In middle school, I was following this band around, knitting clothes for them. Back then, there weren't a lot of shops that would sell band clothes, so I would make them for the boys myself; there was even a time when I wanted to wear checked pants so I colored my pants in crayon. In high school, I started to think about what I would do for a living, and the band boys suggested that I study design. I eventually enrolled in fashion school and debuted in the Tokyo Collection the day after my graduation. I guess that's when I first appeared as Bajowoo in public.
What was it that you first sold to the public?
It was in 2011, during my sophomore year in college when I first started 99%IS-. That was when I was 21 and I wasn't ready to think about employment, so I started experimenting with my own brand. I made some punk items reminiscent of '70s and '80s youth styles, and I first started selling leather jackets in a Japanese vintage shop called BerBer Jin with only about three million South Korean won in capital. As I didn't have enough money, I would sell one jacket and then make another with that income to sell again. The store had started an interesting project where they would let young designers customize their denim jackets and jeans into their own style, and participating in that was a big motivator for me.
Who were some other designers who participated in the project?
Christian Dada, Wacko Maria, Mihara Yasuhiro, etc. As you probably know, what I created wasn't totally unordinary, and I think I've communicated well to the audience as Japan has a long history of rock styles and a deep fan base in rock.
As you have said, back in the day, punk and rock culture may have felt too distant to bring into Korean fashion. If that is the case, why didn't you think of staying in Japan to make clothes?
At first, I released my collections in Korea as well as Japan. The team that helped me with the collections were mostly Korean students and they had to come back to Korea due to visa issues. I came back for the same reason. Thanks to this, there were people who worked with me from both countries and even now, Japanese people are in charge of felt materials or knit products. These people are the ones who I call the 1%; although not part of same company or team, they are the ones who make up the products as one. I think our business in Korea has settled well after being awarded with the Samsung Fashion & Design Fund prize.
Then what makes up the other 99% of 99%IS-?
It is an ironic expression stating that the 99% is actually derived from the 1%. It means that the 1% that do what they want gets to take everything. That is why the brand is named 99%IS-. When travelling abroad, I would meet the "1%" from time to time, and I would recognize them and say hello. The 1% exists wherever you go.
Is the punk mentality beneath all this?
At first, I didn't think I knew well about fashion. I just wanted to look cool and I came to realize that what other's call "fashion" is something I disliked. I was cynical in thinking: "they're just buying clothes to look good in front of others, when they don't even truly like fashion?" But this thought eventually changed. I realized that pursuing something joyful in harmony with others, or my own definition of fashion, is not that different from the trend after all. It was simply sharing what I liked with others.
1 of 3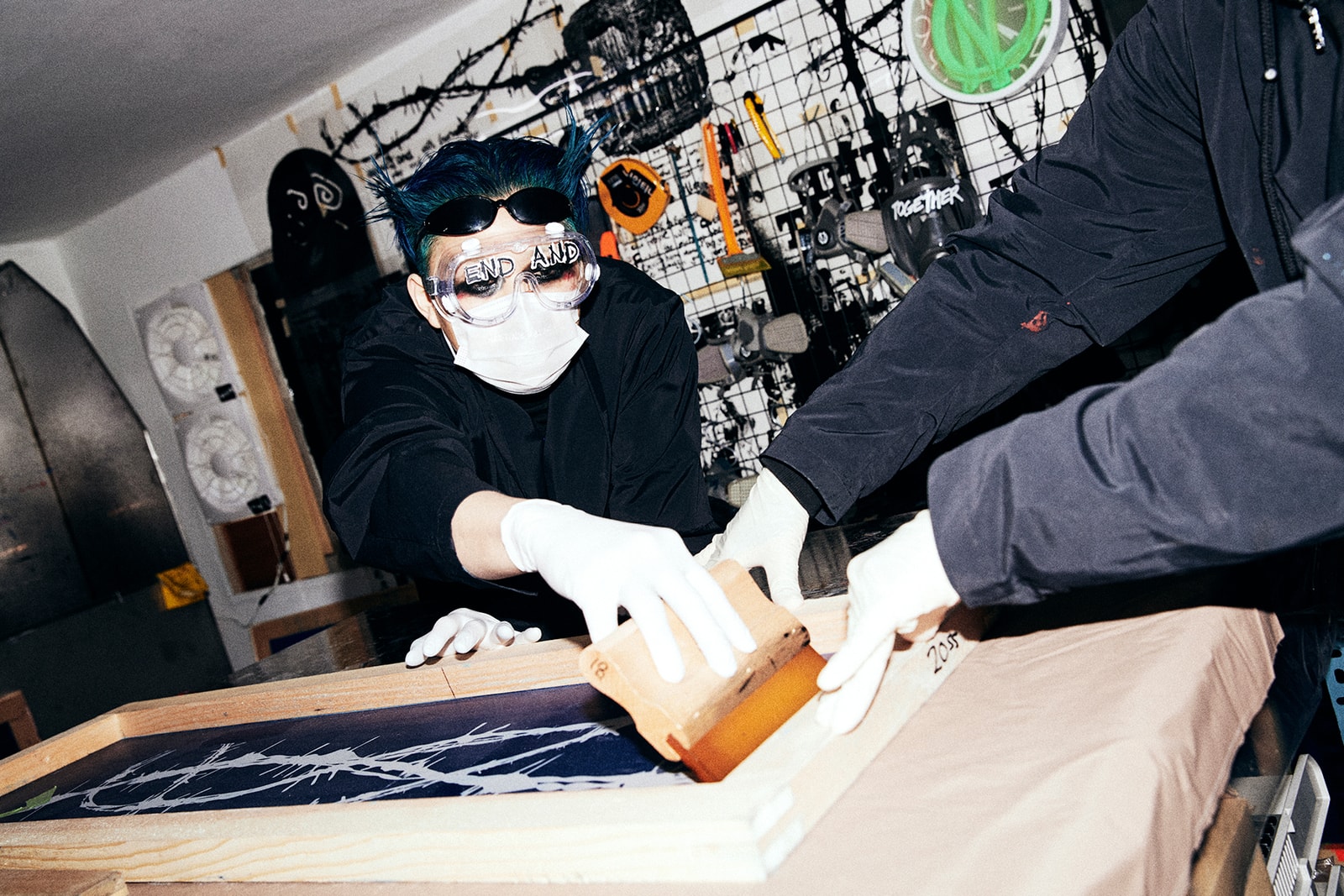 2 of 3
3 of 3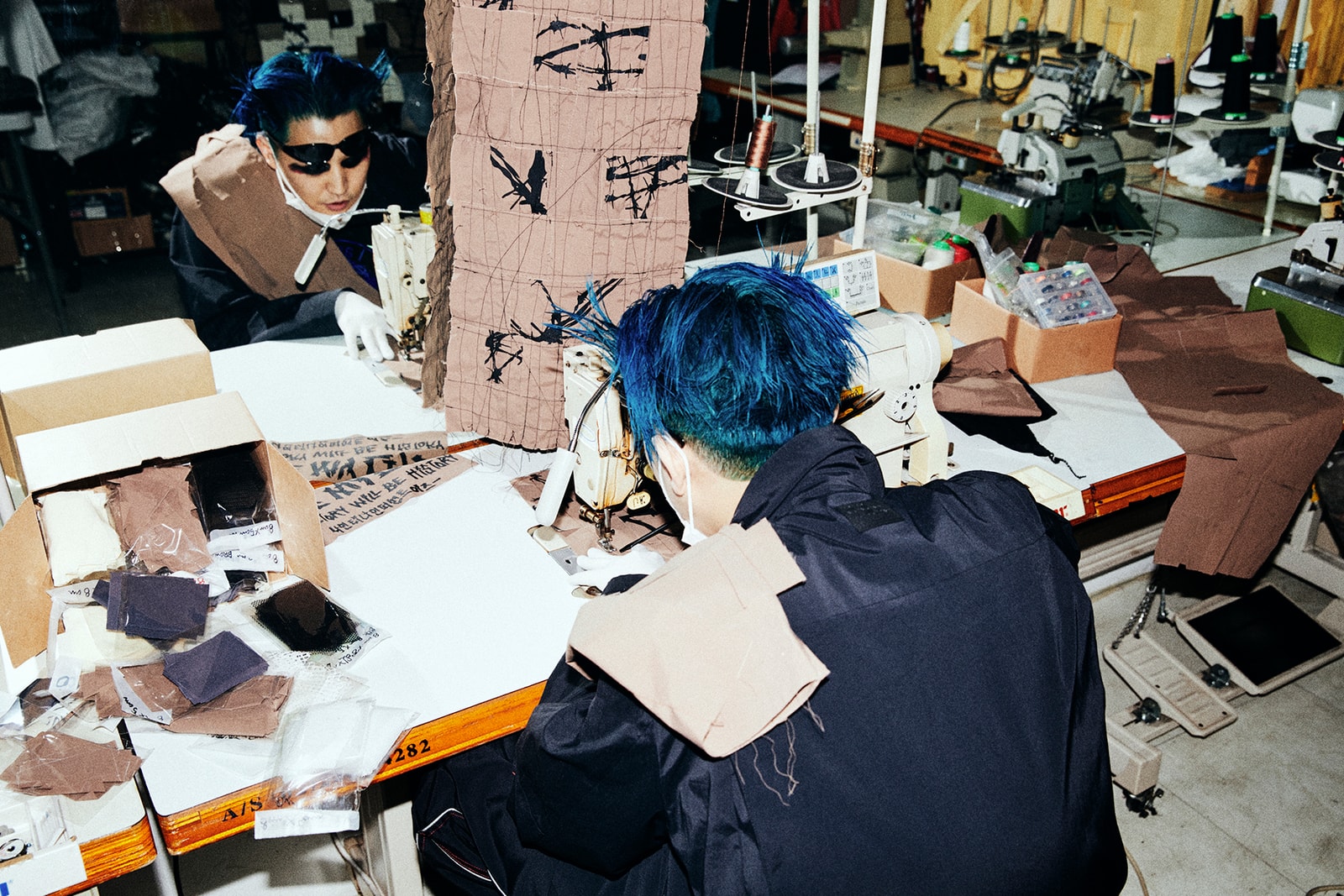 What caused you to eventually change your thoughts?
In the past, all that mattered to me was my own enjoyment. The youth culture of punk that I have always looked up to, and the style derived from this culture; this was what I followed and enjoyed, and ultimately what I pursued in fashion. However, it meant nothing if this could not be delivered to the audience, no matter how exciting I try to make it seem. I realized through every collection that sharing my enjoyment with more people eventually meant my own enjoyment.
Is enjoyment your utmost priority?
I've thought about the people wearing my product more than my enjoyment. For example, the zippers of bondage pants are located at the back. However, I've located them in the front for the comfortability when sitting. Also, I would make right arms on leather jackets shorter for guitarists. This is because the strumming arm sleeve tends to be stretched out. I would make them 3cm shorter, but later they would be stretched out by 5cm. With this in mind, I measured the bodies of people around me, including skateboarders and drummers. I believe these steps eventually led to my enjoyment.
Is this how the Gopchang Pants came to life?
Since the first time I saw bondage pants, I've always wondered where the design was inspired from, because, as I said earlier, a design or trend is inspired from a cultural or functional background. Basically, Gopchang Pants are a product that was made to fully reflect one's attitude, regardless of the different body measures in the East or West. Those with shorter legs may maintain the wrinkles on the pants, while others with longer body measures can adjust the cords on the pants to unfold the wrinkles.
Is this attitude also reflected in your new collection?
I have a name for every new collection and the name for this collection is "Attitude." I wanted to express that the patterns or details on the clothes change according to the person's attitude. For example, if you were to tailor a suit, you would stand up-right to be measured. Once you leave the shop, your body would feel much more relaxed, and the measurements would differ from when they were previously measured. This is where my idea of attitude came from. There were similar elements in our past designs. At some point, I realized that my friends and I were always sitting on the ground, the railing or something. So the pattern was made for comfortability when sitting down, and the logo was placed on areas where it could be seen better, such as shins or sleeves. Clothes that look better when hung on a chair or pieces that were intentionally burnt with a cigarette are all part of this "attitude" in a way.
1 of 3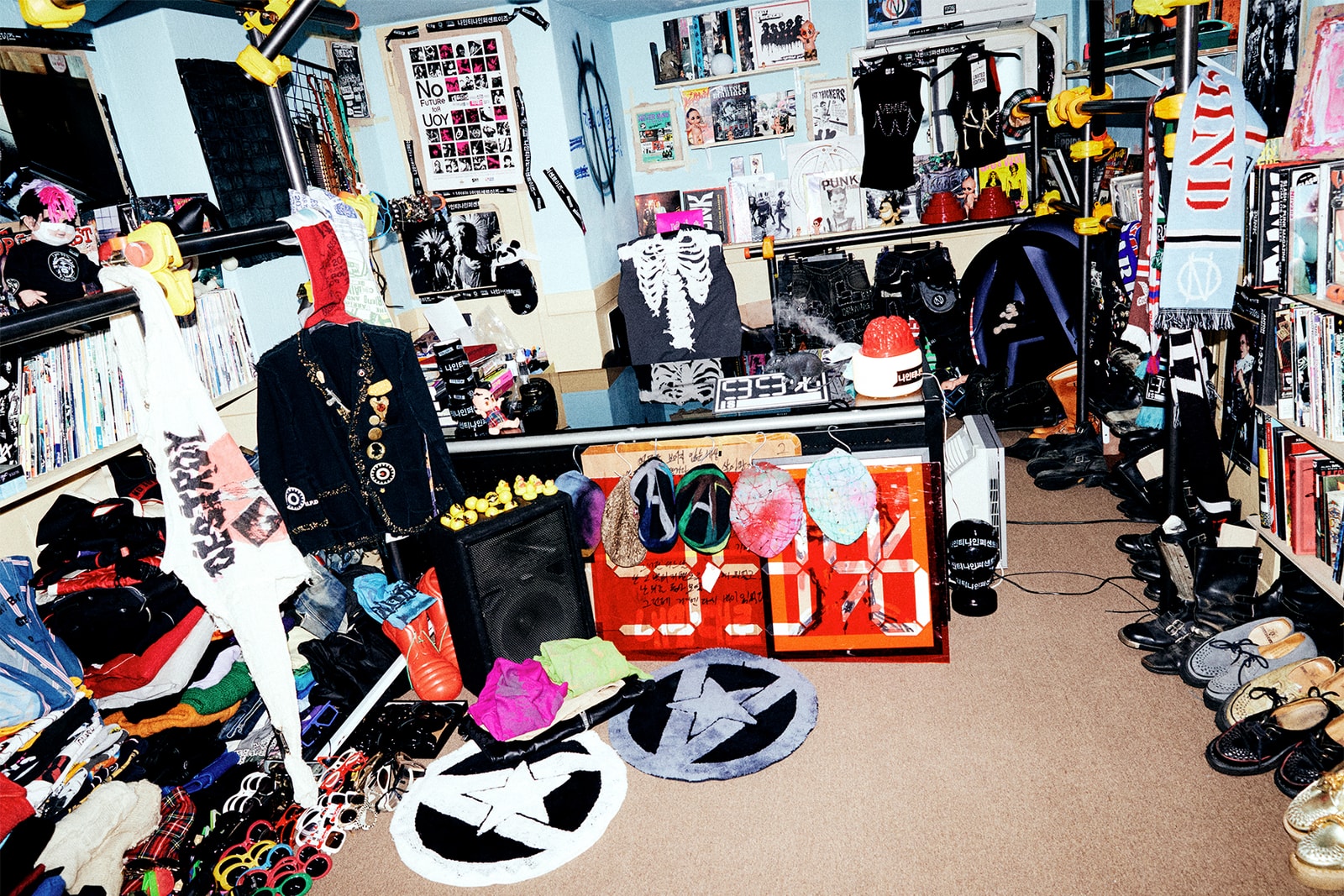 2 of 3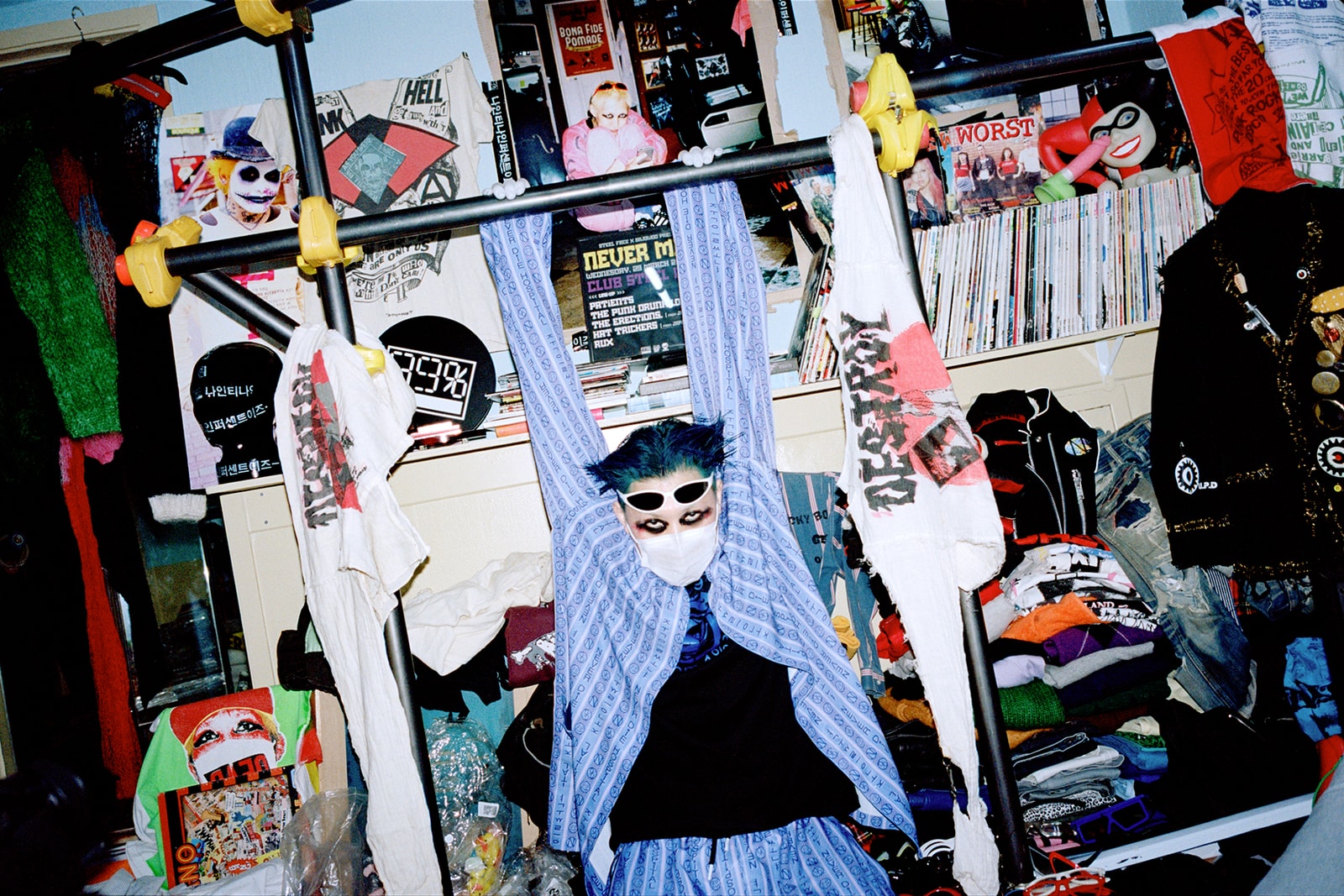 3 of 3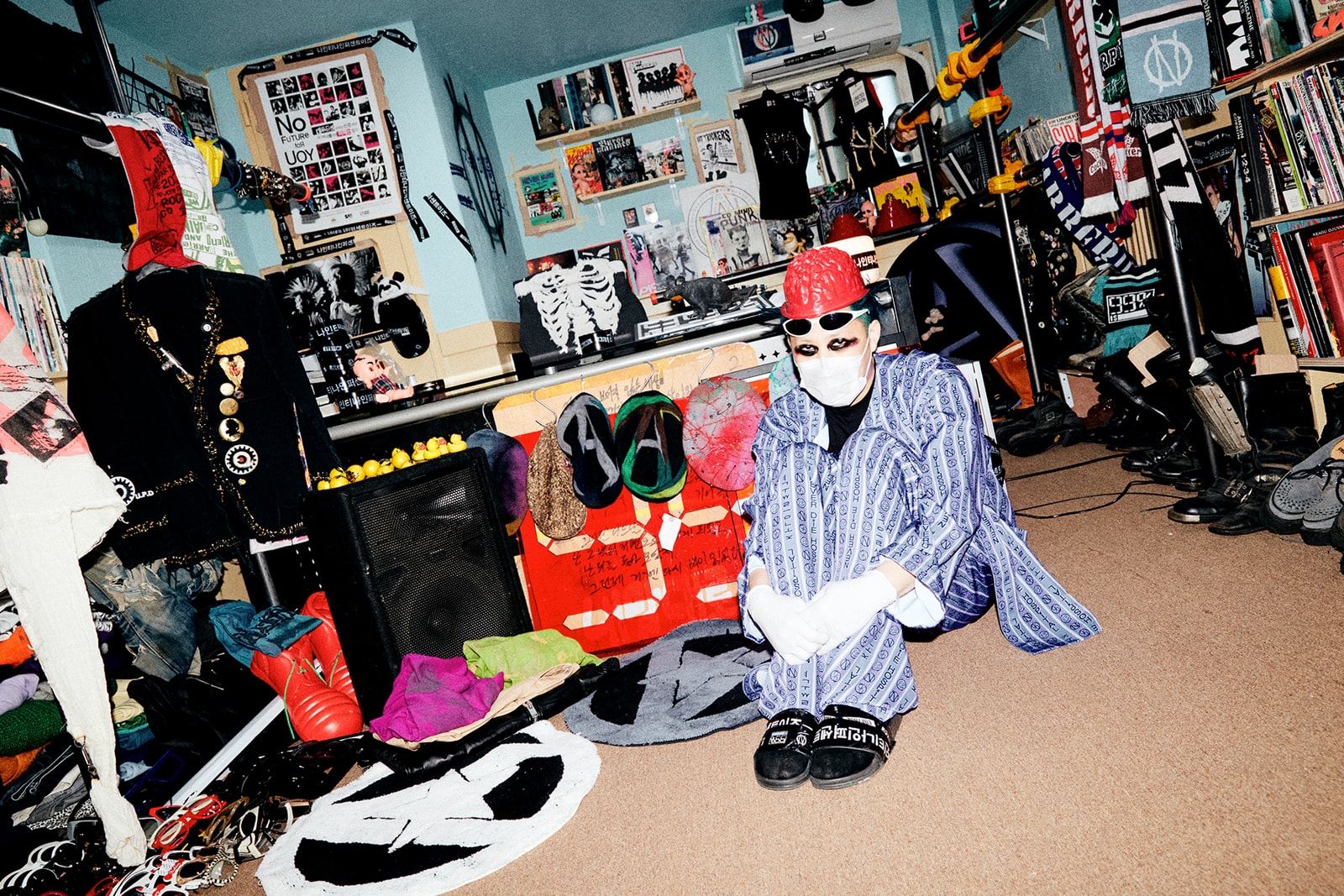 Is there a particular collaboration that you remember?
Two actually. I remember my first collaboration with George Cox. I've always been a fan and as his shoes were a "must" for punk, I asked for a collaboration when preparing for my first collection. But after I made the offer, I realized that there wasn't much to present from my portfolio. I just said, "I really like George Cox, and I would wear them until the soles wear out." and they replied back, "You're hilarious. Okay, let's do it. Instead you'll have to make 50 pairs, would that be possible?" That's how Cox's very first Shark Sole edition came to life.
The next isn't exactly a collaboration, but rather a story about making YKK zippers with our logo. We've mainly made leather clothing and as a lot of zippers are required in the process, we needed a zipper that satisfied our needs. We went over to YKK and asked if they could produce a zipper with our logo on it, and they replied saying that we would need to order at least 1,000 zippers even if we only needed one. We had been trying to persuade them for several collections and eventually after about two years, we succeeded in making a 99%IS- zipper.
Bajowoo's acquaintances with global musicians and various celebrities is a hot topic. On the other hand, who are the young Korean artists that you're focusing on?
HYUKOH is the first to come to mind. I would meet him from time to time and we share a lot of discussions. He would talk about his interests or what his band should be doing and I would talk about my interests and how it conflicts with what 99%IS- should be doing. I think these discussions have a huge influence on me, and I think it's because of his background as an underground artist. At first, HYUKOH's CEO came to observe us when we met up. As my looks are pretty unusual, I think the CEO may have been worried that I would have a negative influence on him. Of course, the CEO and I are much closer now, and the songs used for my 2017 and 2018 collections were all made by HYUKOH.
"I am currently making Gopchang Pants for Travis Scott to wear at Coachella."
You seem to be more popular abroad than in Korea. How did you first become a well-known figure?
I was first known to the global audience thanks to Lady Gaga. During my study abroad days in Japan, Lady Gaga visited Tokyo and stated that she would only wear Japanese branded clothing for her three-day stay. My products were selected for one of those three days. I also coincidentally ran into Justin Bieber wearing my leather hooded jacket. After my first collection in 2012, I became the first Korean to sell his/her product on Japan's Opening Ceremony platform. Justin told me that he bought the piece through Opening Ceremony.
Also, Pharrell Williams visited your showroom when he visited Seoul in 2019.
One day, I woke up with a huge number of Instagram followers. So I said "What is this?" Then I found out that Pharrell started to follow me and liked several of my posts. Long after, I had a chance to meet him at an event in Japan, and he came to me from 50 meters out and greeted me. That was the start of our relationship and we've since been messaging each other via Instagram. When I heard that he was visiting Korea one day, I wrote to him, "I heard you came to Korea. Can you come over to our studio?" And right away, he replied, "Where are you? I'll be there right now."
You two seem to get along pretty well.
One time Pharrell sent us a long letter saying he wanted to borrow our clothes for an NBA event. He ended up wearing it, but later I received a call in which he politely asked, "Could you give this to me as a gift?" I got the feeling that he was a very honest and gentle person. I ended up giving it to him and that became the trigger to our relationship — also, that's how I also got to know Offset. Later on, Pharrell personally invited me to his home, and our relationship grew into a partnership, which led us to open a pop-up collection in Euljiro in 2018.
Is there an upcoming project underway?
I am currently making Gopchang Pants for Travis Scott to wear at Coachella. I don't intend on selling it to him, but rather I will be making two pairs; one for myself and one as a gift to him. No special intentions, just for the sake of my own memory. Oh, and I am also planning on a ninth-anniversary collaboration with Nike. Nothing is official yet.
"I don't want 99%IS- to be a brand with a distinct identity."
Select shops have also played a role in 99%IS- becoming the brand it is today.
We have a strong history with 10 Corso Como. Thanks to this shop, we were able to host two pop-up exhibitions and a guerrilla performance. Boon The Shop has also been a good partner for every collection. H. Lorenzo is special among others — the project on damaging leather with bombs as well as the recent strip club capsule were all possible due to H. Lorenzo's sponsorship. He is like a mentor, the go-to person to ask for a review of my clothes. His words, "You're the only one who can do this," are still the driving force behind my creativity.
What kind of city is Seoul to Bajowoo?
It used to be a place full of hate and discontent. I could only see things that I couldn't do. So I used to make items, which included words like "SEX, SHIT, SEOUL, SIBAL." Now it's more like a love-hate relationship. I'm just here in Seoul, so I'm happy and doing what I can.
Where is the next destination of 99%IS-?
I don't want to make a brand with a distinct identity. I just want to put 99%IS- in the most difficult, most enjoyable, and the furthest of places. I want to make a design methodology that doesn't exist in our world. What's important is that I want to direct myself horizontally, not higher or lower.