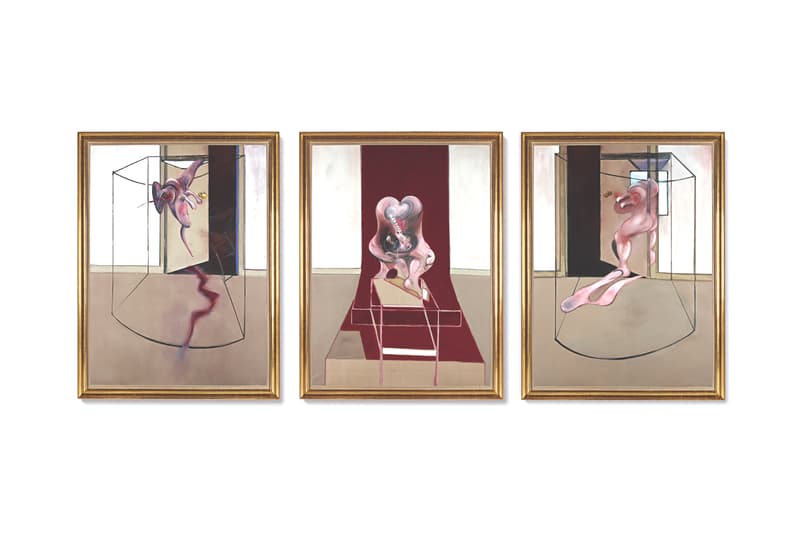 Sotheby's to Auction $60 Million USD Francis Bacon Triptych
Taking place May 13.
---
Esteemed auction house Sotheby's has announced that one of Francis Bacon's famous triptychs with an estimated worth of $60 million USD will be up for auction on May 13 in New York.
No doubt one of the highlights of the upcoming auction, the lot in question features the British artist's Triptych Inspired by the Oresteia of Aeschylus from 1981, a massive three-piece oil painting inspired by the ancient scholar Aeschylus' Greek tragedies originating back in the 5th century B.C. It currently belongs to the collection of Hans Rasmus Astrup, a Norwegian magnate who inherited his family's shipping conglomerate and subsequently founded a private contemporary art museum in Oslo. The sale of the paintings will go towards funding the development and maintenance of the institute. During the announcement, Sotheby's Europe's head of contemporary art Alex Branczik also referred to Bacon as "the great tragedian of his age" and noted his work's ability to relay Aeschylus' ideas "so that timeless power of the Ancient Greek genre is brought to bear on the human condition in the 20th century."
It's also not the first time a triptych from Bacon has sold for a staggering figure: back in 2013, the artist's Three Studies of Lucian Freud from 1969 sold for a record $142 million USD.
Elsewhere in the art world, Jason REVOK has painted four murals at Nike's World Headquarters in Portland, Oregon.