Take a Look at Paul Altieri's Coveted Rolex GMT-Master Collection
Five Incredible watches.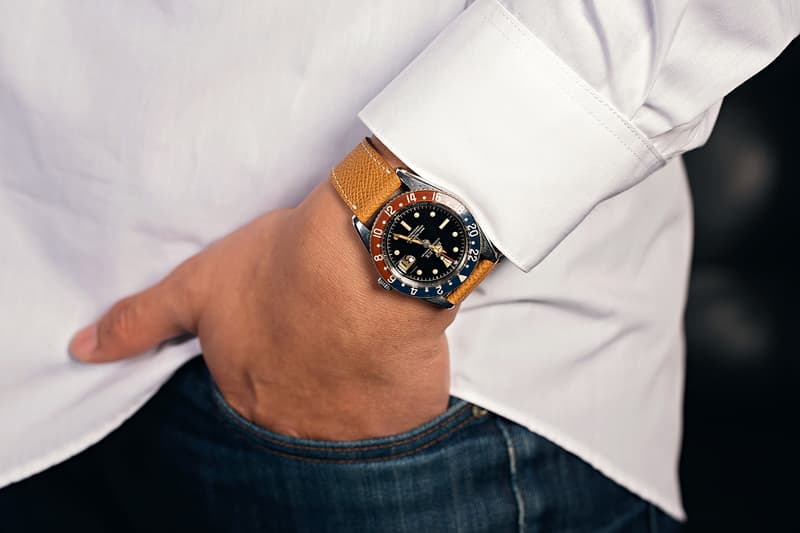 Rolex's GMT-Master line of watches has always been the go-to for those looking to keep track of time over multiple timezones. Revered by pilots and other adventurers alike, the GMT function utilizes a fourth hand (24-hour) in conjunction with the bezel for multiple time readings.
Joined once more by Paul Altieri of Bob's Watches, we take a look at five special Rolex GMT-Master watches in his possession. Heading down the vintage route, Altieri walks us through the five esoteric watches and how they've changed in their six decades of existence. While the physical attributes of each watch tell of Rolex's horological advancements throughout the years, each of Paul's acquired pieces has a unique backstory that paints a detailed memoir of the life it has lived.
Since introduced to the market, each watch has increased in value well beyond its original price tag. Find out what makes these some of the most valuable and sought after vintage Rolex GMT-Masters below.
Rolex GMT-Master Ref. 6542 Tropical Dial Circa 1959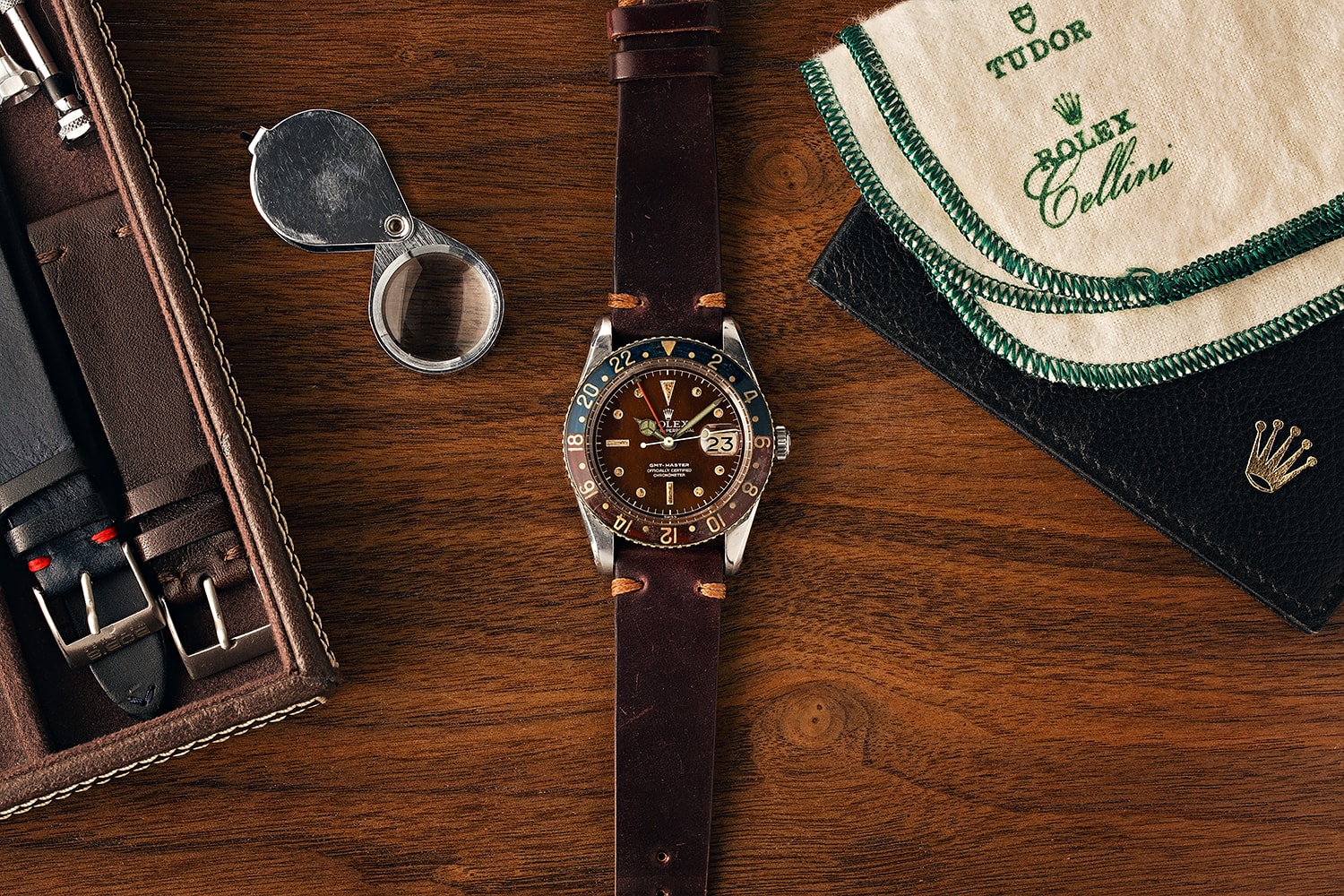 This very rare and well-preserved stainless steel automatic dual-time wristwatch features a date, sweep center seconds, no crown guards, a small GMT hand, a gilt printed tropical dial, and Bakelite bezel insert. A watch of this type is estimated at around $200,000 USD.
Paul Altieri: This watch came to us from the son of a highly decorated Captain in the Merchant Marines. Born in 1909, the original owner of this Rolex GMT-Master had a long and illustrious career in the armed forces, starting out in the 1930s and continued all the way up until his retirement in the early 1970s. He began his military career with the US Navy, and at some point picked up this GMT-Master, before going on to become a Captain with the Merchant Marines. During his time with the armed forces, he played an integral part in many wars and international conflicts, including WWII, Vietnam, and Korea.
His involvement in countless important missions earned him many distinctions, and after purchasing his Rolex GMT-Master, it rarely left his wrist until his passing in 1987. Although this watch was purchased as a reliable timekeeping tool and saw daily rigorous wear – often in dangerous or extreme conditions – it meant a significant amount to its owner and was one of his prized possessions. His son recalls some of his favorite memories with his father were when they would take the family boat out on the water to go sailing with his brothers, and during those times, just like during times of war, this Rolex GMT-Master was always on his wrist.
Rolex GMT-Master Ref. 1675 Circa 1960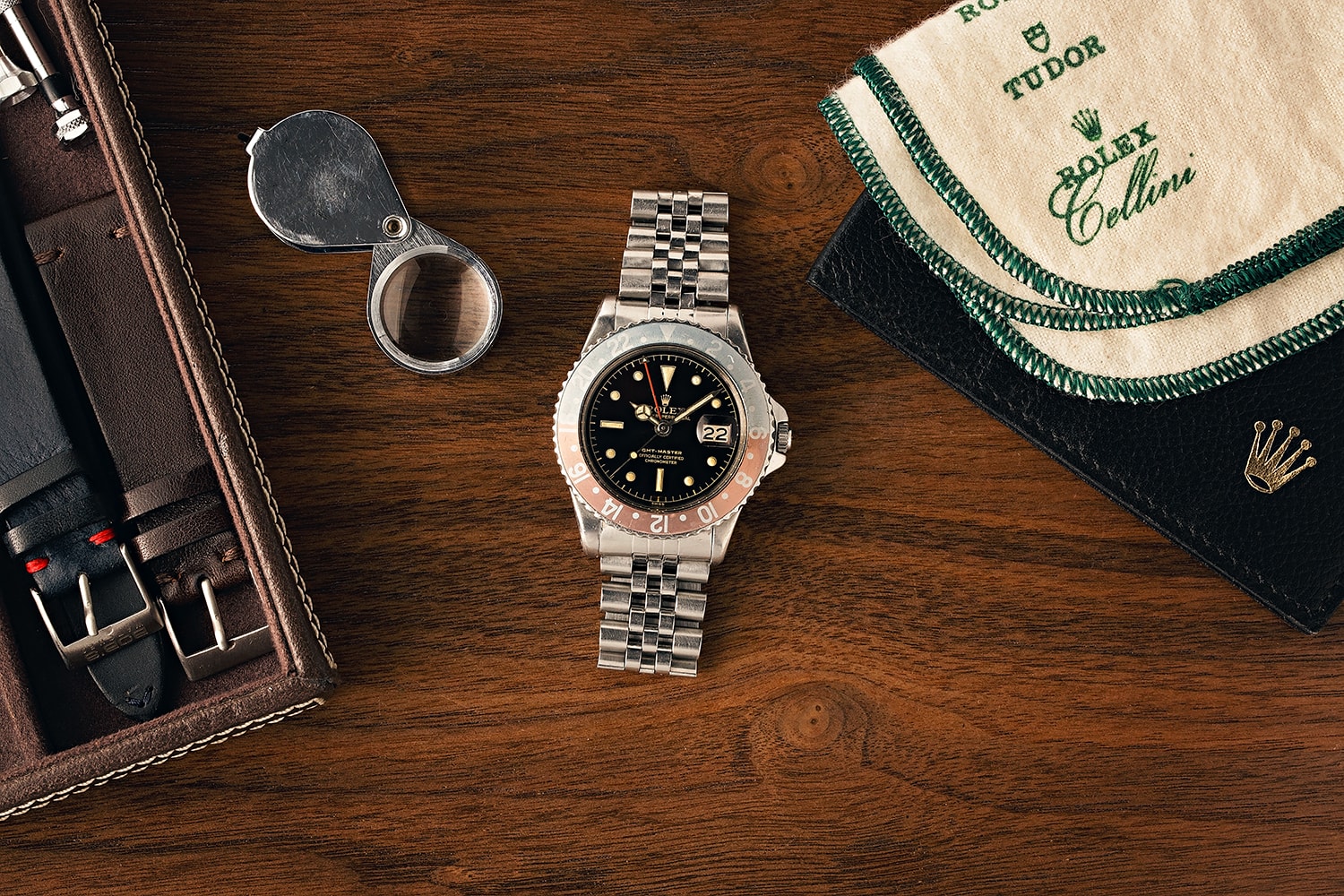 A stainless steel automatic dual-time wristwatch that features a date, sweep center seconds, pointed crown guards (PCG), a small GMT hand, gilt printed dial, a faded "ghost" bezel insert, and a Jubilee bracelet. This watch has an estimated value of $65,000 USD.
P: This early GMT-Master is a wonderful and extremely rare example of Rolex's iconic model. Manufactured by Rolex in 1960, this tool watch features its original black glossy dial with gilt print reading "Officially Certified Chronometer", which is highly sought after by collectors due to its rarity. The "OCC" dial was later replaced with the "Superlative Chronometer Officially Certified" signature. The hour markers have aged to a creamy soft yellow and perfectly match the hands, complete with its original, luminous 24-hour hand with a small arrow tip. The red and blue Pepsi bezel insert has naturally aged to a light and appealing shade of red and blue giving a "ghost-like" appeal. Furthermore, this GMT Master features early, pointed crown guards, which Rolex added for protection. These pointed guards, shaped like "little horns", are referred to by collectors as "cornino". The reference 1675 has become a true collectible in the world of vintage watch collecting, and the present watch from the earliest days of production provides extraordinary, long-term value to avid collectors.
Rolex GMT-Master Ref. 1675 Circa 1966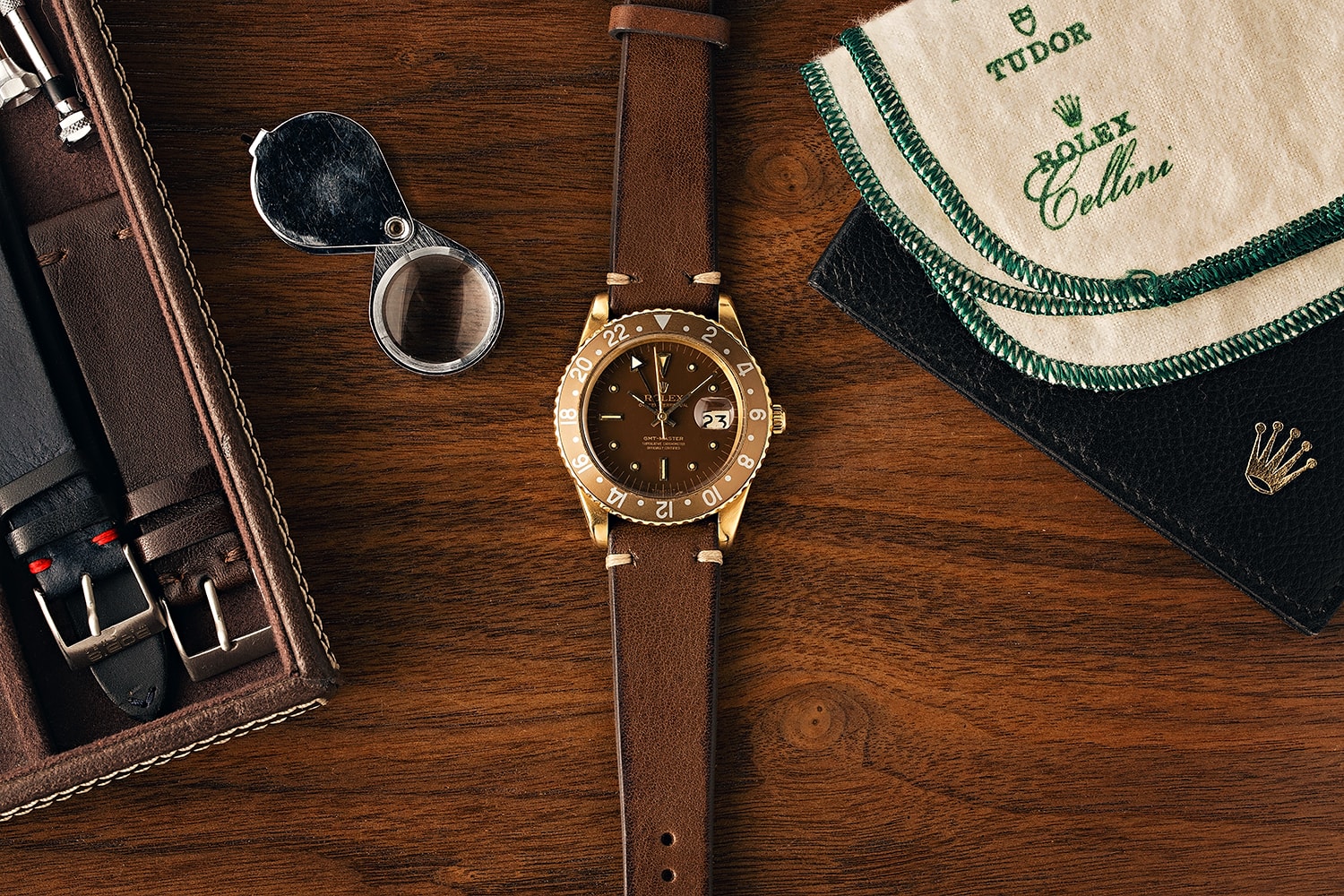 This is another rare and attractive dual-time wristwatch but in yellow gold. The watch features an automatic dual-time movement, date, sweep center seconds, no crown guards, baton-style "Concorde" hands, and a faded "ghost" bezel insert. This has an estimated value of $75,000 USD.
P: This Rolex GMT-Master came to us from a clockmaker in Scotland whose father acquired it as part of a box filled with various items that he had purchased from a local auction hall in their small town. When his father passed, the man inherited a box filled with old watches and clocks, many of which were purchased from that exact same local auction saleroom. At that time, in 1974, he was working as a clockmaker and was in the process of starting his own business, so the box of watches and clocks from his father was put away and forgotten about for many years.
In 2001, the clockmaker and his wife emigrated to Naples, Florida and this Rolex GMT-Master just happened to be among the boxes of personal and family belongings that had been shipped out. When he first discovered it among the various watches and clocks left to him by his father, he didn't know much about it but showed it to Rolex-certified watchmaker who told him that it was a valuable and noteworthy watch. After learning of its value and doing some more research about exactly what his father had left him, he came across our website and ultimately decided to sell the watch to us. Two years ago, the clockmaker and his wife sold their business in Florida and moved to Spain, so that they could be closer to their family in Scotland, while still enjoying the great sunny weather.
Rolex GMT-Master Ref. 6542 Circa 1959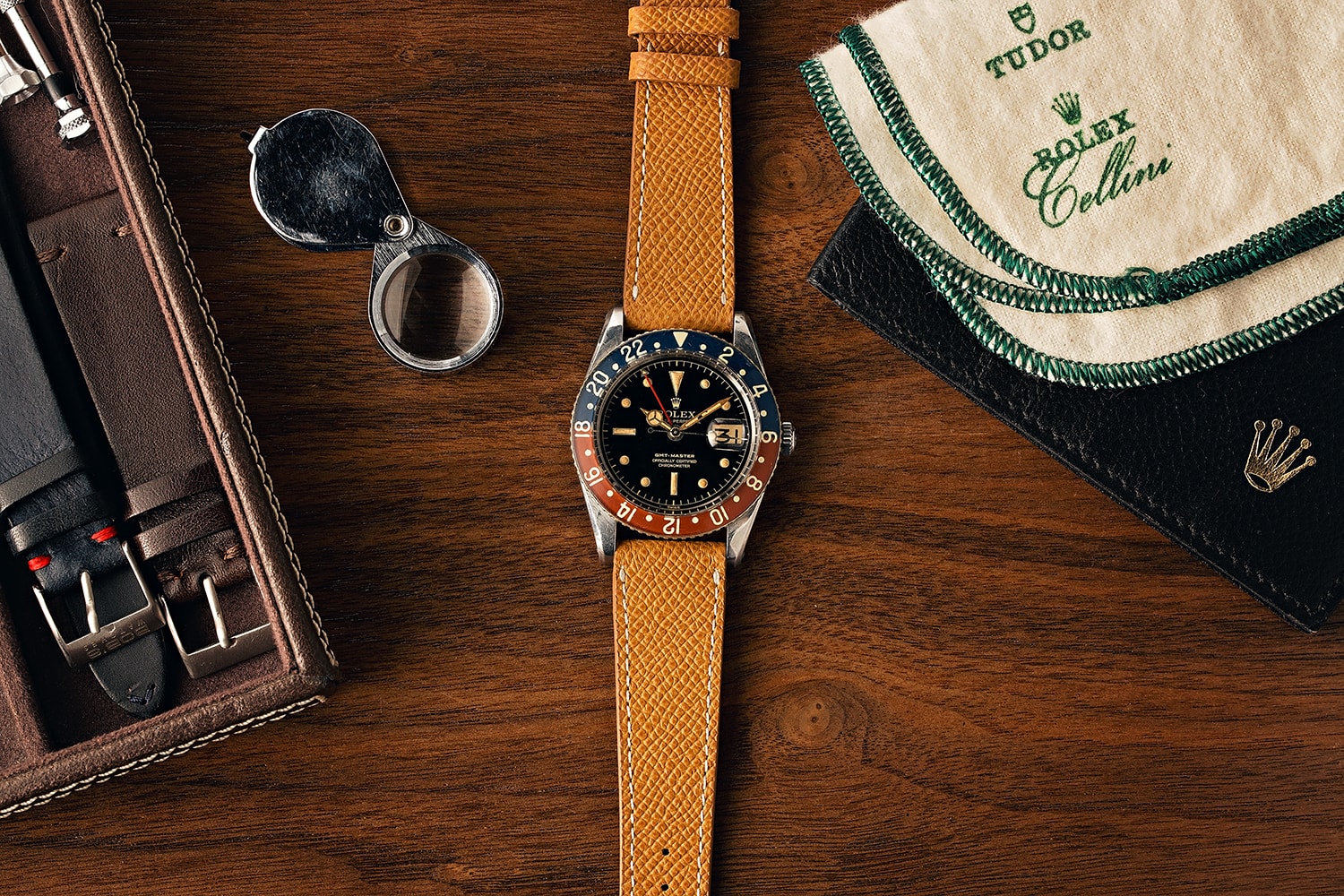 This stainless steel automatic dual-time watch continues with the customary vintage Rolex GMT-Master layout with a date, sweep center seconds, small GMT hand, gilt printed dial, and also features no crown guards, and a Bakelite bezel insert. This watch has an estimated value of $$275,000 USD.
P: This GMT-Master belonged to an individual that has traveled to the furthest corners of the world. Originally purchased from the Rolex store in Lucerne, Switzerland, this watch would go on to accompany its owner absolutely everywhere, from 1,300 meters underground in the copper mines in Kitwe, Zambia to Al-Kufrah, Libya where it spent an extended period of time bouncing through the desert in a Land Rover – and picking up a few scratches and stories in the process.
The original owner recalls wearing this GMT-Master through all of his adventures and travels, from climbing up the Great Pyramid in Egypt to traversing back and forth between Amman and Baghdad in 1980s Chevy Impala taxi cabs. This watch was present for every possible adventure and milestone in its owner's life and was a faithful timekeeping friend through three marriages, time spent navigating the Nile, Zambezi, Rhine, and Mississippi rivers, and even being evacuated to Athens from Beirut just before the Lebanese Civil War. Does it still run and keep proper time? You bet it does.
Rolex GMT-Master Ref. 6542 Circa 1958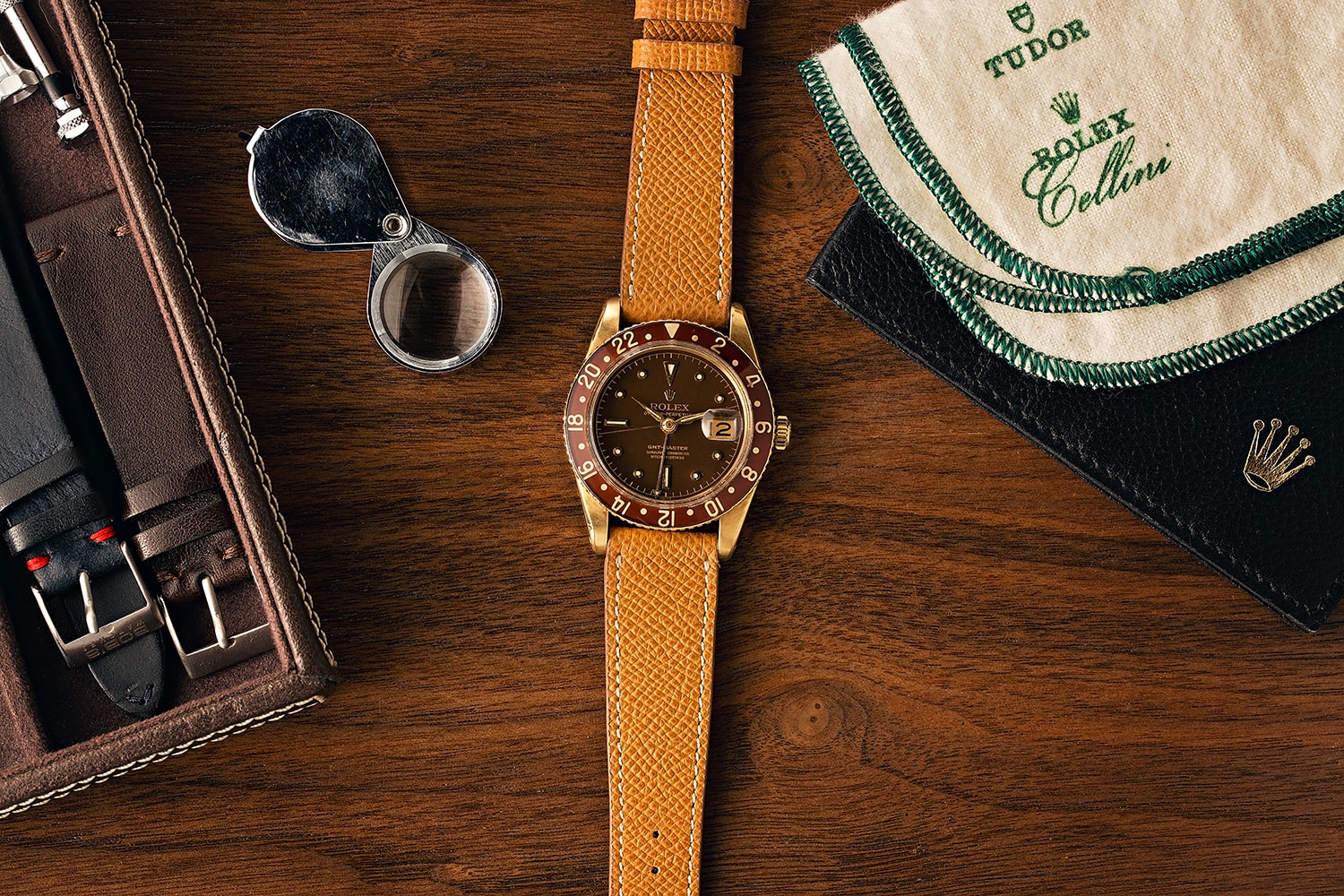 This is a good example of an early yellow-gold Rolex GMT-Master 6542 watch. This watch features a date, sweep center seconds, no crown guards, leaf hands with small GMT hand, and Bakelite bezel insert. This watch has an estimated value of $150,000 USD.
P: This Rolex GMT-Master came to us from the grandson of a doctor in North Carolina. Born into a humble household, he worked hard as a college professor until he met his wife, whose father — a man also from humble beginnings — offered to fund his dreams of continuing medical school. He graduated from Wake Forest School of medical school and would go on to specialize in plastic surgery and post-trauma reconstruction, becoming a specialist in the hands and faces of people who had been through major accidents.
His grandson recalls that his true passion was working with his best friend, a trauma surgeon, to rebuild the more complex parts of seriously injured people before too much scar tissue had developed. He also served on several research medicine teams that helped pioneer new methods of organ transplants in the 1970s that significantly increased their success rate. Eventually, he opened his own practice, where his wife got her start as a marketing professional before going on to become a professor of journalism at UNC. Despite his success, he always remained true to his humble roots and rarely ever purchased himself nice things. The one exception was this Rolex GMT-Master, which he purchased while on a family trip in Switzerland, and wore during the years while running his own practice.
In other watch news, Timex debuts its 1979 Q Timex reissue-inspired M79 Automatic.