Jonah Hill's adidas Partnership Is a Genie Wish Come True
The Hollywood superstar talks about adidas, mentoring future filmmakers and becoming a street style maverick.
"Go ahead," Jonah Hill urges a group of could-be future directors and screenwriters, "yell at Chris and say, 'Get your act together, Chris!'"
Chris is Chris Blauvelt, the Director of Photography for Hill's directorial debut, Mid90s, as well as the lead cinematographer on Hill's very first adidas collaboration — the star-studded "Change Is A Team Sport" commercial.
Hill is leading a filmmaking workshop at adidas Basketball's inaugural Legacy Program event in Chicago. Introduced as the "world's best career day," the event invited 240 student-athletes across eight different Chicago high schools to spend the day learning about various professions in the worlds of sports, fashion, music, gaming, broadcasting and filmmaking. Classes were taught by adidas and its premier ambassadors, including Pusha T, Ninja, Derrick Rose, Fat Tiger and many more.
"We want to give these kids what I wish a filmmaker I liked would have come and done when I was in high school," says Hill. "I'm going to try and give them, in the short time that we have, an education on what it's actually like to make a film, what you actually have to do and what actually goes into it, all by showing them that they can do it themselves."
For a little over an hour, Hill, Blauvelt, wardrobe stylist Rahel Berihu and WNBA champion Alexis Jones guided a group of 30-or-so wide-eyed teenagers through creating their very own adidas commercial. Students interested in being directors and screenwriters met with Hill to write and lead the production; the next generation of cinematographers took cues from Blauvelt on how to properly shoot the treatment; a group of student-stylists picked out wardrobe with Berihu's help; and future actors took advice from Jones on how to confidently perform in front of a camera. The kids walked out of the classroom looking energetic and inspired, some even had their kicks sign by the Academy Award nominated actor-filmmaker.
Prior to the workshop, HYPEBEAST got the chance to speak with Hill about the Legacy Program and its Chicago career day. We also talked a bit about how his partnership with adidas came about and what he hopes to accomplish with the brand.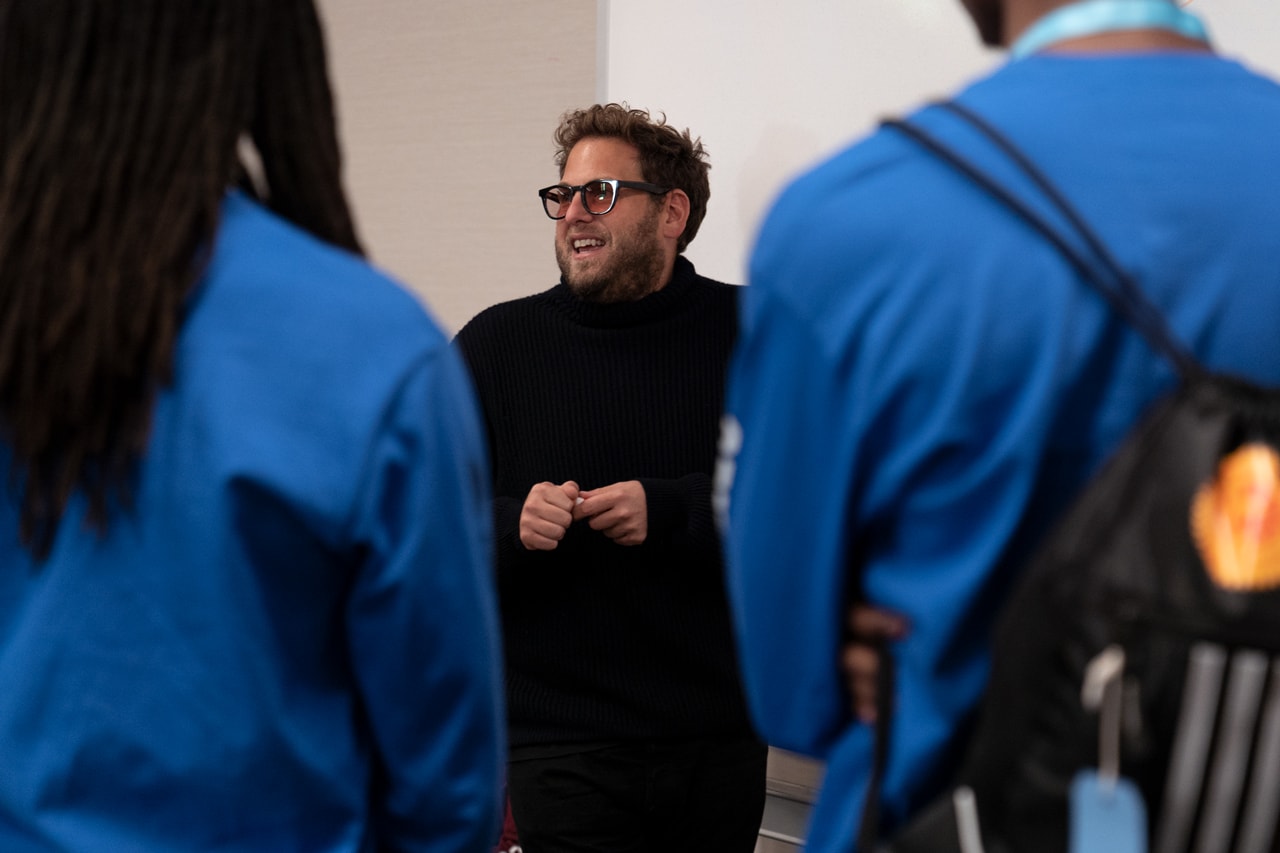 Before we jump into the Legacy Program, I want to know about your partnership with adidas and how it all came about in the first place.
Man, it was amazing. I mean they've just been incredible. First of all, I really do want to give a shout out to the Throwing Fits guys, those guys are amazing. Basically, a couple of years ago people started following me and the kind of stuff that I was into, and it was really cool because fashion is a big thing for me. But sometimes when you're just known as something else, people don't really care about how you dress, which is kind of how it felt for a long time.
Then people started to really pay attention to me and what I was wearing, and thought, "This is sick, but I'm still doing what I want to do." I'm not doing it for that reason, but it's cool that the heads get it, which is all you really care about.
Then it got even bigger than that, and it was funny because models would come up to me and be like "you're a fashion icon," or whatever, and I'd think she's lost because I'm just thinking, "this is so weird."
But it was really cool that Throwing Fits started Jonah Hill Day and then this stuff's really…it's just really surreal. I was like look, I'm almost ready to have my own brand. I was talking to Palace, and Mike Gigliotti's an old friend of mine, who had Lotties. And then people started sending me stuff and I was like, "I'm just going to start my own thing." You know?
Clearly these people don't know me, they're sending me stuff so I'll get photographed in their clothes. And I was like, "they're not my friends," but that's why I'll always wear Palace because those are my friends.
I'm lucky enough to have a lot of talented friends.
Is that how you ended up partnering with adidas, because your homies, like Lev Tanju and Na-Kel, were working with the brand? 
Well, I gave you such a long-winded answer, but basically, what was going to happen was, I was about to start my own company, and I was really excited about it, and then adidas called me out of the blue and wanted to partner up. Which meant I wasn't going to start a competing company at the same time. And when they called me up, I was like, "This is the dream." adidas is my favorite company. If I had a genie lamp and you were like, "Make a wish of who you'd partner up with," it would be adidas because that's what I wear and have worn since I was like eight.
So I pumped the brakes on the other thing and was like, "Hell yeah, let's go." And since then, it's just been the best collaboration. I mean, look what we're doing today. For my partnership with adidas, beyond the stuff that I'm sure your fans are more interested in, we're going to make things. So far, the few things I've done have been making this film with a bunch of really cool people and an amazing film crew. And then now we're going to teach film to high schoolers in Chicago. Like how sick is that?
So it wasn't just the kicks and kits that made you partner up with adidas, it was the resources and socially impacting initiatives.
Yeah, they have the funds and power to get that done. So if I was going to start a company, not only would I have to spend years blowing it up and making the stuff that I like, because adidas is letting me make the stuff that I like from a fashion standpoint, but then they're being so generous with their outreach; we want to do good things with this collaboration, not just collaborate on product.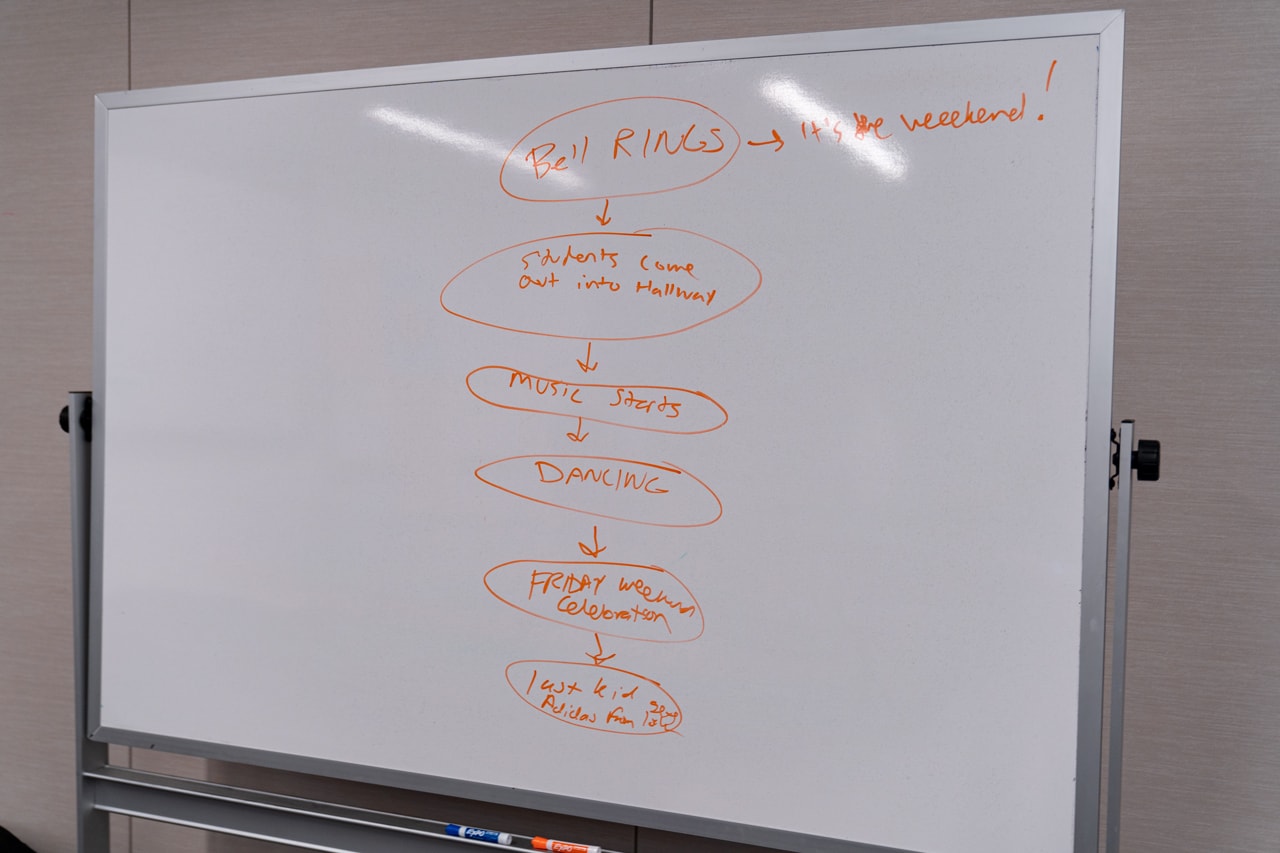 For today, Career Day, it's clear why you got involved in it, but what are you hoping to accomplish?
Today, with my DP Chris Blauvelt — he shot Mid90s — we want to give these kids what I wish a filmmaker I liked would have come and done when I was in high school.
I've been thinking, "if I was sitting in their seat, what would I want to learn about?" And so I'm going to try and give them, in the short time that we have, an education on what it's actually like to make a film, what you actually have to do and what actually goes into it, all by showing them that they can do it themselves. So hopefully they leave with a seed of, "Oh, I'm going to try and do this." You know when you were a kid, I don't know about you, but for me, whenever someone came to an assembly or something, it was always something you didn't really want to know about it.
Absolutely. "Welcome D.A.R.E. officer again-and-again…"
Yeah, and even if it was, they didn't answer the questions you actually wanted to ask. So Chris, because he's an amazing director of photography with a lot of experience, Chris and I will try to guide them through what they're feeling, like, "okay, if I want to do this, I know from this experience, maybe I can go out and do this."
What are you and adidas doing to follow up? Exposing underprivileged kids to professions they otherwise didn't know were attainable or even existed is one thing, but for them to fully realize these dreams they'll need consistent mentorship as well as resources and funding.
That's a really good question. I spoke to the [adidas] team and the main thing that I took away is that it's very much on their radar, and important to them as it is to me. They've been doing this in LA and New York, and this is the opening of it in Chicago. So there's going to be follow-ups in LA and New York. So myself personally, I'm asking if I can be involved in it more often in Los Angeles, where I live. They were more than aware and it was cool to talk to them about how they're going to follow up.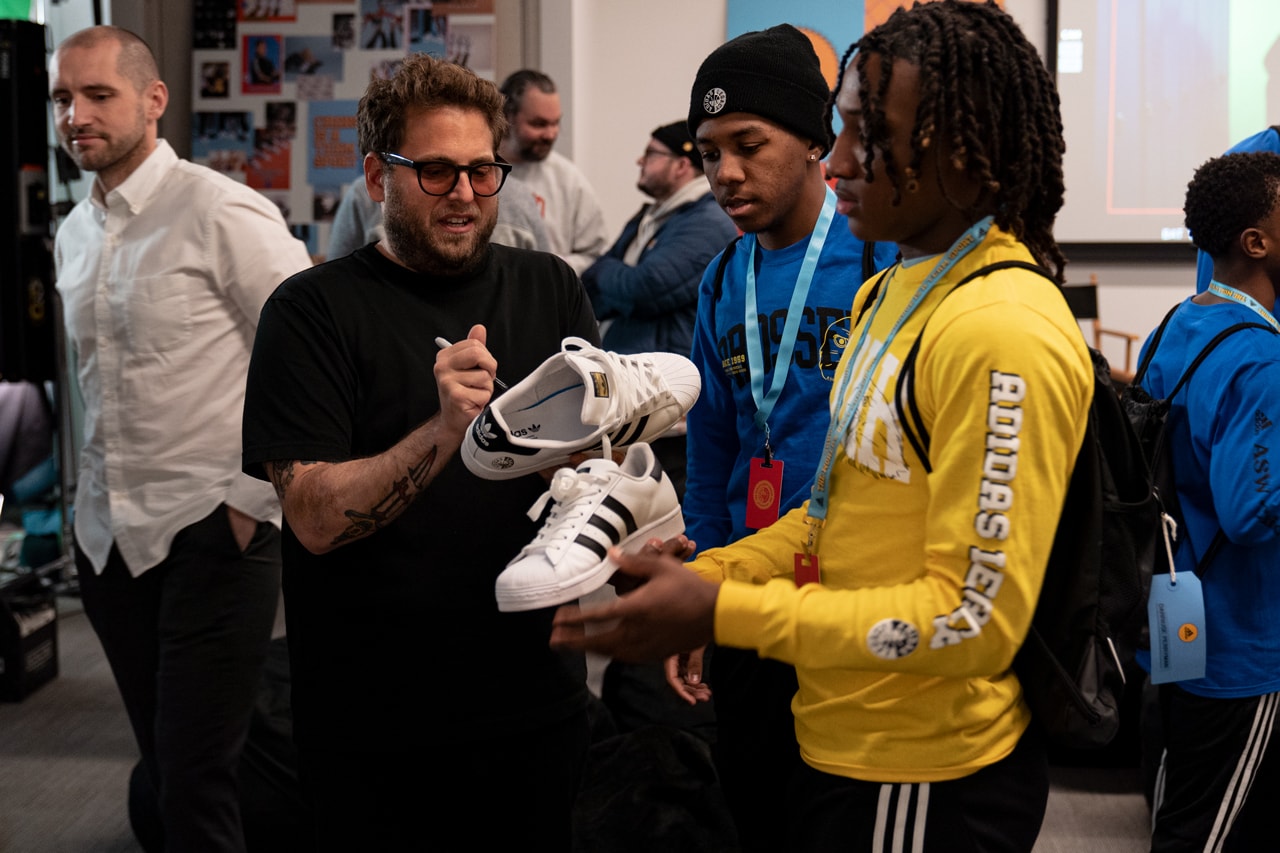 Did you yourself have a mentor growing up? I know you grew up in and around Hollywood, starting with your mother being a costume designer. Was there anyone else that pushed you towards writing and filmmaking?
I think mentorship is the most important part of my journey. And I was super lucky because we grew up in Los Angeles, the benefit of that is you see that there is a movie industry and people around you work in it. That is a huge benefit. If you're from Chicago, you probably don't know anyone who makes movies, it's because the industry isn't out here.
But for me…I started in comedy movies with Judd Apatow and Seth [Rogen], those guys were early mentors to me. And then later on Spike Jonze and Bennett Miller were great mentors to me. Q-Tip's a great mentor to me. Just people that I asked their opinion on things and their advice. I'm also very lucky because when I had some success, I had access to meet more artists and work with artists that I've really looked up to, like Leo [DiCaprio] and Martin Scorsese. Those are people I've gotten to work with that became people I come to for advice and I view that as the lucky part of what I do.
And so if anyone was trying to get that from me, the hard part is you can't just walk up to somebody on the street and be like, "Can you give me all this time and energy?" You know what I mean?
So hopefully it happens in a natural way where the younger generation, and where people that I've worked with now who are 10 years younger than me, that I'm hopefully giving that kind of education back.
I'm looking forward to seeing it all in action today. I'm sure the kids are going to geek out, not only just for you, but with Pusha T, Ninja and everyone else being here and present.
Yeah, it's so cool. I'm also excited to see what Pusha tells them in regards to becoming a musician. And that's kind of the point of the commercial that we made. I'm just as interested in seeing what Pharrell is talking about; I want to learn that lesson too. I'm trying to sit in on Harden's and Pusha's classes today too.
The commercial you mentioned, "Change Is A Team Sport," what do you mean by that? In the video, you said that you're here to "change things" and "make things better than what they were before." What do you mean by that? And how are you going to do it with adidas?
Well, I didn't write that, but what I view it to mean is that you don't accomplish these big feats on your own, right? With Pharrell, you have Chad Hugo, and you probably have, I don't know, a ton of other people that supported his journey.
Like Teddy Riley.
Teddy Riley, yeah. People that get in the bunker and are doing the work with them, right?
So the people I know who are great artists; if you're Martin Scorsese, you have Sandy Powell, who's the most brilliant costume designer, and Thelma Schoonmaker who's the most brilliant editor, Rodrigo Prieto who's the most brilliant DP. You have a team of people; filmmaking is the most outward example of it, where you have a whole crew, we literally call it a crew. Me, I'm coming with Chris today, and he's my partner in crime when it comes to anything visual. I'm on a team, and although I think the media likes to portray it like it's not, like it's this one person that's always doing these things. Not in my case, but you get what I'm saying.
It's a team, as much as being on a basketball team, and I think that was kind of their concept that they were working with. And I really get down with that because to me, not only just the creation part of making something is fun, but the fun of it is also in the collaboration. So with this little short film, my little vision was like, "what if there was a facility where all these people that need different art forms are kind of helping each other make their work great.
Thanks for your time today, Jonah. It was great speaking with you. We'll be on the lookout for the adidas Jonah 1.
It's coming, man!