David Hockney to Publicly Unveil 1975 'My Parents and Myself' Painting
Going on display at the National Portrait Gallery.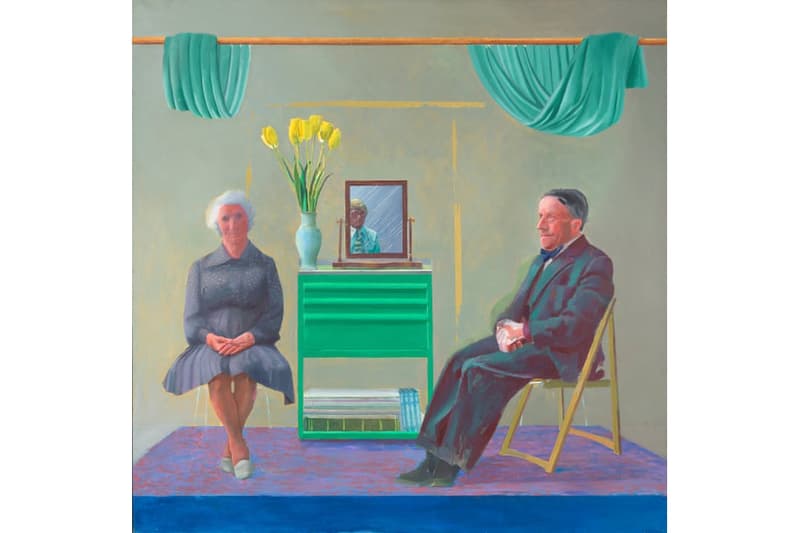 For the first time ever, David Hockney will reveal his 1975 painting My Parents and Myself at the National Portrait Gallery later this month. Abandoned in Hockney's Los Angeles home for 45 years, the painting depicts the artist's face reflected in a mirror between his mother and father. His decision to reject the work caused a temporary rift between the painter and his parents.
Hockney's sister, Margaret, explained their parents were a "difficult subject matter" and wasn't surprised when David called to say he'd decided to abandon his portrait of them. "Mum was naturally upset but had to respect David's decision," she said, before explaining that Hockney's father was furious with the decision and phoned David to tell him so. Sarah Howgate, curator of the new exhibition at NGP, has her own theories on why Hockney abandoned the work: "He overworked the painting. Painted it too much. His father is also too stiff."
A later version of the work, titled My Parents, was completed in 1977 and has become one of Hockney's most famous works. For his reworked portrait, Hockney depicts his father leaning over to read a book in a more natural, relaxed pose. The mirror image of the artist is also left out. My Parents and Myself still has three pieces of masking tape on the canvas and will be displayed outside the main NGP exhibition, called "David Hockney: Drawing From Life," beginning February 27.
In other art-related news, Ryan Travis Christian's chilling new works are inaugurating a new exhibition space in the Chamberi district of Madrid.
National Portrait Gallery
St. Martin's Pl.
Charing Cross, London WC2H 0HE
United Kingdom