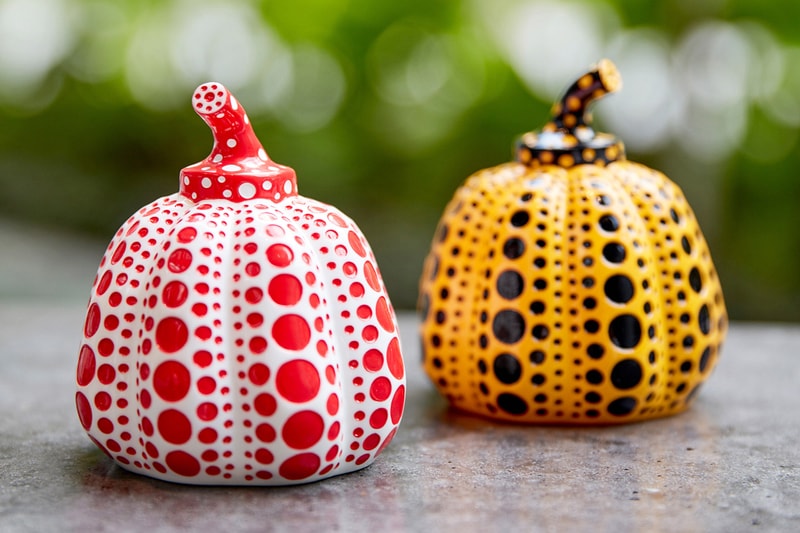 These Are the Best Artworks Releasing This Week
Sculptures of Yayoi Kusama's pumpkins, original paintings by SEEN and more.
---
Every week we spotlight the best art releases weekly by notable artists, galleries, museums and contemporary art platforms across the globe. Listed items typically encompass limited edition artworks, prints, collectible figures, collaborative merchandise and more.
For this week's installment: the MoMA Design Store releases sculptures of Yayoi Kusama's iconic pumpkins, Benedict Radcliffe drops BLUEPRINT wire sculptural editions, Phillips auctions off Banksy's Mona Lisa Pink, André Saraiva and Medicom Toy team up for another vinyl collectible doll of Mr. A, and SEEN drops three original 'Multi Tag' paintings on canvas.
View the full list below.
Kusama Pumpkins Resin Sculptures by Yayoi Kusama
Release Date: Available now on MoMA's website
Release Price: $280 USD
MoMA Design Store has launched resin editions of Yayoi Kusama's recognizable pumpkin sculptures in white/red and yellow/black colorways. These lacquer-painted gourds are 10 x 7.5cm versions of the artist's larger-scale works. As one of Kusama's most well-known motifs, the pumpkin brings back childhood memories and serves as a "solid spiritual base," while incorporating her prolific polka dot pattern.
BLUEPRINT Wire Sculptural Edition by Benedict Radcliffe
Release Date: Available by request via Benedict Radcliffe's Instagram
Release Price: TBD
Known for his life-sized wire sculptures of automobiles, Benedict Radcliffe has crafted 15 collectible pieces inspired by the Porsche 934. Roughly a 1:15 scale of the actual Porsche, BLUEPRINT depicts a minimalist version of the car in blue wire.
Mona Lisa Pink Painting by Banksy
Release Date: Available now on Phillips' website until February 10
Release Price: Contact ExhibitionSales@phillips.com
Banksy and KAWS have linked up for a private selling exhibition entitled "Ten Monkeys and a Dolphin: Banksy & KAWS." Hosted by auction company Phillips, the show feature a series of rare paintings, prints and sculptures — including Banksy's Mona Lisa Pink. Spray painted on canvas, the 75 x 75cm work showcases Mona Lisa in contrasting black and pink, while a white horizontal stripe runs through the center of the painting.
Big Mr. A Medicom Ball – Black Limited Edition VCD by André Saraiva
Release Date: Available now on André Saraiva's website
Release Price: TBD
French graffiti artist André Saraiva and Medicom Toy are teaming up once again for a new ball edition featuring Saraiva's ubiquitous Mr. A figure. Available in pink and black colorways, each 304mm-in-diameter ball is characterized by the figure's signature "X" and "O" eyes and wide grin. The ball in black is available in an edition of 50.
3848, 3847 and 3846 Paintings by SEEN
Release Date: Available now on Graffiti Loser's website
Release Price: $400 USD
Known as the "Godfather of Graffiti," world-renown graffiti artist SEEN first started painting in the New York City Subway stations in the '70s. Since then, his painted pieces have become iconic images of the time. SEEN has now released three original paintings showcasing his unique tags spray painted on canvases in seven different colors.