Versace's Trigreca Sneaker Shows the Latest Evolution of the Brand's House Codes
We speak to fashion experts about Versace's renowned Greca and Medusa patterns.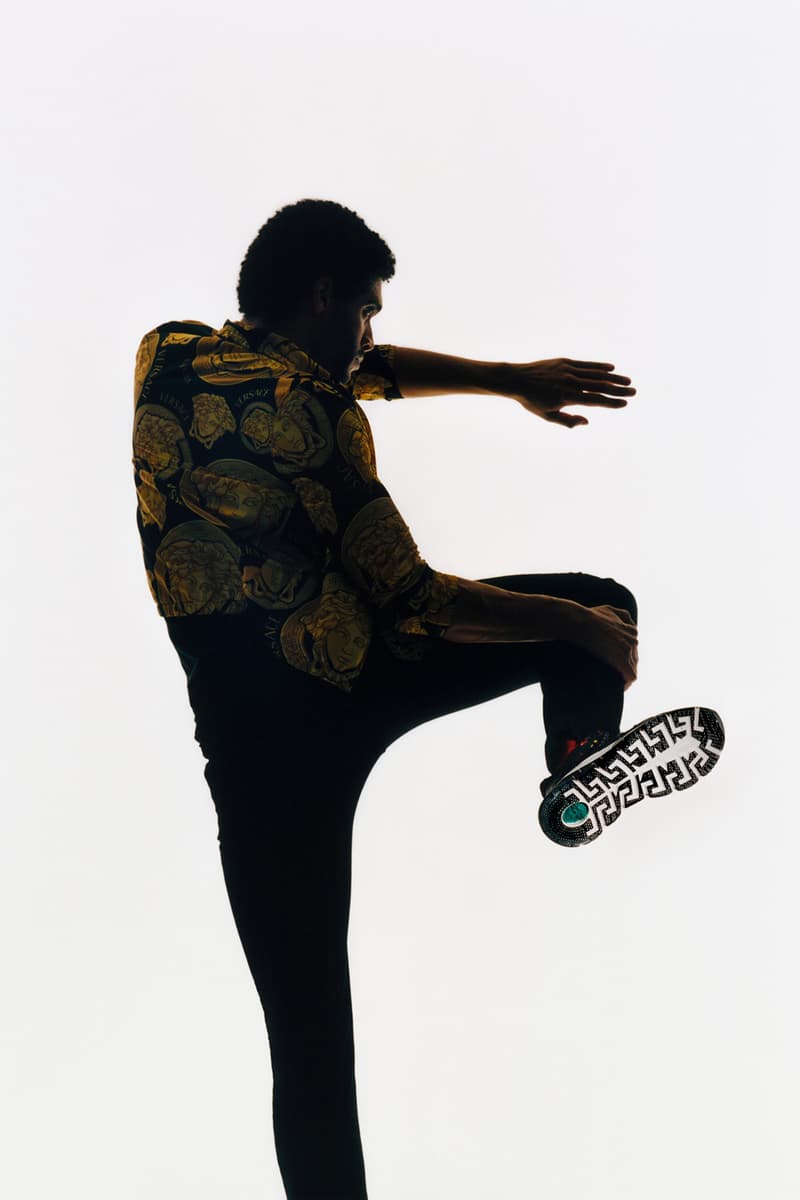 1 of 5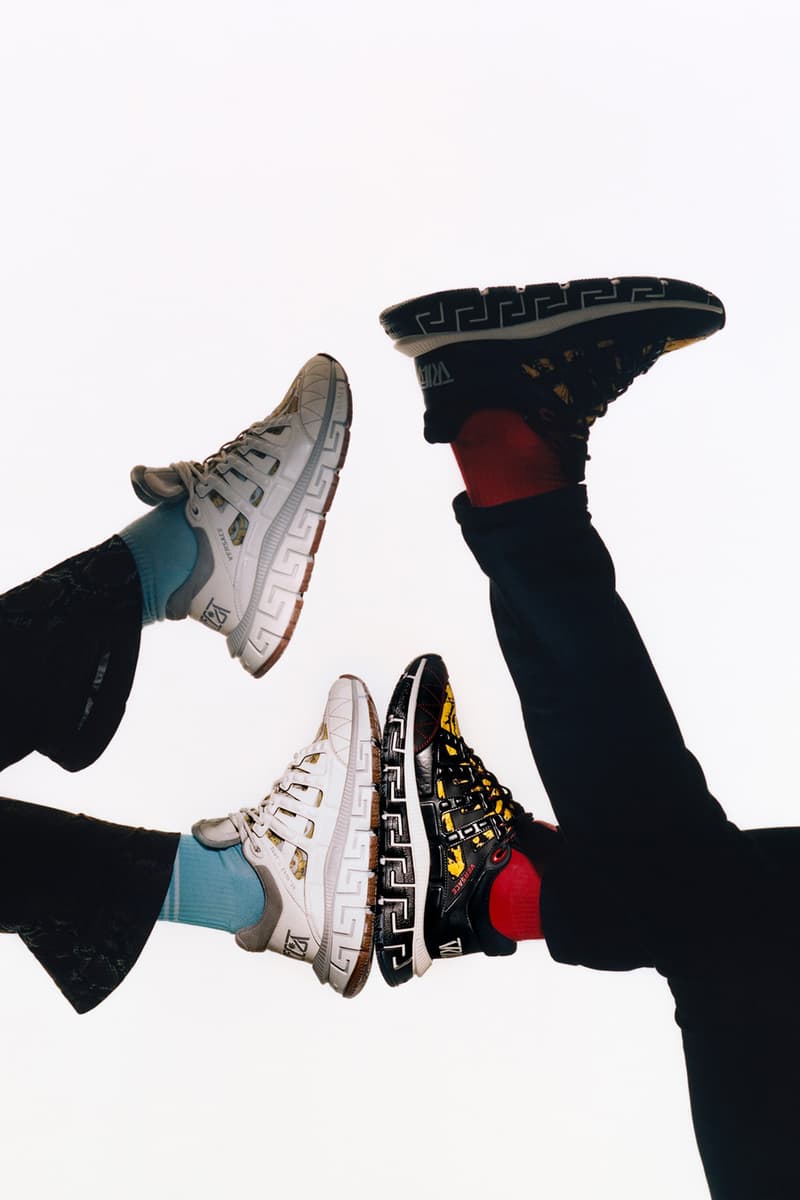 2 of 5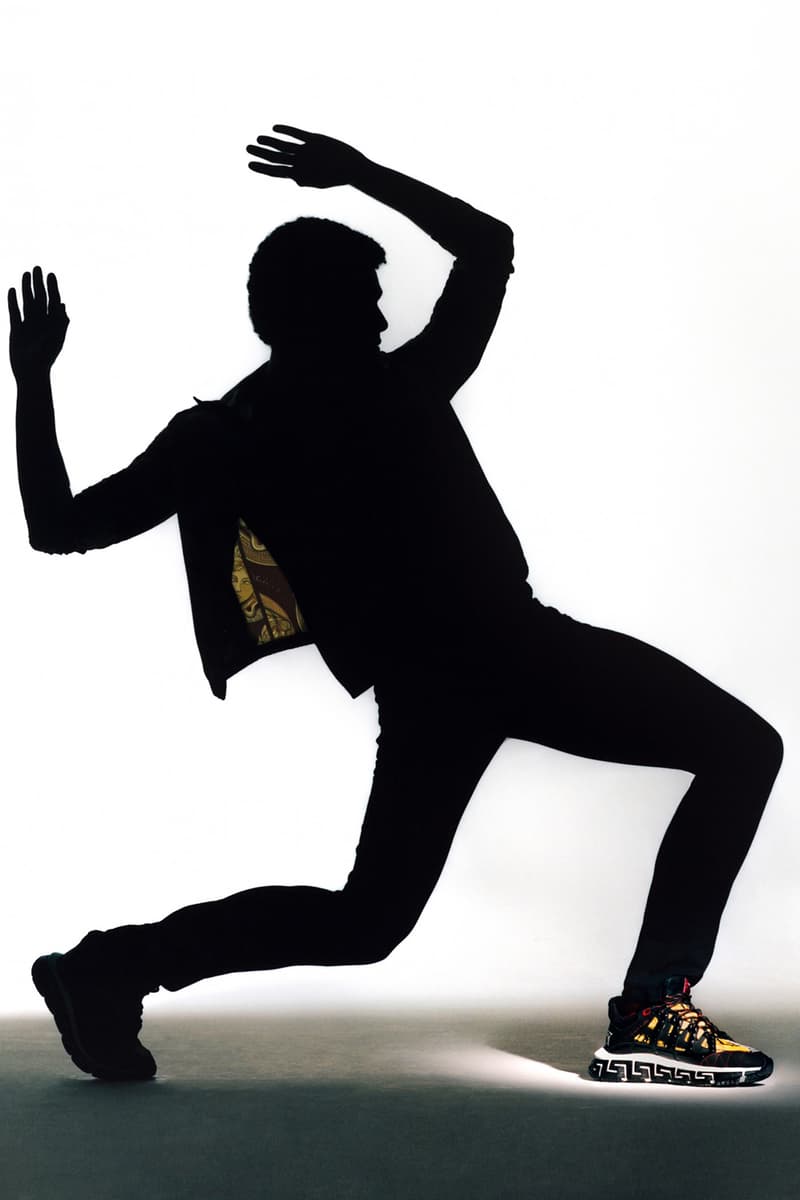 3 of 5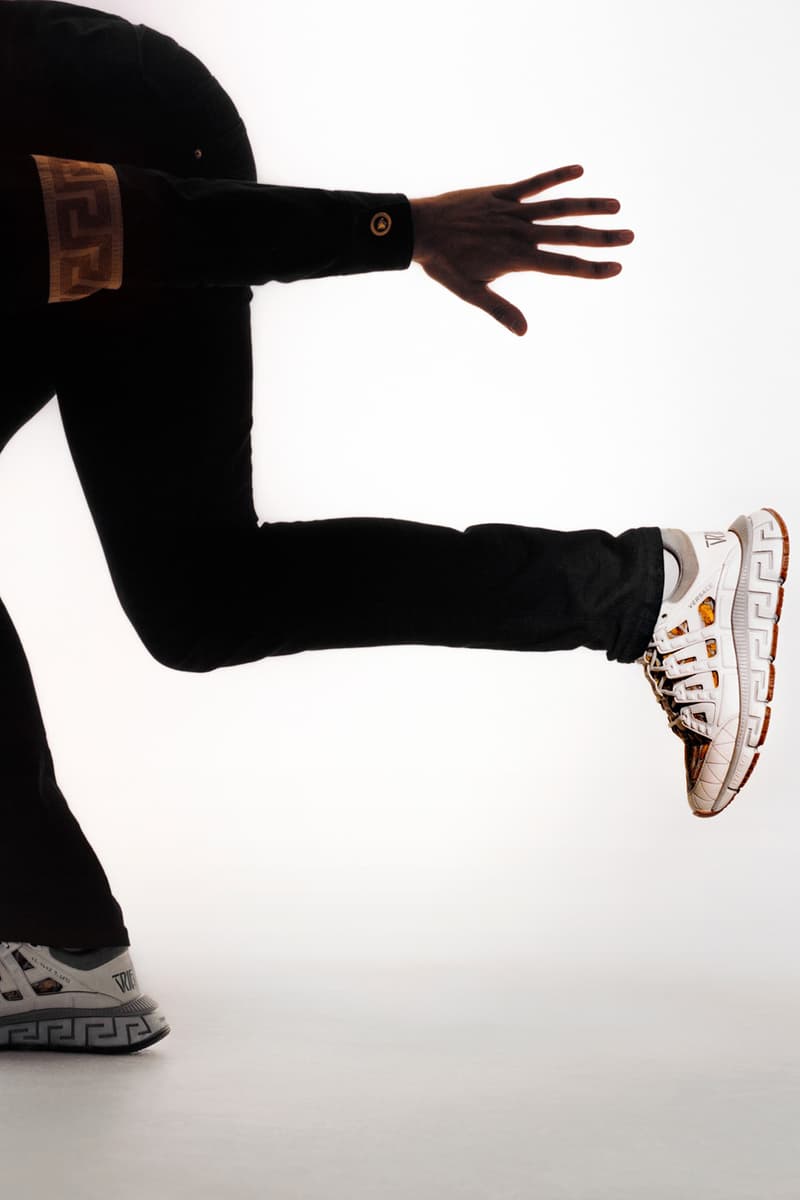 4 of 5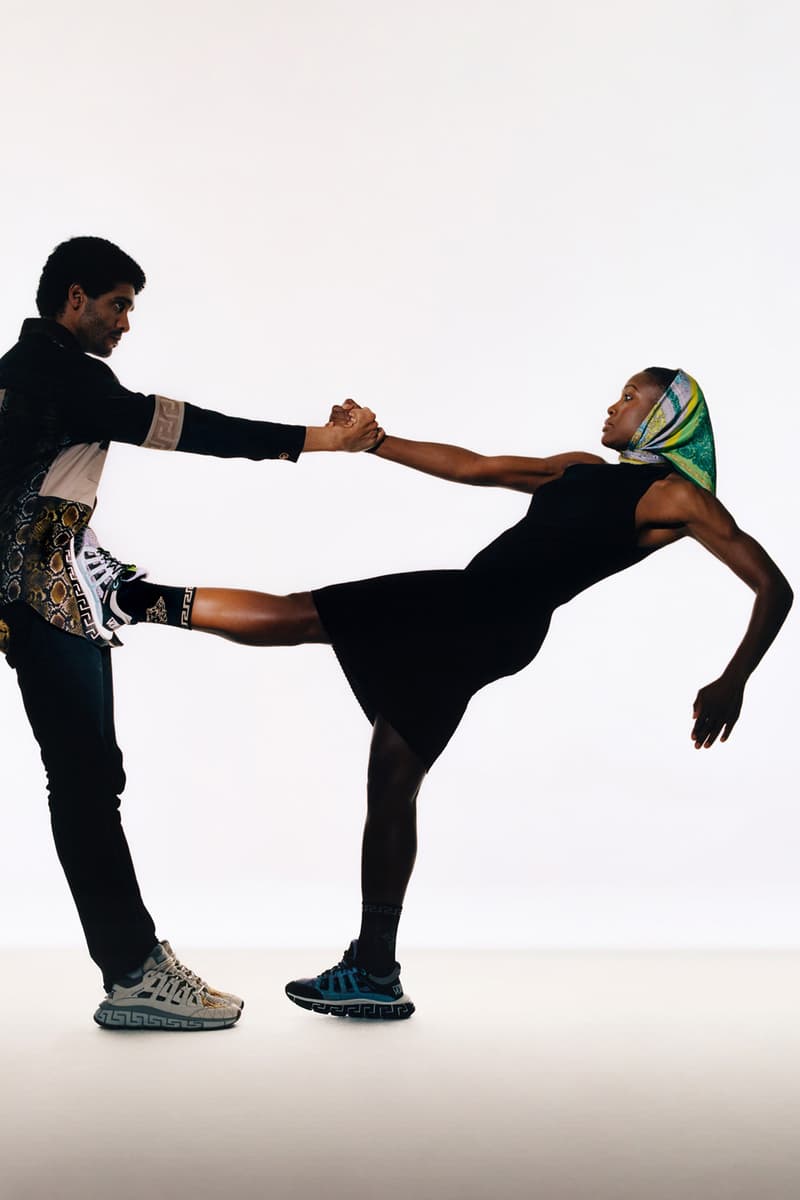 5 of 5
It's commonplace for any luxury fashion powerhouse today to be utilizing a selection of house codes that have stood the test of time and that represent the heritage and history of the brand. With each label representing a certain "look" – differentiating them from others – these recognizable visual elements are often the connection between the brand and the customer.
A question that most fashion houses have been tackling over the past few years is how they can cater to a new generation of luxury consumers without losing this connection and alienating the loyal customer who's become accustomed to the brand's distinctive style? Naturally, innovating and evolving a house code becomes an especially daunting task. Versace is a brand at the fore of this journey of reinvention.
After teasing the new silhouette in February this year, Versace finally dropped its new Trigreca Sneaker model this Autumn. The design combines Versace's Medusa and Greca patterns with VP of Sneakers and Men's Footwear Salehe Bembury's bold and current take on sneaker design.
For the Trigreca, Bembury was inspired by the heritage-filled Greca motif which first appeared in the Versace Fall/Winter 1988 collection. This well-known geometric pattern – created from one uninterrupted line – graces the midsoles, outsoles and toe stripes of the silhouette. Versace's signature Medusa head also features on the Trigreca, peeking boldly through the outsole.
The Trigreca sneaker represents the brand's dedication to creativity and progressive design, pushing its house codes in ways that are as innovative and fresh as much as they are recognizable and on-brand. HYPEBEAST spoke to a handful of fashion experts about the challenges that come with such design reinvention and Versace's new approach to its long-standing and iconic signature elements.
How do you think a brand successfully incorporates recurring signature design elements – like the Versace Medusa for example? What stops those elements from becoming stale?
Damien Paul, Head of Menswear, MatchesFashion: So many of our customers respond well to design elements that they consider iconic or 'house-codes' and of course some clients connect with instantly recognizable statements. These designs are consistent themes throughout their archive yet the Medusa feels forward-thinking. Factors like silhouette and fabric evolve and move with the times ensuring freshness and the feeling of modernity. A collection can cover formal elements all the way through to jersey and streetwear but the signature design provides instant identity.
Velvet Coke (IG Account): Versace has left such an important impact on the whole fashion industry, always remaining a strong name, image and force in fashion. There's no denying that it is booming again right now. The way I see it, the recent trend of nostalgia and '90s craze are definitely strong factors that caused this brand to go through a renaissance.
Could the fascination be due to the effortless charm of the '90s supermodels? Their strong charisma on and off stage? The distinctive style of the brand itself, pushing through the years? Perhaps all of it. Either way millennial and Gen Z shoppers are for sure having a love affair with this decade and are trying to bring it back to life. Versace has recognized and used smart tactics such as recreating certain looks on the runway, bringing back old trends and more! Finally, there are timeless elements in Versace's creations that make them always relevant and stylish.
Rob Nowill, Managing Editor, HYPEBEAST: For me, it's all about whether those signatures have an authentic place in culture. With Versace, they still feel resonant because they capture such a specific pop-cultural moment: it's totally evocative of that meeting of music, fashion, and Hollywood in the 1990s.
What do you think Versace's iconography represents?
Damien Paul: Versace's iconography evokes an instant feeling of luxury and a touch of glamour. It embodies a brand that has been forward-thinking by looking inwards. For the customer, it represents Versace's clear voice and the house's ability to move forward and evolve. The Medusa also makes sense across the collection, from jewelry to ready to wear.
Velvet Coke: Versace has a strong presence. Their pieces were easily distinguished from others which is already of enormous importance. Gianni was beloved by multiple generations and his persona popularized the brand as well. Not to mention his excellent work as a designer and dedication to give these items a life of its own. Then his sister Donatella took over the empire and while she had a different take, it was still well-received. Finally, the Golden Supermodels were insanely popular in the 1990s. This generation sadly can not fully understand how big they truly were; it was a whole on a whole different level of popularity.
An iconic brand + adored supermodels resulted in success. It wasn't even just the models, Versace kept having amazing pop culture moments in the future years. Google Images were actually invented because of Jennifer Lopez and her iconic green Versace dress in 2000! I mean, that is HUGE. All of this is a great story how there is more to the success of a brand than just the clothes itself.
Morgane LeCaer, Data Editor at Lyst: Versace's Medusa logo and Baroque print are among fashion's most powerful motifs. Combining the twin forces of nostalgia for an opulent '90s hip-hop aesthetic, with fresh energy from recent moments like Jennifer Lopez's appearance on the runway, the brand enjoys cult status among fashion shoppers.
Rob Nowill: It's that connection to glamour, celebrity, and pop, for me. The safety pins, the Medusa heads, the Greca print: they take you back to those iconic shows, and those era-defining moments where the clothes were worn by culture makers.
Do you think the brand has been successful at incorporating those design elements into its menswear? Have you seen a strong response to that from your audience?
Damien Paul: It is incredibly successful partly due to the fact it works across all categories – we have a strong, consistent customer engagement with regards to the Medusa. What is exciting is that we do not experience resistance to price point – this isn't just a jersey business for MATCHESFASHION and one of our fastest rate of sale products includes runway silk shirts with medusa and baroque print.
Velvet Coke: Iconography plays such an important part. It represents the creator, the brand, the message, all of it. Versace went all in, they decided to choose something powerful, strong and unforgettable. And that is how their brand is going as well. Medusa – those who gazed into her eyes would turn to stone – what's more fierce than that? In general, the story of Medusa is so striking that it is going to feel compelling forever. That's how you choose a good piece of iconography! It is one of those moments when you see something in a magazine or TV and you simply don't forget about it. And it is the same reason some motifs don't do well. They're not eye-catching enough, they're not intimidating or powerful.
Morgane LeCaer: Ahead of gifting season, the Versace bathrobe, as well as the baroque slippers, are among the most saved products on individual wish lists on the Lyst app – predominantly used by savvy millennials shoppers – driven by a huge boom in loungewear.
The Versace Trigreca sneaker is available to buy now via Versace's website and in selected Versace boutiques, as well as other partner retailers.