NTWRK and Mister Cartoon Team Up for Truck and Tattoo Raffle
Win a Nissan Hardbody featuring the artist's first car graffiti designs.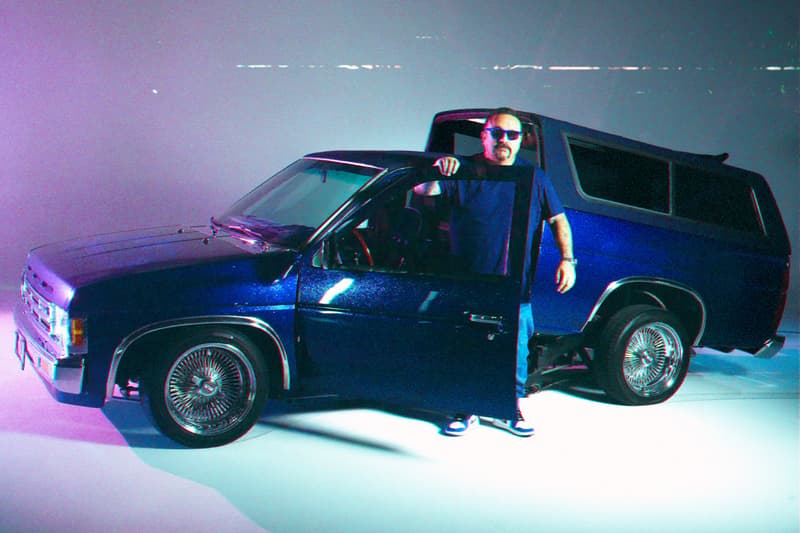 NTWRK is partnering with world-renowned artist Mister Cartoon for a giveaway to celebrate the first BEYOND THE STREETS virtual Art Fair. For the last decade, the world-famous tattoo and graffiti artist has customized mini-trucks with his unique designs. Now, fans can win a tattoo session and a customized muraled '88 Nissan Hardbody that's filled with artwork and limited-edition gear by tuning into BEYOND THE STREETS on December 5 and 6, exclusively on the NTWRK app.
In 2010, L.A.-native Mister Cartoon manifested his dreams when he purchased an '88 candy cobalt blue Nisson Hardbody with a tuck-and-roll interior from a garage on the east side of town. To add a more personal touch, the artist tricked out the mini truck with added hydraulics, a retro Mitsubishi car phone and his signature richly detailed, hand-rendered designs. For BEYOND THE STREETS Art Fair, Mister Cartoon was commissioned to paint a mural on the hood to make this personal relic even more "popping."
View this post on Instagram
The raffle drawing opens on December 5 and end exactly 24 hours later, on December 6 to coincide with BEYOND THE STREETS. In addition to the $250,000-valued Hardbody and tattoo session package, the first-ever virtual edition of BEYOND THE STREETS will also feature exclusive drops and artist panels streaming live through the NTWRK app. Interested fans can find more information through the app.