The Best Albums of 2020
20 selections curated by the HYPEBEAST editorial team.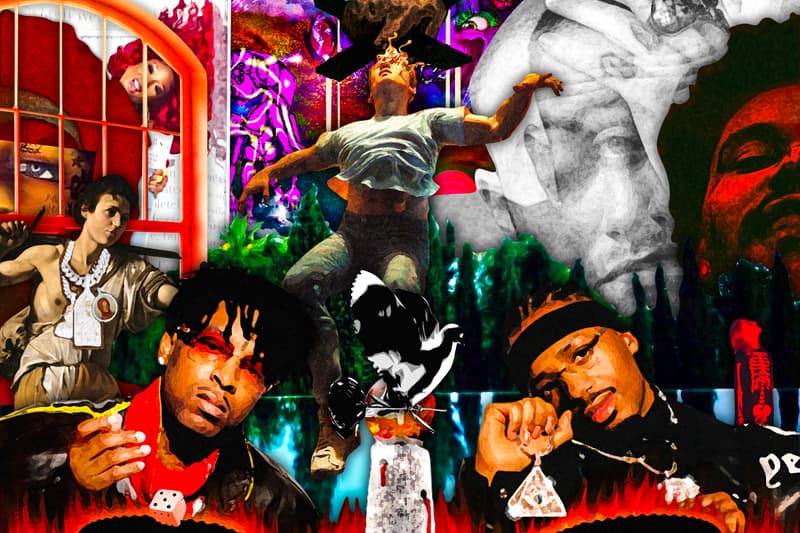 And just like that, 2020 is officially coming to a close. The year that we thought would never end is now in its final weeks, and it's been interesting to see the music industry adjust to "the new normal" dealt by the COVID-19 pandemic. It feels like we're still in the same predicament we were in six months ago when HYPEBEAST released its Best 25 Albums of 2020… So Far selections, only with a little more hope thanks to vaccination developments. But live concerts, supporting album tours and even planned project rollouts remain dead in the water, forcing us to heavily depend on album releases to tide us over this hellish year (and maybe even next).
Projects from the first half of the year such as The Weeknd's After Hours, Freddie Gibbs and The Alchemist's Alfredo, Jay Electronica's A Written Testimony and Kehlani's It Was Good Until It Wasn't weathered the slew of new releases to make a second appearance on the year-end roundup. The exciting debuts of Megan Thee Stallion, Giveon, Headie One, Amaarae prove that their generation of rising artists is one not to be slept on, while veterans like HAIM, Jhené Aiko, Tame Impala, Big Sean, Lil Wayne and 21 Savage and Metro Boomin continue to rightfully occupy the spaces they've worked hard for.
Although 2020 bore a slate of memorable and beloved albums, the year also holds what could possibly be the last release of several artists in a long while. There's Logic who officially bid goodbye to hip-hop and dropped his final studio album, and of course we have the late Pop Smoke and Mac Miller who both shared their posthumous works. It's no secret that all three artists have a vault of unreleased material waiting to see the light day, but will we ever get to hear them? We'll just have to wait and see.
But for now, HYPEBEAST presents the 20 Best Albums of 2020.
---
THE WEEKND - AFTER HOURS
Never need a Grammy, he's what a Grammy needs — The Weeknd's After Hours entry to kick off our list should come as no surprise. The album had the second biggest Billboard 200 No.1 debut in 2020 (Imma let you finish Taylor, but Abel has one of the best albums of all time), and held its champion spot for four consecutive weeks (a feat last accomplished by Drake's Scorpion in 2018). Not to mention the Starboy is Spotify's fifth most streamed artist this year, was named Time magazine's 100 Most Influential People of 2020, and is set to headline the Pepsi Super Bowl LV Halftime Show in 2021. So to the "Heartless" out there, "Save Your Tears" — we respect the corrupt's right to hold totally incorrect opinions — because we all know that After Hours is one of the best things 2020 gave us. — Marc Wong
Listen: Spotify | Apple Music
FREDDIE GIBBS x THE ALCHEMIST - ALFREDO
Freddie Gibbs has not missed. When the respected rap veteran joined forces once again with legendary beatmaker The Alchemist for Alfredo, we knew we'd be eating good. The collaborative project mastered a recipe for the duo to bring the best of their crafts to the table. Sprinkle Gibbs' wholly unrestrained and unapologetic delivery with The Alchemist's smooth and stellar instrumentals, and the result cooks up something gritty yet palatable at best. Adding to the sauce are appearances by Benny The Butcher, Tyler, The Creator, and Conway The Machine that amplify the album's synergy. Alfredo not only leaves an indelible mark on an unforgettable year, but also creates a lasting feast for many more. — Isabella Chon
Listen: Spotify | Apple Music
JAY ELECTRONICA - A WRITTEN TESTIMONY
Following his lauded Act I: Eternal Sunshine (The Pledge) released all the way back in 2007, this year Jay Electronica delivered his debut album, A Written Testimony. The 10-track studio project from the Louisiana rapper was recorded over 40 days and 40 nights and features choice contributions from Travis Scott, JAY-Z, The-Dream, Hit-Boy, No I.D., The Alchemist, Swizz Beatz, along with uncredited vocals by Jay-Z. Heavily influenced by the doctrine of the Nation of Islam, A Written Testimony is defined by Electronica's evocative vocal sensibility and arresting production that helped the work reach the #12 spot on the US Billboard 200 chart. — Nicolaus Li
Listen: Spotify | Apple Music
JHENÉ AIKO - CHILOMBO
Jhené Aiko is undeniably one of the most creative artists of this generation, and her attachment to the healing effects of music adds another connective tissue between her and her listeners. The GRAMMY nominee's incorporation of crystal alchemy sound bowls don't only offer a unique sonic layer to Chilombo, but also meaning to what the album stands for. Aiko lyrically uses music as a way to heal, and the addition of the singing bowls' abilities to relax the soul furthers her ethereal agenda and produces a sonically therapeutic project. — Sophie Caraan
Listen: Spotify | Apple Music
MAC MILLER - CIRCLES (DELUXE)
Mac Miller's posthumous release plays out with so much hope, but it's the tinges of fear, sorrows and uncertainties that makes Circles an album to keep close to your heart. The vulnerable lyricism feels like he pulled it straight from his soul, and the deliveries of these sincere thoughts range from gentle to painfully honest and imaginative. Although his death has left us with many questions that will probably remain unanswered, the project welcomes listeners into both his head and heart, offering a safe space for fans to mourn and celebrate the beloved rapper. — Sophie Caraan
Listen: Spotify | Apple Music
BIG SEAN - DETROIT 2
Proving he is more than just a fixture in the rap game, Big Sean brought things back to his roots with Detroit 2. Standing as the fifth studio by the G.O.O.D. Music artist, the extension of his Detroit mixtape series clocks in at a lengthy 71 minutes with 21-tracks in total. The project also boasts a star-studded cast of collaborators with appearances from the likes of the late Nipsey Hussle, Post Malone, Ty Dolla $ign, Jhené Aiko, Travis Scott, Erykah Badu, Stevie Wonder and comedian Dave Chappelle. But it was "Friday Night Cypher" with Tee Grizzley, Kash Doll, Cash Kidd, Payroll, 42 Dugg, Boldy James, Drego, Sada Baby, Royce Da 5'9" and Eminem that really conveyed the album's "Motor City" energy. — Nicolaus Li
Listen: Spotify | Apple Music
HEADIE ONE - EDNA
With 2020 marking a period of heightened self-reflection and contemplation, Headie One's EDNA has encapsulated just that. Dedicated to his late mother, the Tottenham MC's chart-topping album journeys his personal growth as he plays the cards he's been dealt with. From navigating a past prison life to dealing with loss, Headie finds strength in adversity and channels it through pensive lyricism and arresting beats. Star-studded guest features from Drake, Future, Skepta and Stormzy to name a few, also add to the celebration of his achievements as he stakes his claim as the formidable King of Drill. — Isabella Chon
Listen: Spotify | Apple Music
MEGAN THEE STALLION - GOOD NEWS
A major dent was made in the amazing 2020 Megan Thee Stallion was having, but as they say, you can't keep a good woman down. The years of hard work the Houston rapper had put in pays off in her debut studio album Good News, and the project confirms she has nothing but a bright future ahead of her. The 17-track effort is a testimony to her lyrical wit that has only gotten fiercer, her flows that remain to be matched by only a handful of her colleagues and her resiliency to thrive and rightfully claim her space in an industry that hasn't always been kind to women. — Sophie Caraan
Listen: Spotify | Apple Music
KEHLANI - IT WAS GOOD UNTIL IT WASN'T
Kehlani's It Was Good Until It Wasn't is another testament to the songstress' innately courageous and confident nature. On its face, the sophomore album is tinged with sultry jams complemented by darker jazz undertones and beat heavy ballads. Beneath her silky vocals, she challenges her highly publicized personal life by taking the reins to reclaim her vulnerability and strength. With well-curated features from Jhené Aiko, Masego, Lucky Daye, and James Blake, Kehlani boldly wears her heart on her sleeve with profound honesty as she navigates tumultuous relationships and the toxicities that come out of them. The experiences may not all have been good, but it made her even greater. — Isabella Chon
Listen: Spotify | Apple Music
LIANNE LA HAVAS - LIANNE LA HAVAS
Lianne La Havas had fans patiently anticipating her next release after her last project five years ago. Earlier this summer, the London-based singer returned with an eponymous album that proved to be worth the wait. With nostalgic undercurrents of neo-soul, R&B, rock, and folk, the entirely self-produced record ushers a personal reawakening and vibrant confidence in letting go of people and things that no longer fulfill her. While somewhat emblematic of the current and unpredictable times, La Havas's stripped-back introspection provides solace in piecing together what is broken and eventually finding light within the cracks. — Isabella Chon
Listen: Spotify | Apple Music
LIL WAYNE - NO CEILINGS 3
Lil Wayne's flame never dies out. For a moment one might think his light is beginning to dim — he was, after all, signed to Cash Money at the young age of 12 — then he drops two exciting projects all in one year. Weezy is one of the crowned kings of mixtapes, so it comes as no surprise that No Ceilings 3 offers exactly what fans were looking for. He follows tradition and flips a selection of notable beats, but instead of sounding like a follower who wants to ride the trend, Wayne completely transforms each cut and makes it his own, proving that his legacy has always been built on skill and not just longevity. — Sophie Caraan
Listen: DatPiff
LOGIC - NO PRESSURE
Logic's final studio album No Pressure is his love letter to a career he adored. A return to form, the finale was his way of essentially shutting down his critics once and for all, showing everyone that he's still very much in touch with his rap roots and the difficult technicalities involved. The rapper's word play, stellar production and unmatchable flows give him the chance to have the final say in a career that was unnecessarily plagued with hateful opinions, but to some people's dismay, Logic went home with the last laugh. — Sophie Caraan
Listen: Spotify | Apple Music
WESTSIDE GUNN - PRAY FOR PARIS
The Griselda titan's third studio album is evidence that hip-hop's classic sound will never go out of style. Westside Gunn recruits some of the most innovative names in music and fashion — The Alchemist, DJ Premier, Freddie Gibbs, Tyler, the Creator, Virgil Abloh — to craft an opulent yet tenacious project that isn't easy to achieve. The range of sonic backdrops his collaborators set up also gives the Buffalo star a space to explore various aesthetics, further pushing his vision of Griselda's success. — Sophie Caraan
Listen: Spotify | Apple Music
PHOEBE BRIDGERS - PUNISHER
Arriving as singer-songwriter Phoebe Bridgers sophomore effort, Punisher continues the California native's emo-folk sound marked by painful honesty. The project recorded over a year and a half at Sound City Studios in Los Angeles, saw Bridgers reunite with Alps producers Tony Berg and Ethan Gruska for a deeply personal musical expression. Throughout Punisher, songwriting explores themes of dissociation and fragmenting relationships in a standout austere manner. With the depth of the album attributed to the two dozen prominent musicians, including Julien Baker, Lucy Dacus, Christian Lee Hutson, Jim Keltner, Blake Mills, and Conor Oberst credited in the liner notes. — Nicolaus Li
Listen: Spotify | Apple Music
21 SAVAGE & METRO BOOMIN - SAVAGE MODE II
21 Savage and Metro Boomin picked up right where they left off from their 2016 collaborative mixtape Savage Mode, with this year's sequel cementing their status as a rapper-producer force to be reckoned with. Just like its predecessor, Savage Mode II remains close to the pair's Atlanta and Southern trap roots. This time around, 21's deadpan bars of violence and luxury, Metro's seamlessly sampled beats, Morgan Freeman's surprise narrations, as well as cameos from rap A-listers Drake, Young Thug and Young Nudy make this follow-up record, without a doubt, the duo's creative apex. — Isabella Chon
Listen: Spotify | Apple Music
POP SMOKE - SHOOT FOR THE STARS AIM FOR THE MOON
Even though the late Pop Smoke wasn't physically here to experience the release of his debut studio album, Shoot For The Stars Aim For The Moon still gave fans a reason to celebrate the life of an artist gone too soon. The 19-track project features the Brooklyn drill rapper's excitement and acceptance of sounds outside his genre, showcasing his adaptability and musicality all at once. With the help of 50 Cent, one of his biggest inspirations, who serves as executive producer, Pop Smoke's legacy will live on for decades to come. — Sophie Caraan
Listen: Spotify | Apple Music
AMAARAE - THE ANGEL YOU DON'T KNOW
Rising star Amaarae is a growing force in her own right. The Ghanaian-American artist made her debut this year with THE ANGEL YOU DON'T KNOW, a 14-track effort that sees her break the mould through an experimental fusion of alté, R&B, dancehall, afro-pop, punk rock, and many more soundscapes. Her whimsically high-pitched vocals glide over explorations of sexuality and womanhood and are tied together with cohesive and spellbinding production. What may seem as unorthodox at first listen is a manifestation of Amaarae's genre-bending and ethereal artistry that catapults her to the forefront of African music and its unparalleled influence. — Isabella Chon
Listen: Spotify | Apple Music
TAME IMPALA - THE SLOW RUSH
Once again proving the range of his musical project, Tame Impala, Australian artist Kevin Parker delivered The Slow Rush, the follow-up to his lauded 2015 album, Currents. Largely an expression of psychedelic disco sounds, the 12-track project broke into the top 10 charts all over the world with a distinct sonic outlook that defiantly stood at the edge of genres. The hour-long reflection of Parker's musicality delivers introspective lyricism that rides on unique chords and lines accented by choice production liberties. The Slow Rush serves as a sign of the constantly evolving nature of Tame Impala. — Nicolaus Li
Listen: Spotify | Apple Music
GIVEON - TAKE TIME
In just 24 minutes, Giveon's debut effort Take Time captured the hearts and souls of many with his signature baritone style and sheer musical versatility. Somewhere in his raw musings of finding love and falling out of it, the Long Beach crooner finds his sweet spot and strikes a unique balance between his enthralling and genre-defying sound, as well as the lush production that bolsters it. Take Time breathes new life into R&B whose contemporary saturation has left longtime enthusiasts occasionally jaded. A rising tide lifts all boats, and now, we see Giveon triumphantly pushing the limits to becoming a household name. — Isabella Chon
Listen: Spotify | Apple Music
HAIM - WOMEN IN MUSIC PT. III
Three sisters, their third album and collecting their second and third GRAMMY nominations — the number "3" has definitely been good to HAIM. But Danielle, Este and Alana have all faced their own battles between albums, and their collective process of dealing with their individual troubles gives Women in Music Pt. III the razor-sharp honesty that makes it a stellar release. The trio effectively narrate the weight of their worlds in an almost no holds barred manner, crafting an environment of love and support not only for themselves but also for those who are listening. — Sophie Caraan
Listen: Spotify | Apple Music