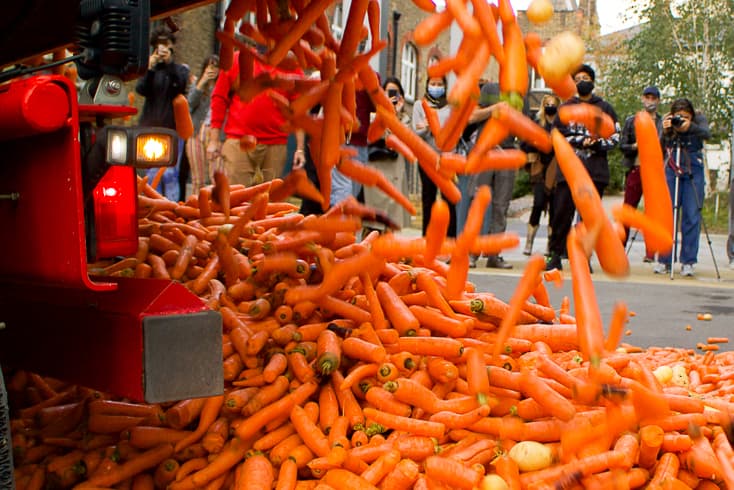 1 of 3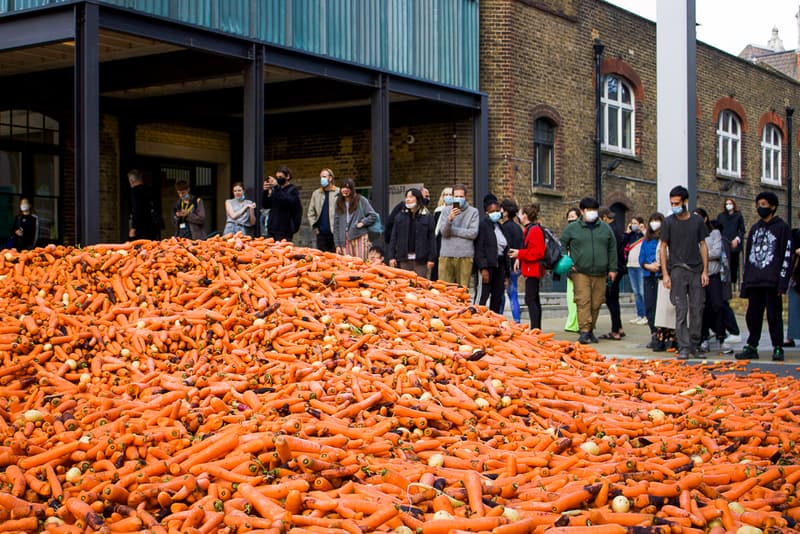 2 of 3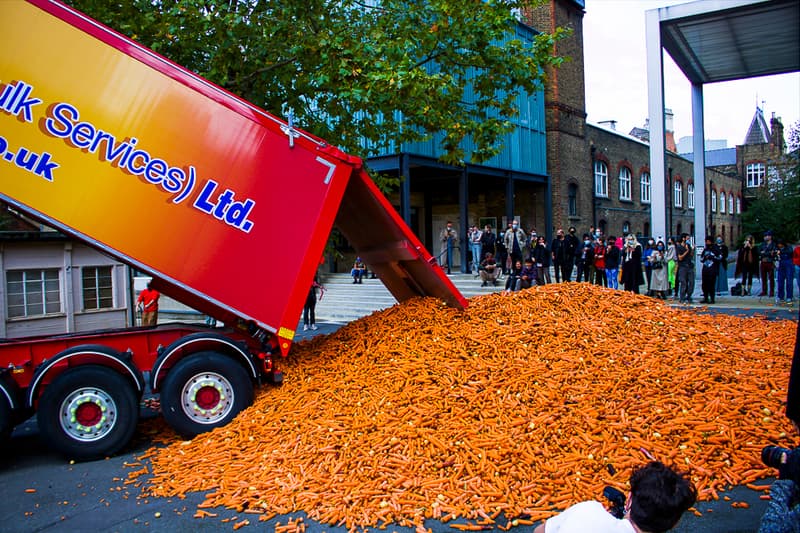 3 of 3
Art Student Receives Backlash for Dumping 31 Tons of Carrots in London
As part of London's Goldsmiths College's annual MFA exhibition.
---
London's Goldsmiths College recently kicked off its annual MFA exhibition. Among the participating art students in the show, Rafael Pérez Evans received backlash for his performance art piece called Grounding. The site-specific work consisted of the artist dumping approximately 240,000 carrots right outside of the college last Tuesday. A large red tractor-trailer dropped the massive pile of root vegetables, weighing in at 31 tons, at the school's courtyard.
Moments after the work's installation, a group of four Goldsmiths students launched an Instagram account called @goldsmithcarrots to protest "this incredibly wasteful art piece," criticizing the work as contributing to global food loss. "Lewisham is one of the poorest boroughs in London and this mass dumping of carrots at Goldsmiths is beyond insensitive," the group wrote on social media. "It's a massive slap in the face."
Evans, who was raised up in a family of farmers in Spain, was inspired by a protest method that was prominent among farmers in France called dumping. "To protest cratering produce prices, farmers will pile up carrots or potatoes in the street, the vegetables becoming a physical roadblock and serving as a highly visible reminder of farmers' oft-ignored labor. It's a practice that has intrigued the artist since childhood," reported Artnet.
"On one occasion when I was quite young I remember people being very angry and upset as the cost of lemons had been devalued to such an extreme that it was costing the farmers money to sell their stock," Evans told Artnet News in an email. "This issue made many farmers dump, in protest, tons of lemons, creating a sort of sea of yellow. This I guess was the first moment in which I became aware of the power of how governmental devaluation and international trade affected farmers."
Despite learning about the message behind Evans' Grounding work, the students behind @goldsmithscarrots still aren't siding with the artist. The group has been collecting, peeling and grating the carrots from the pile to create a slew of recipes such as vegan carrot cake and carrot soup. They are also hosting daily bake sales next to the artwork and donating the proceeds to local food banks.
Elsewhere in art, a social media advocacy group called @ChangeTheMuseum recently called for a boycott of U.S. Museums throughout the month of October.
Goldsmiths
8 Lewisham Way
New Cross, London SE14 6NW
United Kingdom