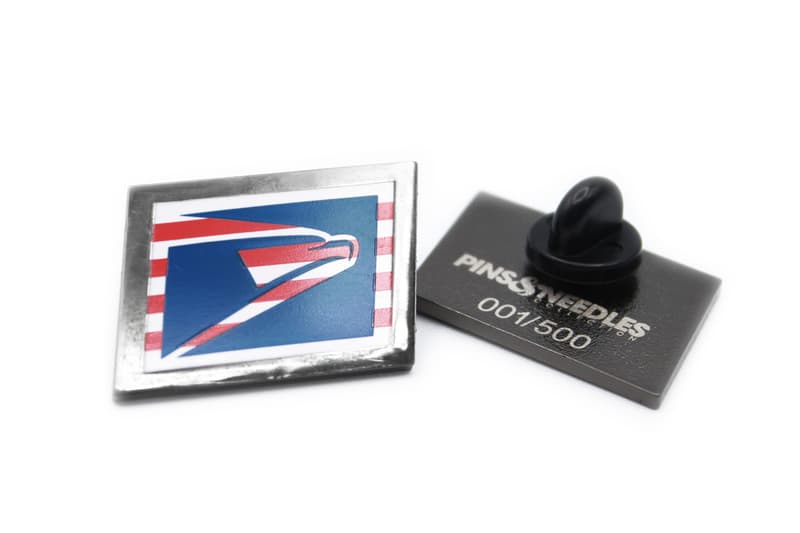 PINS&NEEDLES Releases Futura-Designed Pins to Support U.S. Postal Service
Limited to 500 pieces.
---
PINS&NEEDLES joined forces with Futura on a limited edition enamel pin to help support the United States Postal Service (USPS). Sized 19 by 25 millimeters, the black nickel plated pin features the USPS's logo and includes a black rubber pin clutch.
"In this moment when the VOTE is ongoing, either in polling locations (which are open now in some states) or more importantly by mail which is more than necessary in a measure to minimize the risk of the ongoing PANDEMIC. In collaboration with PINS&NEEDLES we are proud to support the most essential workers of the UNITED STATES POSTAL SERVICE. And yeah, I am an ex-employee of that fantastic outfit," said Futura in a statement.
In the past couple of months, the USPS has been under threat by the Trump administration. Since his appointment in June, Postmaster General Louis DeJoy has made changes to the postal service which include cutting overtime and limiting post office hours resulting in significant delays. Moreover, social media users shared photos and videos of the removal of the signature blue mailboxes which a USPS spokesperson said is due to the decline in mail volume. It's especially a crucial time for the USPS considering the looming presidential election and pandemic as many citizens prefer to vote by mail instead of in-person.
Purchase a USPS pin designed by Futura for $15 USD on PINS&NEEDLES' website.
Elsewhere in art, leading Black Trustees are joining forces to diversify art museums.