Huge T-Rex Skeleton Sold at Auction for Over $30 Million USD
Fetching more than five times its original estimate.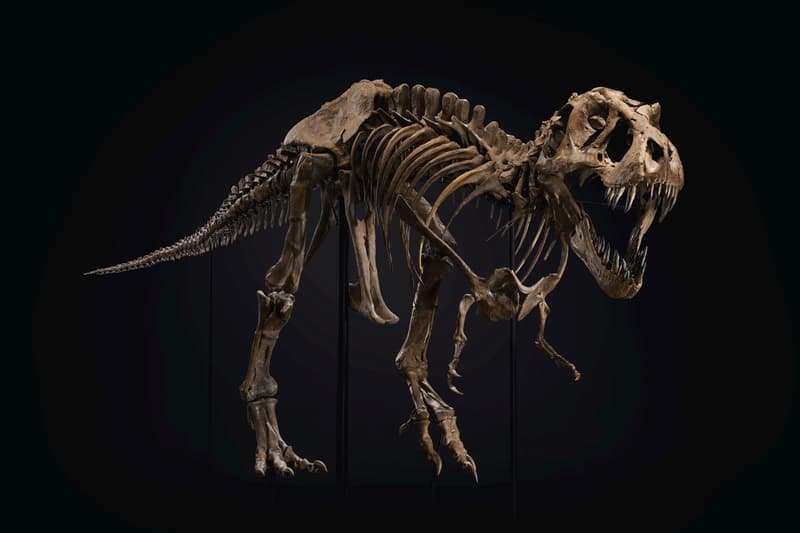 Last month, Christie's announced the momentous sale of a massive Tyrannosaurus Rex skeleton as part of its Evening Sale of 20th Century Art. Measuring 13 feet high and 40 feet wide, the ancient specimen was initially expected to fetch between $6-8 million USD as per its pre-sale estimate. However, the towering skeleton smashed the previous world auction record, snapping up $31,847,500 USD at the auction house courtesy of an anonymous buyer.
The auction house named the T-Rex, "Stan," which is an homage to amateur paleontologist Stan Sacrison who discovered the skeleton in 1987. It's comprised of 188 original bones, and is considered to be one of the few completely assembled skeletons of its kind. It was originally unearthed by Sacrison and a team of archaeologists at Hell Creek Formation — located between South Dakota, Wyoming, and Montana. It's described as "one of the best specimens ever discovered," as per James Hyslop, Head of Christie's Science & Natural History department.
Visit Christie's website to learn more about the sale.
Elsewhere in art, check out Jean Jullien's latest installation at the Museum of Contemporary Art of Lyon in France.