Swarovski Announces Lab-Grown Colored Diamond Collection
Producing more affordable versions of the world's rarest diamonds.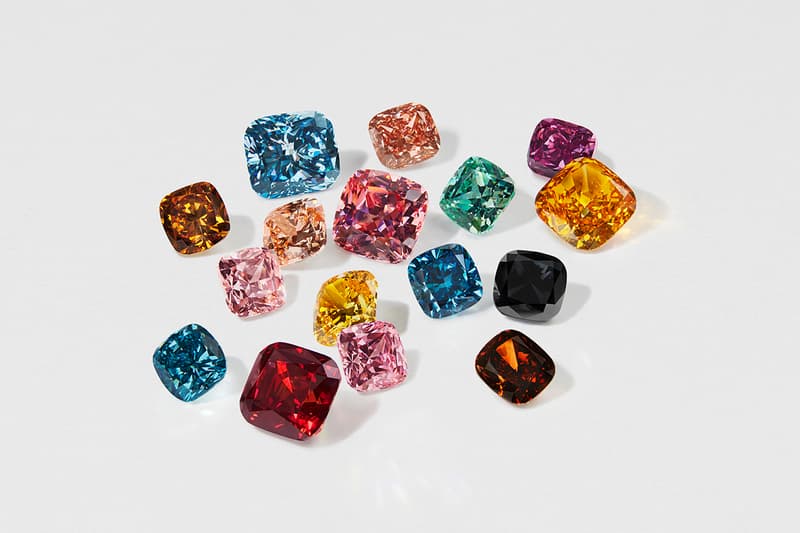 Swarovski has announced that it will be launching a collection of colored lab-grown diamonds. Lab grown diamonds are not necessarily new to the company, as it began producing white versions in 2018. However, colored lab-grown diamonds is a relatively untapped market that the 125-year-old company is ready to take on.
Swarovski's reasoning behind the new project is to highlight human innovation by re-creating some of the rarest diamond hues. "If you look into the field of mined diamonds, the colors are very, very rare, so we thought we have to celebrate human ingenuity and create a beautiful palette of 16 colors that are also available in the minefield but very, very seldom and very expensive because of the rarity of these diamond colors," Swarovski executive board member Markus Langes-Swarovski explained to WWD.
The 16 new colored lab-grown diamonds will be divided into four categories of four styles, with each category representing a different creative medium: fashion, art, music and architecture. Every category will be led by a main color, which will come in a 2.5-carat stone, while the rest will be available within a 0.25 to 1.5 carat range. According to WWD, the main color names will include Androgyny Flamingo, Heavy Metal Cherry and Gothic Cognac.
Standard lab-grown diamonds take around three weeks to produce, but more complex colors like the ones Swarovski is designing can require additional processes, including pressure treatment or irradiation treatments. While Swarovski's lab-grown diamond production still remains a very small part of its crystal business, Langes-Swarovski believes it could become its own product category with double-digit growth in the future.
Swarovski will present its new lab-grown colored diamonds during Couture Fashion Week in Paris.
Elsewhere in diamond news, LVMH recently acquired the world's second-largest diamond.