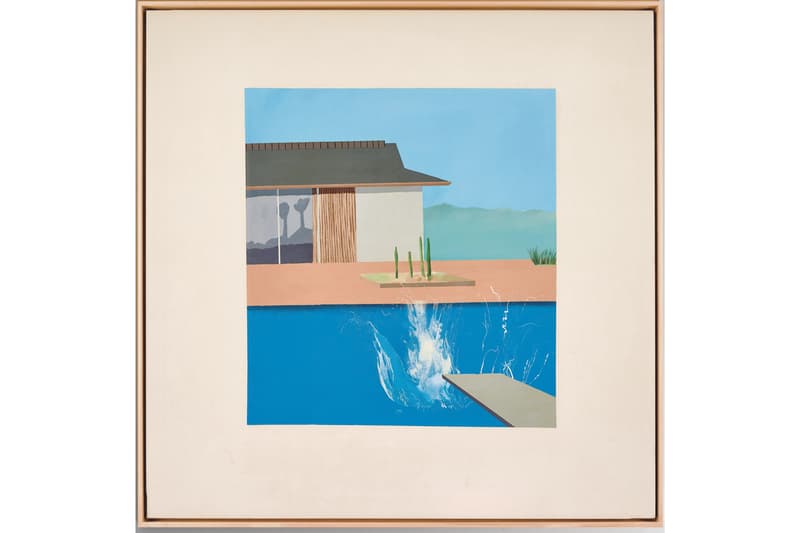 David Hockney's Iconic 'The Splash' Set for Sotheby's Auction Next Month
Expected to fetch up to $38 million USD.
---
Back in November, David Hockney's little known painting titled Sur la Terrasse went up for auction at Christie's postwar and contemporary art sale. Next month, one of the most iconic images from the British artist's career, titled The Splash, will be auctioned off at Sotheby's in London. The painting is estimated to sell for between $26 million USD and $38 million USD.
Painted in 1966, The Splash captures the moment just seconds after a diver has broken the surface of a California swimming pool. A diving board is angled towards a plane of turquoise water, while a '60s modernist house is drenched in the sun. "When you photograph a splash, you're freezing a moment and it becomes something else," Hockney has explained. "I realize that a splash could never be seen this way in real life, it happens too quickly. And I was amused by this, so I painted it in a very, very slow way."
The Splash is one of a series of three "Splash" paintings. While the largest one, A Bigger Splash, is situated at the Tate Modern, Little Splash remains in a private collection and has never been sold publicly.
Expect The Splash to go up for auction at Sotheby's contemporary art evening sale on February 11.
In other news, William Shakespeare's "First Folio" is expected to fetch up to $6 million USD at Christie's New York auction in April.
Sotheby's London
34-35 New Bond St
Mayfair, London