Derek Jeter Headlines National Baseball Hall of Fame's 2020 Class
The Yankees legend will be joined in Cooperstown by outfielder Larry Walker.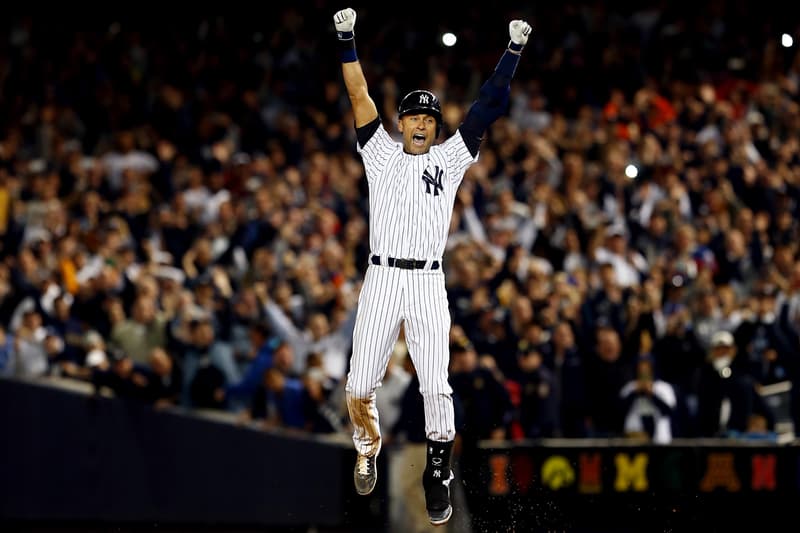 The National Baseball Hall of Fame's 2020 class has been announced, and two players are set to be added into the hallowed halls of Cooperstown: Derek Jeter and Larry Walker.
Jeter was named on 396 of 397 possible ballots, easily clearing the 75% threshold needed for admittance and narrowly missing the opportunity to be the second player ever unanimously voted in behind his former New York Yankees teammate Mariano Rivera. However, Jeter did surpass Ken Griffey Jr's 99.3% for the second highest voting percentage of all time.
Although it was Jeter's first year on the Hall of Fame's ballot, it was a foregone conclusion that the standout shortstop would be voted in. Known to many as "The Captain," Jeter held down the shortstop position for the Yankees for 20 seasons. He boasts a career batting average of .310, and is one of only 32 players in the history of the game with over 3,000 hits. Jeter also won a laundry list of awards, ranging from 14 All-Star selections to 5 Gold Gloves, 5 Silver Sluggers and the 2000 World Series MVP award. Most importantly, Jeter was a 5-time World Series champion.
"Well, I look at all the votes that I got." said Jeter when discussing his near miss of a unanimous induction. "Trying to get that many people to agree on something is pretty difficult to do. So that's not something that's on [my] mind."
While Jeter breezed into the Hall, the road was a little more rocky for Larry Walker. Making the cut in his 10th and final year on the ballot with 304 of 397 total votes (76.5%), Walker's increase of 22 percentage points from 2019 is the highest among the seven players to get into the Hall of Fame in their last year of eligibility, according to ESPN Stats & Information. Over a 17-year career, Walker played for the Montreal Expos, Colorado Rockies and St. Louis Cardinals, accumulating 2,160 hits, 383 home runs and a .313 career batting average. Walker was the 1997 NL MVP and home run leader, a 3-time batting champion, 3-time Silver Slugger award winner, 7-time Gold Glove winner and 5-time All-Star.
"Being Canadian, you're born into this world with a stick in your hand and skates on your feet." said Walker. "So that's how I was as a kid. You played hockey, and that's all that really mattered. When hockey didn't quite go the way I wanted, baseball more or less found me."
Narrowly missing the cut for induction were pitcher Curt Schilling (70%), Roger Clemens (61%) and Barry Bonds (60.7%) — the latter two's legacies have both tarnished by performance-enhancing drugs.
Jeter and Walker will be inducted into the Baseball Hall of Fame July 26, alongside catcher Ted Simmons and former players' association head Marvin Miller, both of who, were voted in last month by the HoF's Modern Era Committee.
Moving from the diamond to the hardwood, highly touted rookie Zion Williamson of the New Orleans Pelicans made his NBA regular-season debut this week in a special Air Jordan 34 "Bayou Boys" PE.