Viral Chinese Deepfake App Zao Hit With Concerns Over Privacy
Following closely in the footsteps of "old age" app FaceApp.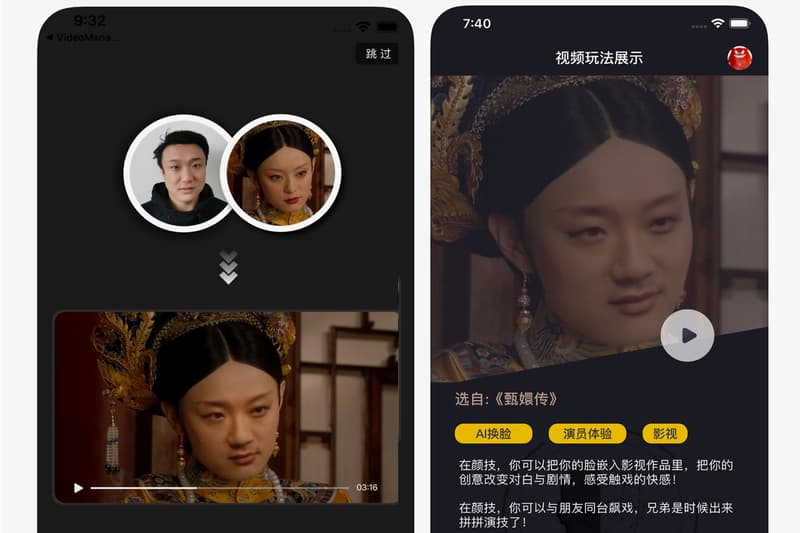 Another viral face app has hit the app stores around the globe, but once again brings up privacy concerns involving rights and usage.
Zao, by Chinese sellers Shanghai Selected Network Technology Co., Ltd., utilizes a software procedure known as deepfake, where algorithms pull facial recognition data and applies it to a moving video scene. This essentially allows "anyone" to star in famous movies, TV show scenes, documentary footage, etc. The app offers a limited number of scenes from popular films such as Iron Man 2, Romeo and Juliet and various Chinese films to simplify the process, and also guides the user through procedures to produce more accurate results such as closing your eyes, turning your head, opening your mouth and more. However the app only requires one single image of a face to generate a repurposed scene.
In case you haven't heard, #ZAO is a Chinese app which completely blew up since Friday. Best application of 'Deepfake'-style AI facial replacement I've ever seen.

Here's an example of me as DiCaprio (generated in under 8 secs from that one photo in the thumbnail) ? pic.twitter.com/1RpnJJ3wgT

— Allan Xia (@AllanXia) September 1, 2019
「ZAO」って言うAIを利用した顔面認識アプリ、
写真の顔と動画の人物の顔と入れ替えることができる

遊んでてめちゃめちゃ楽しいw#ZAO pic.twitter.com/tXFwRllGBp

— ジーマン@上海 (@JimanJiang) August 31, 2019
While the application is considered quite impressive in both execution and ease-of-use, the app developers have been hit with backlash as the rights and usage applied to Zao stir concerns over privacy.
According to Bloomberg who initially reported on the controversy, a clause within the app's privacy policy states the developers hold "free, irrevocable, permanent, transferable, and relicense-able" rights to the content submitted by the user, such as their face. The company, after receiving thousands of negative reviews, was forced to reply stating the photos and videos of users will only be used for app improvements, and will move forward with deleting user data from servers when users delete their personal data from the app itself.
Russian app FaceApp underwent a similar fate as well, when its software — which used user-generated content to produce a hyper-realistic "old age" photo of the subject — had to clarify that users could delete their data from FaceApp's servers should they choose to.
Zao is available to download on the IOS App Store. How do you feel about facial recognition software's use of content? Reply in the comments below and learn more about Instagram's new custom augmented reality filters feature.