Best New Tracks: NBA YoungBoy, Ariel Pink, Wiki, ALLBLACK & More
This week's best new releases.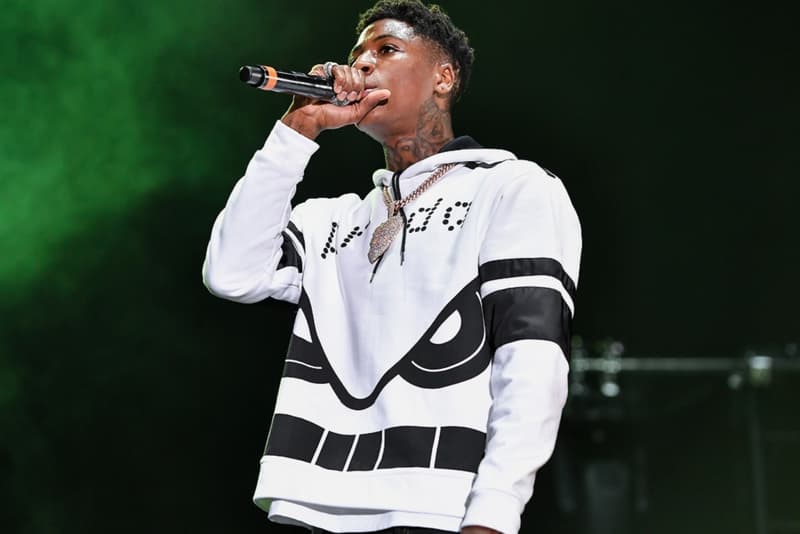 NBA YoungBoy – "House Arrest Tingz"
Following up the recent release of the music video for his "Self Control" single, NBA YoungBoy swiftly returns with another new visual and record. This time around, the Baton Rouge superstar references his latest round of legal troubles, titling his new single "House Arrest Tingz." For the aforementioned record's Louie Knows-directed clip, YoungBoy takes viewers to his home and neighborhood, showcasing his family life also.
Ariel Pink – "Bolivian Soldier" & "My Molly"
Ariel Pink is serving up two new tracks in support of his forthcoming Ariel Archives project. First up is "Bolivian Soldier," an unreleased cut from Oddities Sodomies Vol. 2; the second is "My Molly," a rework of an Underground highlight. Ariel Archives contains Underground, Loverboy and Odditties Soddities Vol. 2, and will see release on October 25.
Sudan Archives – "Confessions"
Sudan Archives is unveiling a new visual for her latest major single "Confessions" and a section of her new track "Black Vivaldi Sonata." Notably, both cuts come from her debut studio album Athena, which is scheduled to see release on November 1 via Stones Throw.
"Confessions, a female flip on classic rap music videos – resilient women surviving in a world that seems to be falling apart & ends with its alter ego Black Vivaldi, an ode to duality," Sudan says in an additional remark. "It's about being the seduced and the seductress, it's about God & the Devil, Yin & Yang, & about the possibility that we might have it all wrong about the two."
"We wanted to showcase female experience in a unique and dynamic way," director Nathan R. Smith shares via an official statement. "The world these women live in is aesthetically bleak but they bring beauty to it through their positive vibe and energy. I like to think of the women in the video as the angel that Sudan references in the pre-chrouss. As the world around them is not very pretty and begins to fall apart towards the end, they maintain their confidence and are completely unfazed."
ALLBLACK & Offset Jim – "Fees"
Oakland hometown-heroes ALLBLACK and Offset Jim are planning on releasing a collaborative project titled 22nd Ways next month. To introduce the effort, the PRA rappers are teaming up with fellow Bay Area artist Capolow for a David Camarena-video in supported of the P-Lo-produced lead single, "Fees."
"I had always liked music — even as a baby," Offset Jim previously shared with us, opening up to us for one of his very first interviews. "I never seen myself doing it, but I always had a passion for music. I was like two years old … f*cking with the radio and shit. I never seen myself doing it though, I just liked it a lot. I never knew I was really gonna start f*cking around with it — it just happened."
"Please look out for Offset Jim, he's a f*cking demon," ALLBLACK told us when asked about his current path and plans, shining the spotlight on his crew. "You got Prada Mack, you got Geechie, you got Offset Jim. Be on the look out for Play Runners Association."
Retch & ScHoolboy Q – "Best Life"
Retch follows up this past January's Richer Than The Opps mixtape and a string of successful singles by linking up with ScHoolboy Q for a new single titled "On Me." The song was produced by the duo of Benjamin Lasnier and Frenzy Beatz, and stands as one of Retch's biggest collaborations in recent memory.
LNDN DRGS – AFFILIATED
Following a few weeks of effective promotion, LNDN DRGS deliver their latest studio project, AFFILIATED. Notably, AFFILIATED is made up of 14 new tracks, including collaborations with G Perico, Casey Veggies, Conway the Machine, Krayzie Bone, Meyhem Lauren, Problem and more.
"I love this new LA — personally, I listen to all of that sh*t. I don't really throw myself in that category," LNDN DRGS' Jay Worthy previously told us during an early 2018 interview. "A lot of people are like, "Jay Worthy sounds straight from the West Coast." Sure, but I feel like I have many different sounds and I feel like I keep showing that as I work with different producers."
"I work with Alchemist, you get a different sound; I work with Cardo, you get a different sound; when I work with LNDN DRGS, you get a different sound; when I work with King Most, you get a different sound," he continues. "To each his own, I just like to make good music."
Wiki & Madlib – "Eggs"
New York underground champion Wiki joins forces with legendary super-producer Madlib for his latest major single, "Eggs."
FMB DZ, Rio Da Yung Og, Eastside Reup, RMC Mike – "The Gym"
Another week, another must-listen release from fast-rising Flint rapper Rio Da Yung OG. For his latest salvo, Rio links up with FMB DZ, Eastside Reup and RMC Mike for "the Gym." Notably, the song receives its debut courtesy of Midwest video impresario CT Films.