Volkswagen Set to Debut New Minimal Logo at Frankfurt Motor Show
A 2D approach to the iconic interlocking "V" and "W."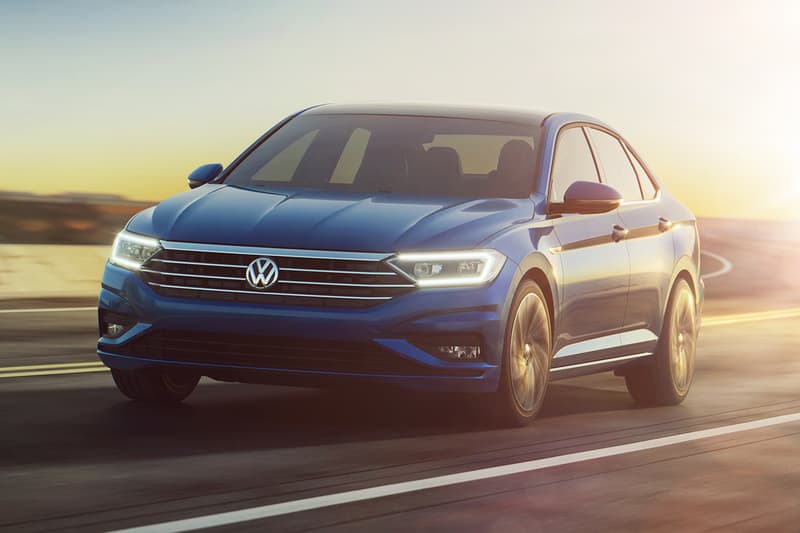 The end of the current Volkswagen logo as we know it is fast approaching, as the German car company plans to upgrade to more modern branding next month. This will mark the brand's first logo modification since 2000. Volkswagen plans to officially announce its fresh face at the upcoming Frankfurt Motor Show, but in the meantime, a potential version of its new logo has quietly been making the rounds in ad campaigns. Many people suspect that the new logo will be the same one seen at the end of the brand's recent "Hello Light" campaign from back in June (watch below).
Volkswagen's predicted logo takes a 2D approach to the brand's iconic skeuomorphic interlocking "V" and "W," simplifying the original's shapes and cutting out all extra noise from shading. Moving away from color, the paired down version is simply black and white. If the predicted logo is correct, Volkswagen is following in the footsteps of brands like Google and Wendy's who also recently did away with noisy branding in favor of a more minimal approach.
"Volkswagen has taken and implemented bold decisions in almost all areas of its activities. The comprehensive rebranding is the logical consequence of our brand's strategic reorientation," Member of the Board of Management for Sales, Marketing and After-Sales, Jurgen Stackmann told Carscoops. "I am very proud of what we have achieved: 'New Volkswagen' has a presentation that is powerful, fresh, positive and attractive."
At the Frankfurt Motor Show next month, Volkswagen plans on unveiling the logo as its own project and on a new car. Once the logo is completely implemented across all Volkswagen products and locations, the logo will be in 171 countries and will have replaced around 70,000 old logos. In addition to new visual branding, Volkswagen plans to replace the male voice in its campaigns to a female one moving forward. Perhaps in an attempt to mask disaster elsewhere, this design effort follows multiple emissions scandals, including revoked vehicle certificates and $9.5 million USD fine currently hitting the brand in Korea.
In other automotive news, Opel has just released the world's fastest all-electric rally car.