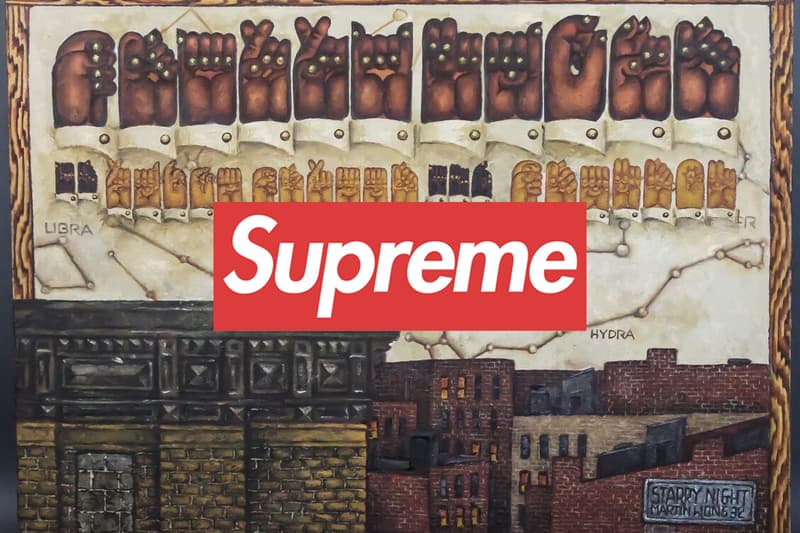 Two Major Artists to Know from Supreme's Fall/Winter 2019 Collaborations
Looking at the careers of Rita Ackermann and Martin Wong.
---
Earlier this week, Supreme unveiled its latest collection for the Fall/Winter 2019 season and, as expected, it's already caused waves amongst fans. Nestled among the typical array of off-kilter Supreme-branded accessories is the work of three artists.
We previously covered documentarian Emile De Antonio, after an edited still from his 1968 Vietnam War documentary In The Year of The Pig appeared on one of Supreme's jackets. This time we'll examine the work of Rita Ackermann and Martin Wong, whose art appears on select Supreme apparel pieces. While very different in style, both artists who have a distinctly New York feel, making them well-suited for a Supreme collaboration.
Rita Ackermann
Rita Ackermann is a New York-based artist who first captivated the New York art scene with her works that centered on the female form and blended horror and erotica. Born in Hungary, Ackermann moved to the United States in the early 1990s to study at the The New York Studio School of Drawing, Painting and Sculpture after previously training at the University of Fine Arts in Budapest. When she arrived in New York, the artist changed her surname to Ackermann, her family name being Bakos.
Not above any medium, she was also known for showcasing her work on T-shirts; prominent art critic John Kelsey noted in a 2012 piece for the New York Times that he first came across her when seeing her work in a store. Kelsey also noted that Ackermann "practiced a small-scale viral art that got everywhere, into every medium, like songs," which doesn't sound a million miles from Supreme.
A Supreme collab is far from Ackermann's first foray into fashion, with most of her first fans coming from that scene. Over her career she's taken part in Adam Kimmel's screen test, designed windows for Macy's and even created a lingerie line. She also frequently collaborates with Harmony Korine, another artist very much in the world of Supreme collaborators.
However, by 2012, Ackermann had soured on the world of fashion. Speaking to the New York Times, she said, "I don't feel that it takes my work anywhere. Fashion is not the world I'm striving for." Nonetheless she seems to be back in fashion, as Supreme used an image from her Heroines 2 artwork, which was created in 2014. A relatively recent work, it's not one of her most well-known pieces, making it an unusual — and more interesting — choice for the streetwear stalwarts to use.
Martin Wong
Martin Wong, who passed away in 1999, gained a reputation amongst his fans as one of New York's most underappreciated painters, having blended social realism with a forward-thinking art style. Born in Portland, he became known as the "Human Instamatic," first coming to prominence making ceramics and drawings at art fairs for bargain basement prices.
This led Wong to move to Manhattan and join the East Village art scene during the late '70s and '80s. Wong's work was respected by his peers and friends, at the same time as he was shunned from the upper echelons of the art world. That of course makes him a natural fit for the world of Supreme.
Wong's inspirations for his art varied greatly, ranging from American Sign Language to brickwork, the latter of which appears prominently throughout the Supreme collab. Supreme also made use of Wong's 1984 painting, My Secret World, 1978-1981. The work is an impression of one of his early dwellings in New York, with the title making reference to his arrival in the city in 1978.
The other key work used most prominently is Tell My Troubles to the Eight Ball. While he may not have garnered the praise he deserved in his lifetime, Martin Wong's quintessentially New York work will live on again for a new generation with Supreme's collaboration.