'Storm Area 51' Founder Announces Alien Stock Festival
Aptly taking place in a small town just 27 miles away from Area 51.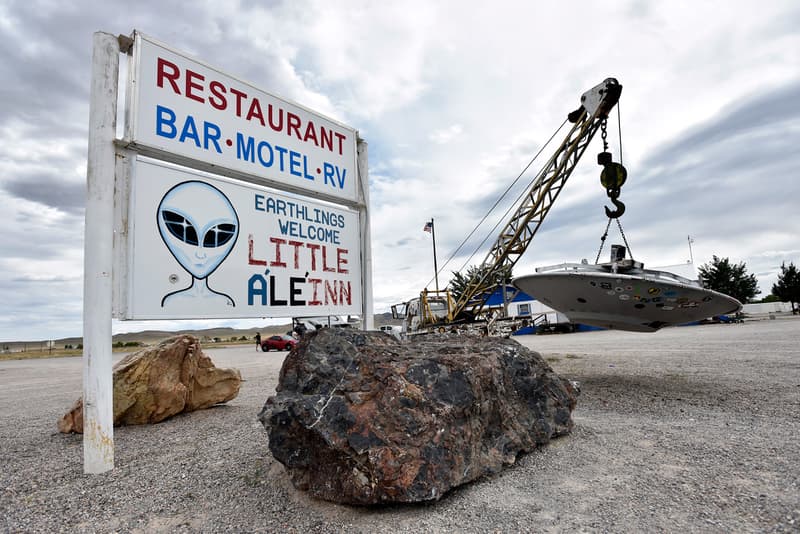 Matty Roberts, the Internet genius behind the viral "Storm Area 51, They Can't Stop All of Us" Facebook event, is turning the extraterrestrial dream into reality. The founder unveiled a festival in line with the original fictitious gathering called Alien Stock set to take place in Rachel, Nevada — a town with a reported population of 54 in the 2010 census and is situated just 27 miles away from Area 51.
Dedicated to gathering the believers, Alien Stock will host a party in the desert comprised of camping, live music, art installations and "surprise performances." While the lineup is still to be announced, Roberts and event producer The Hidden Sound is setting things up with a number of big names wanting to play for the supporters. "It's insane and I just created a joke while I was playing video games and it has taken off to this wild monster," he explained in an interview. "I want to make this something as a positive, enjoyable, safe and profitable for the rural area of Nevada."
As of writing, Roberts is devoted to making the festival free of charge with the aid of donations and sponsors, saying, "Profits would be fun, but I don't want to be seen as a profit-driven guy." He added, "I don't care about the money aspect, I never intended for this to become a real thing. Now, I want to make it fun and I think just capitalizing on it and making a ton of money just ruins the idea of the grassroots idea of it."
The town of Rachel has begun preparations for Alien Stock, putting up a notice on its official website to help familiarize interested patrons with the location. "Other than the Little A'Le'Inn, a small bar/restaurant/motel there are no services in Rachel. There is no gas and no store. The Inn is booked for that weekend," the notice reads. "If you plan on attending the event you must be experienced in camping, hiking and surviving in a harsh desert environment and have a vehicle in good shape. You must be prepared to be completely on your own for food, water, gas etc."
Alien Stock will take place September 20-22 in Rachel, Nevada. Take a look at their official website to donate and for more information.
In other news, The Lion King has surpassed Frozen as the highest-grossing animated film.