Casio EQB1000D-1A Watch Gets Super Slim Makeover
With Bluetooth connectivity, Tough Solar technology & more.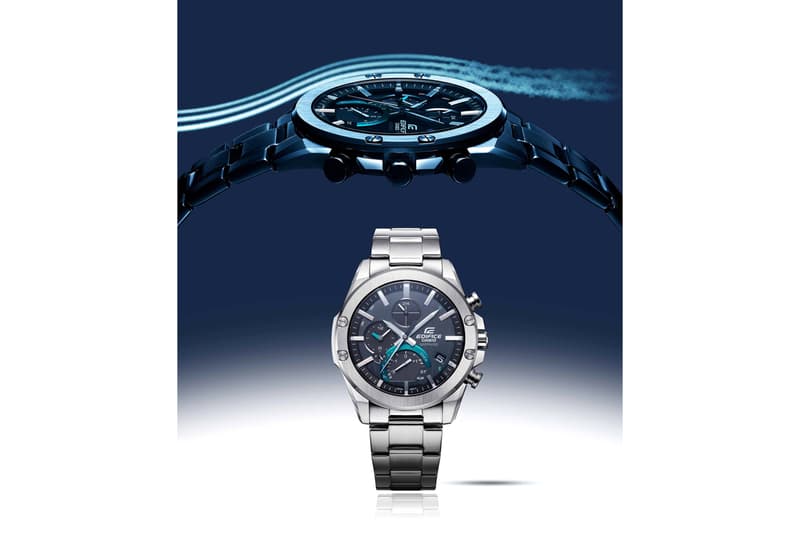 Casio is expanding its sophisticated EDIFICE collection with a statement EQB1000D-1A watch which includes a solar panel system, super-slim case and Bluetooth connectivity.
Casio's new structural innovations and mounting technology allows the watch to be thinner than previous editions while also maintaining a sapphire crystal case. David Johnson, Vice President of Casio's Timepiece Division said, "Our latest EDIFICE timepiece is the ideal combination of style, innovation and design. We know consumers are always on the hunt for a versatile timepiece that is both functional and looks great. The new EQB1000D-1A offers that and more in a slim and stylish package."
The silver timepiece with teal detailing also features a Tough Solar chronograph that allows energy to be stored in the watch and maintains its charge. The technology uses a solar panel system that eliminates the need for battery changes, even charging in low or fluorescent lamp light. Without further exposure to light, a full-charged watch can last up to five months.
Similar to the Casio G-SHOCK Mudmaster GG-B100, the timepiece is able to pair up with a smartphone via Bluetooth and access the correct time for up to 300 cities in the world by simply pushing a button. It can also give information on Daylight Saving Time.
The EQB1000D-1A is available online and at select jewelry and watch retail stores for $300 USD. For more information on watches from the EDIFICE collection, head over to Casio's website.
In other news, Swatch pays tribute to Bauhaus' Centenary with a new collection of dynamic watches.