VestiVille Has Become Europe's Very Own Fyre Festival
A$AP Rocky, Cardi B, Migos, Future, Meek Mill, Ja Rule & more were supposed to perform.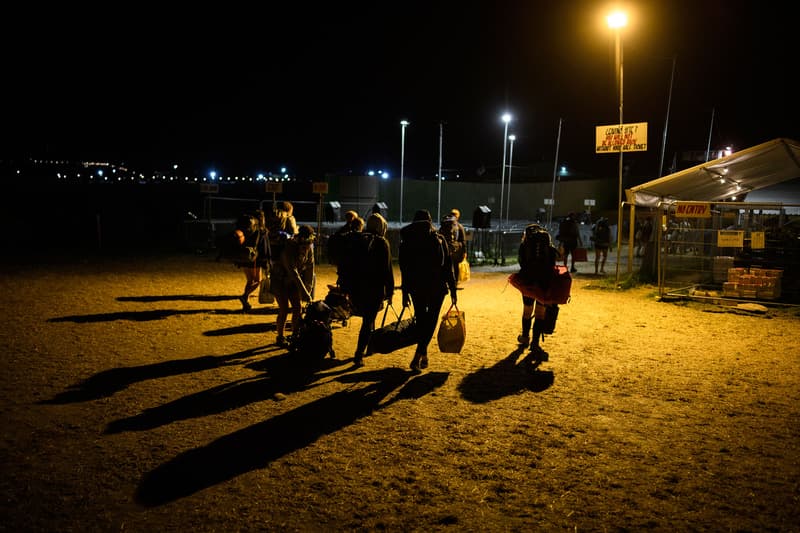 While Fyre Festival had two documentaries put out earlier this year by Netflix and Hulu, the shock and horror surrounding that music festival has since died down.
Turning our attention to Europe, over the weekend in Belgium a similar disaster ensued with VestiVille. The three-day festival that was supposed to take place in Lommel and saw people from all over Europe flying in and spending large amounts of cash on tickets, accommodation, food and flights. Boasting an impressive lineup featuring some of the biggest names in the music industry today, such as ASAP Rocky, Migos, Cardi B, Meek Mill and Future, the event quickly took a turn for the worst when the artists started dropping out on the festival's opening day of Friday, June 28. "I won't be performing today due to security and infrastructure concerns which relate to the production of the show," A$AP Rocky wrote in a tweet.
Shortly after attendees were told that VestiVille has been cancelled. "Today at 5:00 PM the mayor of Lommel decided to not let VestiVille start," the official account for the festival revealed on Twitter. "After consultation with the security services and ASAP Rocky's security officer, it was decided that the safety of the artist and the public could not be guaranteed." Additionally Ja Rule, who was heavily involved with Fyre Fest, was also set to play VestiVille on Saturday, leading many to believe this was more than a coincidence.
According to The Brussels Times, three of the organizers behind VestiVille have been charged with fraud after providing false invoices, forging documents, and laundering money. Suppliers were reportedly unpaid up until the moment it was set to kick off.
Of course VestiVille has now drawn comparisons to Fyre Fest from its duped attendees. Find some of the reactions on social media below which include footage of the festival's barren grounds.
Fyre's co-founder Billy McFarland was sentenced last October and will spend six years in prison. He admitted to defrauding investors of $26 million USD and over $100,000 USD in a fraudulent ticket-selling scheme. Ja Rule on the other hand is planning another "ICONNic" festival.
Belgium has more than cancelled music festivals to offer, check out our city guide to Brussels.
Today at 5:00 PM the mayor of Lommel decided to not let Vestiville start. After consultation with the security services and ASAP Rocky's security officer, it was decided that the safety of the artist and the public could not be guaranteed.

— VestiVille (@VestiVille) June 28, 2019
Production and suppliers have given everything to make Vestiville possible. The campsite will remain open for the time being and an organized festival exit will be organized in consultation with the municipality.

— VestiVille (@VestiVille) June 28, 2019
The organisation will now consult with their official partners about a refund.

— VestiVille (@VestiVille) June 28, 2019
— LORD FLACKO JODYE II (@asvpxrocky) June 28, 2019
Currently at @VestiVille – this is FYRE festival 2.0 – was not allowed to leave the campsite during 14hours to go get food or water and they were not selling any either #vestiville

— BadgalCharchar (@sixcharlotte_) June 28, 2019
" #Vestiville cancelled with festival goers left stranded and no artists shown up" pic.twitter.com/vjIl5pW9Ce

— . (@sarahbizxl) June 28, 2019
Did #Vestiville organisers watch the Fyre Festival documentary and thought: Challenge accepted, let's make the European edition ?

— Priya Charity (@PriyaCharity) June 28, 2019
#vestiville organisers watching the Fyre Festival Netflix documentary pic.twitter.com/bCsShahbLe

— ImaaniFX (@ImaaniFX) June 28, 2019
2020 on Netflix
" #Vestiville: the greatest lineup that never happened " ?

— Jodeci Tigane (@JodeciTigane) June 28, 2019
#Vestiville really left their influencers in a park in the middle of Belgium with goat and sheep galavanting upandan.

— ???? ???????? (@sheistemi) June 28, 2019
#Vestiville is a fake just got to the festival camp site not even set up no food and no transport

— Harvey.Bordley (@HarveyBordley) June 27, 2019
#vestiville wait two hours to get in and it's cancelled, spent 800 pound in total and came all the way from the uk are u mad. And apparently no refund? The debt is mad ?

— Harvey.Bordley (@HarveyBordley) June 28, 2019
#Vestiville be like "better get your ticket's now, you ain't wanna miss this" #Fyrefest pic.twitter.com/Q1eijpWuXa

— ?shania precious? (@shanboujee) June 28, 2019
Yall saw JA RULE on the #Vestiville lineup and STILL BOUGHT TICKETS?! Lmfaooo yall are really dumber than i thought.

— oriyomi. (@ChuchiiLo) June 28, 2019
Scenes at @VestiVille were beyond scary. Unprofessional and so unsafe. No announcement regarding cancellation and staff members put at risk. Ridiculous pic.twitter.com/IitjUjvFze

— Cristina (@CristinaXO_LJoy) June 28, 2019
Hey @netflix I'm ready for my interview #Vestiville pic.twitter.com/OxMsF7YKVS

— SAMMY (@samanthamutongi) June 28, 2019
No more #vestiville pic.twitter.com/jwB8jh2L0w

— Ntriwaah Broni (@YaFlava_) June 28, 2019
I was really the only act at #Vestiville ? pic.twitter.com/BGNQIgUKoE

— SAMMY (@samanthamutongi) June 28, 2019