Lil Wayne Says He Won't Quit Blink-182 Tour (UPDATE)
The rapper addressed the audience saying, "that's not my swag."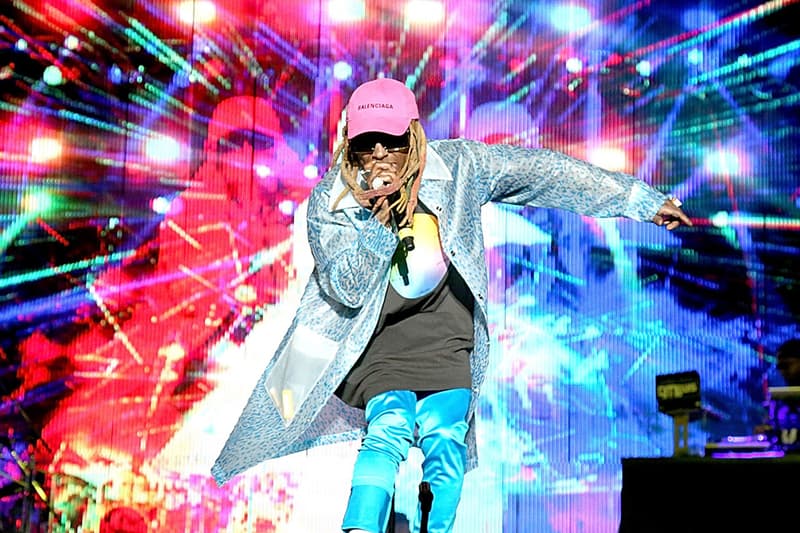 UPDATE: On Twitter, Lil Wayne says he "won't be quitting" his tour with Blink-182. See his tweet below:
Yesterday was krazy! But I want all my fans to know I won't be quitting this tour! I'm having too much fun with my bros blink-182. Bangor,ME See you tomorrow!

— Lil Wayne WEEZY F (@LilTunechi) July 12, 2019
ORIGINAL STORY: Audiences at the Lil Wayne x Blink-182 North American Tour are saying that Weezy was not having a good time, following reports that the rapper stopped his set after around just 20 minutes.
During his set at Jiffy Lube Live in Bristow, Va. on July 11, Lil Wayne halted performing mid-song to address the crowd saying, "I just want the people to know, if you're wondering, please forgive me, but I am so not used to performing to a crowd… and there's not too many… that's not my swag."
He added, "I'm not sure how long I'm gonna be able to do this tour but make some noise for Blink-182 for including me anyway. This might be my last night, though. Let's go." When Lil Wayne left the stage, a member of the Blink-182 crew tweeted "Lil Wayne just said he was over it and walked off stage 40 minutes early." The tweet has since been deleted.
No parties involved are yet to make statements on the short-lived performance. Take a look at some of the audience reactions below.
In other news, Lil Nas X and Billy Ray Cyrus' "Old Town Road" has been remixed by Young Thus and Mason Ramsey.
FULL VIDEO of #lilwayne saying this might be his last night on the #blink182 tour. He says "please forgive me I'm not used to performing in front of a crowd that looks like this" He says he doesn't know how much longer he can do this tour.
Gotta understand the man ??‍♂️ @TMZ pic.twitter.com/PHwVsQqqS0

— worldofjeremiah ? (@worldofjeremiah) July 12, 2019
lil wayne walked off the stage last night after like 4 songs because the crowd was "too small" and "not his swag" and that it might be his last night on the tour after people have already paid to see him. the tour JUST started, what a bitch

— ♡♡ (@xfeelnothingx) July 12, 2019
@LilTunechi It's a bitch move when you shortchange thousands of fans and walk off your set after 20 minutes. #lilbitch

— Taylor Black (@gen0x) July 12, 2019