Here's How the Raptors & Toronto Celebrated Their Championship Win
Of course Drake was part of it.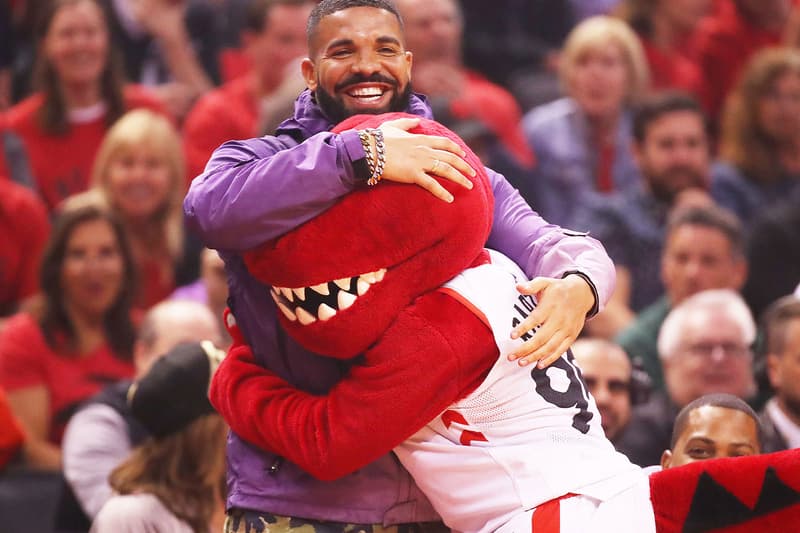 Celebrations are in full swing for the Raptors and their home city Toronto after its 4-2 NBA Championship victory over the Golden State Warriors, and of course, Drake was involved. After the away win at the Oracle Arena in San Francisco, the champions flew home on no other than Drizzy's very own $220 million USD private jet, making sure to bring the Larry O'Brien trophy on board. The musician didn't waste the opportunity, Instagramming the star-studded journey home.
Celebrations continued once the winners landed, with a Championship parade making its way through Ontario's capital on Monday. According to reports, Raptors fans camped out overnight to have prime spots to catch the team take their victory lap through the city. MVP Kawhi Leonard was seen sporting his "Board man gets paid" shirt thanking the city and his fans, while Drake announced OVO Fest's return this year. At one point, the crowd started chanting "One more year" to Leonard — whose agency will soon be free — to which Kyle Lowry chanted back "Five more years!" Leonard also made fun of his own now-iconic laugh. For all the highlights of the parade, check out the tweets below.
And for more NBA news, Anthony Davis will be joining the LA Lakers.
Kawhi boarding Air Drake ? pic.twitter.com/TTLtxY8cod

— 6ixBuzzTV (@6ixbuzztv) June 16, 2019
Welcome home @Drake and @CargoJetAirways with some of our beloved @Raptors!!!@flyyhm is excited to greet the 2019 #NBAChampions!!!!!! #WeTheNorth pic.twitter.com/kAo7wC42iF

— Hamilton Airport YHM (@flyyhm) June 16, 2019
BEST CITY ON THE PLANET ?@FredVanVleet | @Klow7 pic.twitter.com/7fgjHzRL4k

— Toronto Raptors (@Raptors) June 17, 2019
When did Kawhi Leonard know the Raptors were title contenders?

Training camp. pic.twitter.com/LC26RyXXz7

— SportsCenter (@SportsCenter) June 17, 2019
"Let's get itttt" pic.twitter.com/20Rs5QJaaB

— Complex Sports (@ComplexSports) June 17, 2019
Kawhi puffing on a cigar while wearing a 'Board Man Gets Paid' shirt.

LEGEND! #Mood pic.twitter.com/aKBRWyiGaO

— Complex Sports (@ComplexSports) June 17, 2019
Kawhi out here living his best life ? (via @Sportsnet) pic.twitter.com/GjndNufXLn

— SportsCenter (@SportsCenter) June 17, 2019
Kawhi and his daughter ? #FunDad pic.twitter.com/P1ZIVgz7zp

— Complex Sports (@ComplexSports) June 17, 2019
.@drake announces #OVOFest is making a comeback ?#WeTheNorthDay | @Raptors pic.twitter.com/cJenpbrbWi

— Sportsnet (@Sportsnet) June 17, 2019
Drake celebrating with Kyle Lowry and Fred VanVleet ? pic.twitter.com/S1XjQGfVMY

— ESPN (@espn) June 17, 2019
Kawhi and a fan.

?: @NBA pic.twitter.com/7kh9gUh7wu

— Complex Sports (@ComplexSports) June 17, 2019
"You see twin going crazy"

Drake and Fred Vanvleet ? pic.twitter.com/zfYPTxCULS

— Complex Sports (@ComplexSports) June 17, 2019
Drake is chugging beers thrown from fans ?

— Complex Sports (@ComplexSports) June 17, 2019
Crowd to Kawhi: ONE MORE YEAR

Kyle Lowry to crowd: FIVE MORE YEARS pic.twitter.com/rYImiYzVTv

— Yahoo Sports Canada (@YahooCASports) June 17, 2019
Kawhi's uncle joined in on the "5 MORE YEARS" chant with Kyle Lowry ?pic.twitter.com/8RLN6iJCJT

— Complex Sports (@ComplexSports) June 17, 2019
S/o Kyle Lowry for pulling out the Damon Stoudamire throwback at the Raptors Championship Parade! ?#WeTheNorth pic.twitter.com/cBjbnNjfzu

— Timeless Sports (@timelesssports_) June 17, 2019
.@Klow7: Champion pic.twitter.com/ryzGYQwfiB

— Toronto Raptors (@Raptors) June 17, 2019
Kawhi Leonard makes fun of his own laugh at the end of his parade speech. #WeTheNorth pic.twitter.com/5wdso3AuIL

— Sports Notes? RT Pinned (@TheSportsNotes) June 17, 2019