Adam Sandler's 'Murder Mystery' Breaks Netflix Viewing Record Despite Poor Reviews
Critics called it his "laziest movie to date."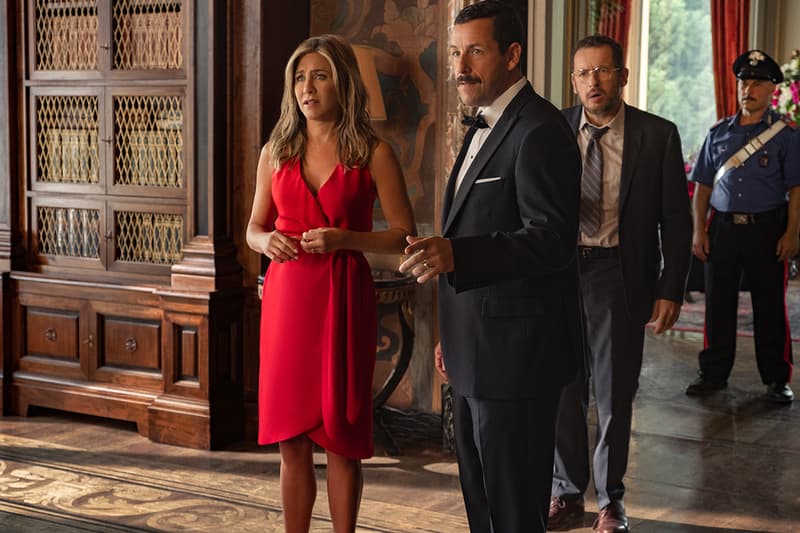 Adam Sandler's latest Netflix film Murder Mystery has reportedly broken the streaming service's viewing record. The mystery-comedy effort co-starring Jennifer Aniston was watched by 30.8 million accounts in its first three days, officially making it the biggest opening weekend for a Netflix original film. Netflix announced the news via Twitter, with a spokesperson confirming that the data in the tweet was accurate and that the platform only counts the view if an account finished at least 70% of a film.
This comes as a surprise considering Murder Mystery's mediocre to poor reviews, garnering a 45% score on Rotten Tomatoes and a 38 on Metacritic. Several critics have spoken on the film, with David Ehrlich of IndieWire labelling it Sandler's "laziest movie to date," CNN dubbing it as "a tired, bordering on tiresome endeavor — feeling like the pilot for a not-very-good TV show" and The New York Times claiming it as an "updated but sluggish version of Clue."
Netflix initially signed a four-movie deal with Sandler in 2015 and renewed the contract in 2017. While it's no secret that the comedian's movies are no longer making box office waves like before, it seems as though he still has a pretty big following with the Netflix audience.
In related news, here's everything else available on Netflix this June.
?ADAM SANDLER AND JENNIFER ANISTON BREAKING NEWS ALERT?

30,869,863 accounts watched Murder Mystery in its first 3 days – the biggest opening weekend ever for a Netflix Film. 13,374,914 accounts in the US and Canada, and 17,494,949 more worldwide.

— Netflix Is A Joke (@NetflixIsAJoke) June 18, 2019