Twitter's 'Game of Thrones' Tweet Statistics Have Been Released
Warning: Spoilers ahead!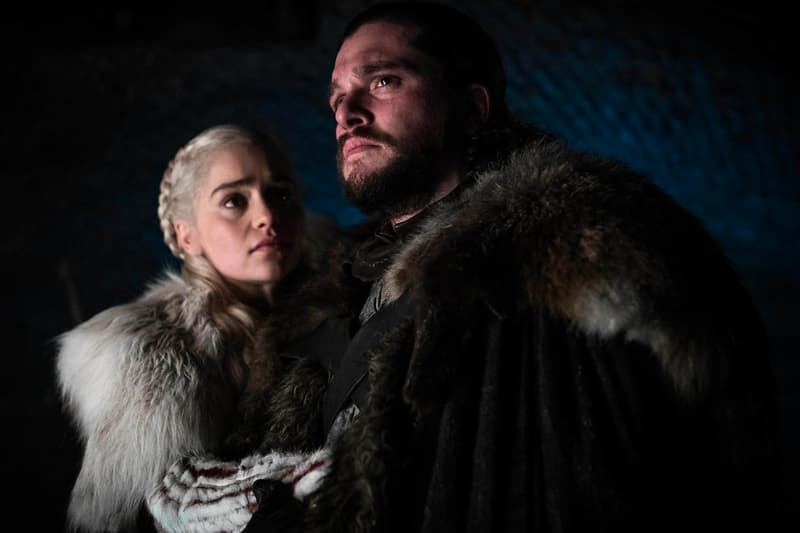 It's been an emotional week as Game of Thrones has finally ended its nine year run over eight seasons, and whether you liked the ending or not, one thing is clear: the final season of the show has attracted a lot of chatter over social media. Following the release of the finale, Twitter released a bunch of statistics relating to a handful of categories for the show, highlighting some of the most interesting (or funny) tweets this season. Check out the whole list below — but beware of spoilers!
The most mentioned characters in the final episode of season 8:
Jon Snow
Bran
Drogo
Sansa
Daenerys
The most retweeted fan tweets of the finale evening:
Tyrion: the king shall be Bran the Broken

Bran: yeah actually just Bran is cool

Tyrion: Bran the busted up

Bran: ok or -

Tyrion: Bran the wheely wheely legs no feely

— zaki (@ZakGhaliAZ) May 20, 2019
Sansa in front of absolutely everyone: "Bran's dick doesn't work."

— Rachel Fisher (@TheRachelFisher) May 20, 2019
EVERYBODY LET'S SAY THANK YOU TO THE BEST CAST EVER. #GamefThrones #GameOfThronesFinale #TheFinalEpisode pic.twitter.com/wGlNN3WW79

— ? (@acursedlove) May 19, 2019
He didn't kill Jon because he didn't blame Jon,he blamed the iron throne. Drogon knew that the throne killed his mother. That scene was heartbreaking and perfect. He finished his mother's wishes and broke the wheel. #GameOfThrones https://t.co/N84awCX3fS

— mackenzietripp (@mskenziespears) May 20, 2019
TYRION: People love stories. And no one has a better story than Bran

ARYA, WHO LEARNED SHAPE-SHIFTING AND MURDERED THE INVINCIBLE ICE KING OF DEATH: Bran has what now

— Jason O. Gilbert (@gilbertjasono) May 20, 2019
Jamie Lannister is the nastiest skank bitch I have ever met. Do not trust him, he is a fugly slut. #GameofThrones #GOT pic.twitter.com/N4I3XvBeBy

— Dana Nugent (@DMNug) May 20, 2019
That theme song gon hit different tonight #GameOfThronesFinale #GOT pic.twitter.com/NSfUlsl28l

— Najma (@_osna_) May 19, 2019
Brienne out here altering Jaime Wikipedia page

— Tyler R. Tynes (@TylerRickyTynes) May 20, 2019
Janelle Monae took the title for most retweeted celebrity:
Pre gaming . #GameofThrones??? pic.twitter.com/abgga04Zgx

— Janelle Monáe, Cindi (@JanelleMonae) May 19, 2019
Here are the most re-tweeted tweets of season 8:
I can't stop watching this. That knife switch is clean! #GameOfThrones pic.twitter.com/CmpPcDifgW

— Leo of House Hyrule (@LeoOfHyrule) April 29, 2019
Meanwhile in Winterfell…#GameofThrones
pic.twitter.com/ioRwL9DfHg

— Samantha Michelle (@sbazzini8) May 14, 2019
Twitter folks who don't watch Game of Thrones: pic.twitter.com/GgbvS5mNfm

— Karen Howell (@karenehowell) April 29, 2019
A big shout out to Lena Headey who made $1,000,000 an episode this season for standing at a window drinking a glass of wine. An icon. pic.twitter.com/n44MAQsK0b

— James Potter (@dontforgetjames) May 13, 2019
well shit…. pic.twitter.com/1BZizwdsIa

— (●´ω`●) (@OnFireGaspy) May 13, 2019
Here are the episodes ranked in terms of volume of tweets:
Episode 3 The Long Night
Episode 6 The Iron Throne
Episode 5 The Bells
Episode 1 Winterfell
Episode 4 The Last of the Starks
Episode 2 A Knight of the Seven Kingdoms
And the most mentioned characters of the whole season 8:
   Arya
   Daenerys
   Cersei
   Jon
   Sansa
   Night King
   Bran
  Jaime
   Tyrion
 Brienne
Top 5 countries tweeting the most about Game of Thrones this season are:
United States
Brazil
United Kingdom
France
Spain
And finally some of the most retweets from cast members of this season:
Maisie Williams (Arya Stark)
if u feel uncomfortable just know that my mother and my step dad and my 2 sisters and my 4 brothers have all probably watched this too ahahakillmeehehe

— Maisie Williams (@Maisie_Williams) April 23, 2019
Sophie Turner (Sansa Stark)
Prepare yourself #BattleOfWinterfell

— Sophie Turner (@SophieT) April 28, 2019
Carice van Houten (Melisandre)
Still in awe of ep 3 @GameOfThrones I was very lucky to be part of a show that has connected so many of us. Thanks for all your support! ??? pic.twitter.com/J17YvwuP5g

— Carice van Houten (@caricevhouten) May 1, 2019
Liam Cunningham (Davos Seaworth)
Almost there. It's been utterly extraordinary. Thank you all. #GameOfThronesFinale #GamefThrones

— liam cunningham (@liamcunningham1) May 20, 2019
Isaac Hempstead Wright (Bran Stark)
??‍♂️

— Isaac.H.Wright (@Isaac_H_Wright) May 20, 2019
Nathalie Emmanuel (Missandei)
"Dracarys"

— Nathalie Emmanuel (@missnemmanuel) May 6, 2019
Joe Dempsie (Gendry)
ARYA YOU LIL PIECE OF SHIT I LOVE YOU. SOMEBODY GET THIS WOMAN SOME PREMIUM DICK ASAP!!!!!!!! @HBO @GameOfThrones #GoT #Season8 #DemThrones #Episode3 #BattleOfWinterfell

— #GameofThrones (@TPAIN) April 29, 2019
Daniel Portman (Podrick Payne)
Thank you all so much for the touching words on my rendition of Jenny of Oldstones in Episode 2! The comments have been much appreciated. I'm now awaiting my offer to star in the new medieval Pitch Perfect spin-offs. #GameofThrones

— Daniel Portman (@Daniel_Portman) April 23, 2019
Jacob Anderson (Gray Worm)
I know it hurts. But Somewhere in the multiverse ???@missnemmanuel ?? pic.twitter.com/nP2vdYqkeH

— Raleigh Ritchie (@RaleighRitchie) May 7, 2019
Jerome Flynn (Bronn)
After his superlative crooning in episode two I have naturally approached @Daniel_Portman proposing we hook up to become a pop duo sensation! Podman and Jerbronn, first single "Up on the Roof of My Castle" Love you Dan #GameOfThrones

— Jerome Flynn (@JeromeFlynn) May 9, 2019
Pilou Asbæk (Euron Greyjoy)
This is the end!!! #GameOfThronesFinale

— Pilou Asbaek (@PilouAsbaek) May 19, 2019
John Bradley (Samwell Tarly)
It may seem like an odd thing to say, but I loved these two characters so much. Outside of Kit and me and everything else, I just loved them and what they shared. And it really does hurt to say goodbye. ? https://t.co/9nGkjXecmj

— John Bradley (@johnbradleywest) May 6, 2019
Kristofer Hivju (Tormund Giantsbane)
— Kristofer Hivju (@kristoferhivju) April 16, 2019
And for more things Game of Thrones, check out Emilia Clarke's reaction to the finale.