Les tweets les plus RT de la saison 8, le pays qui a le plus commenté, Twitter sort son bilan pour la fin de Game of Thrones
On fait le bilan, calmement.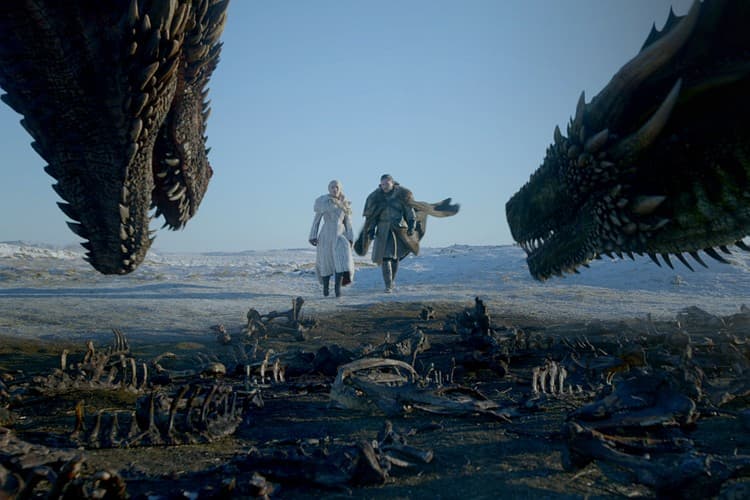 Alors que nous vous proposions de revivre le dernier épisode de Game of Thrones avec les meilleures réactions Twitter, le réseau social vient de sortir ses statistiques pour la saison 8 de GOT. Les tweets des acteurs de la série les plus retweetés, les pays qui ont le plus commenté la série, les meilleurs tweets fans, un recap à découvrir ci-dessous.
Les personnages les plus mentionnés de l'épisode 6 de la saison 8:
Jon Snow
Bran
Drogon
Sansa
Daenerys
Les Tweets de fans les plus retweetés de la soirée :
Tyrion: the king shall be Bran the Broken

Bran: yeah actually just Bran is cool

Tyrion: Bran the busted up

Bran: ok or -

Tyrion: Bran the wheely wheely legs no feely

— zaki (@ZakGhaliAZ) 20 mai 2019
Sansa in front of absolutely everyone: "Bran's dick doesn't work."

— Rachel Fisher (@TheRachelFisher) 20 mai 2019
EVERYBODY LET'S SAY THANK YOU TO THE BEST CAST EVER. #GamefThrones #GameOfThronesFinale #TheFinalEpisode pic.twitter.com/wGlNN3WW79

— ? (@acursedlove) 19 mai 2019
He didn't kill Jon because he didn't blame Jon,he blamed the iron throne. Drogon knew that the throne killed his mother. That scene was heartbreaking and perfect. He finished his mother's wishes and broke the wheel. #GameOfThrones https://t.co/N84awCX3fS

— mackenzietripp (@mskenziespears) 20 mai 2019
TYRION: People love stories. And no one has a better story than Bran

ARYA, WHO LEARNED SHAPE-SHIFTING AND MURDERED THE INVINCIBLE ICE KING OF DEATH: Bran has what now

— Jason O. Gilbert (@gilbertjasono) 20 mai 2019
Jamie Lannister is the nastiest skank bitch I have ever met. Do not trust him, he is a fugly slut. #GameofThrones #GOT pic.twitter.com/N4I3XvBeBy

— Dana Nugent (@DMNug) 20 mai 2019
That theme song gon hit different tonight #GameOfThronesFinale #GOT pic.twitter.com/NSfUlsl28l

— Najma (@_osna_) 19 mai 2019
Brienne out here altering Jaime Wikipedia page

— Tyler R. Tynes (@TylerRickyTynes) 20 mai 2019
Le Tweet de l'artiste Janelle Monae, se tenant prête pour l'épisode depuis son propre dragon a été le Tweet de célébrité le plus retweeté de la soirée.
Pre gaming . #GameofThrones??? pic.twitter.com/abgga04Zgx

— Janelle Monáe, Cindi (@JanelleMonae) 19 mai 2019
Les Tweets les plus Retweetés de toute la saison 8 :
I can't stop watching this. That knife switch is clean! #GameOfThrones pic.twitter.com/CmpPcDifgW

— Leo of House Hyrule (@LeoOfHyrule) 29 avril 2019
Meanwhile in Winterfell…#GameofThrones
pic.twitter.com/ioRwL9DfHg

— Samantha Michelle (@sbazzini8) 14 mai 2019
Twitter folks who don't watch Game of Thrones: pic.twitter.com/GgbvS5mNfm

— Karen Howell (@karenehowell) 29 avril 2019
A big shout out to Lena Headey who made $1,000,000 an episode this season for standing at a window drinking a glass of wine. An icon. pic.twitter.com/n44MAQsK0b

— James Potter (@dontforgetjames) 13 mai 2019
well shit…. pic.twitter.com/1BZizwdsIa

— (●´ω`●) (@OnFireGaspy) 13 mai 2019
Classement des épisodes les plus commentés de la saison 8, par volume de Tweets : 
Episode 3 The Long Night
Episode 6 The Iron Throne
Episode 5 The Bells
Episode 1 Winterfell
Episode 4 The Last of the Starks
Episode 2 A Knight of the Seven Kingdoms
Les personnages les plus mentionnés de toute la saison 8 :
   Arya
   Daenerys
   Cersei
   Jon
   Sansa
   Night King
   Bran
   Jaime
   Tyrion
 Brienne
Les 5 pays ayant le plus Tweeté à propos de Game of Thrones cette saison sont :
Etats-Unis
Brésil
Royaume-Uni
France
Espagne
Les Tweets des membres du casting les plus Retweetés de cette saison, ont été :
Maisie Williams (Arya Stark) @Maisie_Williams
if u feel uncomfortable just know that my mother and my step dad and my 2 sisters and my 4 brothers have all probably watched this too ahahakillmeehehe

— Maisie Williams (@Maisie_Williams) 23 avril 2019
Sophie Turner (Sansa Stark) @SophieT
Prepare yourself #BattleOfWinterfell

— Sophie Turner (@SophieT) 28 avril 2019
Carice van Houten (Melisandre) @caricevhouten
Still in awe of ep 3 @GameOfThrones I was very lucky to be part of a show that has connected so many of us. Thanks for all your support! ??? pic.twitter.com/J17YvwuP5g

— Carice van Houten (@caricevhouten) 1 mai 2019
Liam Cunningham (Davos Seaworth) @liamcunningham1 -
Almost there. It's been utterly extraordinary. Thank you all. #GameOfThronesFinale #GamefThrones

— liam cunningham (@liamcunningham1) 20 mai 2019
Isaac Hempstead Wright (Bran Stark)  @Isaac_H_Wright
??‍♂️

— Isaac.H.Wright (@Isaac_H_Wright) 20 mai 2019
Nathalie Emmanuel (Missandei) @missnemmanuel -
"Dracarys"

— Nathalie Emmanuel (@missnemmanuel) 6 mai 2019
Joe Dempsie (Gendry) @joedempsie -
ARYA YOU LIL PIECE OF SHIT I LOVE YOU. SOMEBODY GET THIS WOMAN SOME PREMIUM DICK ASAP!!!!!!!! @HBO @GameOfThrones #GoT #Season8 #DemThrones #Episode3 #BattleOfWinterfell

— #GameofThrones (@TPAIN) 29 avril 2019
Daniel Portman (Podrick Payne) @Daniel_Portman -
Thank you all so much for the touching words on my rendition of Jenny of Oldstones in Episode 2! The comments have been much appreciated. I'm now awaiting my offer to star in the new medieval Pitch Perfect spin-offs. #GameofThrones

— Daniel Portman (@Daniel_Portman) 23 avril 2019
Jacob Anderson (Grey Worm) @RaleighRitchie -
I know it hurts. But Somewhere in the multiverse ???@missnemmanuel ?? pic.twitter.com/nP2vdYqkeH

— Raleigh Ritchie (@RaleighRitchie) 7 mai 2019
Jerome Flynn (Bronn) @JeromeFlynn -
After his superlative crooning in episode two I have naturally approached @Daniel_Portman proposing we hook up to become a pop duo sensation! Podman and Jerbronn, first single "Up on the Roof of My Castle" Love you Dan #GameOfThrones

— Jerome Flynn (@JeromeFlynn) 9 mai 2019
Pilou Asbæk (Euron Greyjoy) @PilouAsbaek -
This is the end!!! #GameOfThronesFinale

— Pilou Asbaek (@PilouAsbaek) 19 mai 2019
John Bradley (Samwell Tarly) @johnbradleywest -
It may seem like an odd thing to say, but I loved these two characters so much. Outside of Kit and me and everything else, I just loved them and what they shared. And it really does hurt to say goodbye. ? https://t.co/9nGkjXecmj

— John Bradley (@johnbradleywest) 6 mai 2019
Kristofer Hivju (Tormund Giantsbane) @KristoferHivju -
— Kristofer Hivju (@kristoferhivju) 16 avril 2019