Formula One Legend Niki Lauda Has Passed Away at 70
Lauda's passion and energy transcended motorsports.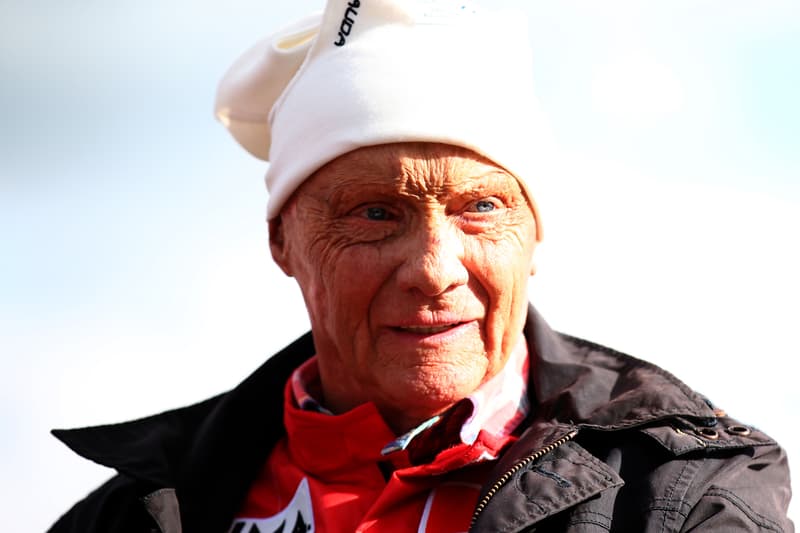 Formula One icon, legend, and three-time world champion Niki Lauda has passed at the age of 70. Lauda's family noted that the legendary driver and business entrepreneur had "passed away peacefully" on Monday. The famed driver passed away at a Swiss clinic, where had been attending dialysis treatment for various kidney issues.
Lauda was arguably one of the most legendary champions in all of driving sports, wherein he won two of his world championship titles after a brutal crash left him with immense burns. He won his 1975 and 1977 championships alongside Ferrari, making a staggering comeback in 1984 alongside McLaren to reclaim his title. The Austrian and his long-standing rivalry with British driver James Hunt was subject to Ron Howard's critically-acclaimed biographical film Rush, which depicts the horrific accident Lauda suffered when his Ferrari burst into flames. Lauda was inducted into the International Motorsports Hall of Fame in 1993.
He later returned to the race track via managerial and consulting roles in the early '90s, taking on the role of team principal for the Jaguar Formula One team in 2001. 2012 saw Lauda being appointed to non-executive chairman of the Mercedes AMG Petronas F1 Team. 

Outside of racing, Lauda maintained a stark focus on Austria's airline industry through starting his own airline, Lauda Air. After selling the airline in the late '90s, he later returned to the industry in 2003 with his new airline, Niki, once again selling to a majority stakeholder in the early 2010s. He continued his fascination in the automobile and aeronautics industries up until his death, and has maintained himself as one of the most respected to ever grace the motorsports industry.
Our condolences go out to the family and friends of Niki Lauda.
Rest in peace Niki Lauda.

Forever carried in our hearts, forever immortalised in our history. The motorsport community today mourns the devastating loss of a true legend.

The thoughts of everyone at F1 are with his friends and family. pic.twitter.com/olmnjDaefo

— Formula 1 (@F1) May 21, 2019
Official Statement – Three-time F1 World Champion, Niki Lauda, passes away #F1 #NikiLauda pic.twitter.com/A9Z2rzb27Y

— F1 Media (@F1Media) May 21, 2019
Everyone at Ferrari is deeply saddened at the news of the death of our dear friend Niki Lauda. He won two of his three world championships with us and will always be in our hearts and in those of all Ferrari fans. Our sincere condolences go to all his family and friends.#CiaoNiki pic.twitter.com/mbzZBNZiRZ

— Scuderia Ferrari (@ScuderiaFerrari) May 21, 2019
Legend. Then, now and forever. ❤️ #RIPNiki

? https://t.co/UixsPMO2fP pic.twitter.com/HLlmT00hZf

— McLaren (@McLarenF1) May 21, 2019
From everyone at Jaguar Racing our thoughts are with the Lauda family – RIP Niki ? pic.twitter.com/7YyPDoPwFv

— Jaguar Racing (@JaguarRacing) May 21, 2019
❤ Niki, 1949 – 2019 pic.twitter.com/dYM8YoClfw

— Mercedes-Benz (@MercedesBenz) May 21, 2019
A great racer, and true F1 legend. RIP Niki Lauda, you will be missed. pic.twitter.com/BnMx94dCTH

— Aston Martin (@astonmartin) May 21, 2019
We mourn the loss of motor racing legend Niki Lauda. Thank you for being an inspiration to so many in the world of this sport. pic.twitter.com/7WJ6TFVVS9

— BMW Motorsport (@BMWMotorsport) May 21, 2019
Fritz Enzinger (Vice President Motorsport): "This sad news has shaken me. Niki Lauda was one of the greatest ever, a strong character. I remember how he congratulated us on our Le Mans victory in 2015. It was very emotional. Our sympathy goes out to his relatives and friends." pic.twitter.com/AN5ZsroSYk

— Porsche Motorsport (@PorscheRaces) May 21, 2019
Farewell to a true @F1 legend, a man whose talent was as great as his capacity of inspiring people.
Goodbye #NikiLauda! pic.twitter.com/ut1iRwlMdm

— Lamborghini (@Lamborghini) May 21, 2019