Nike Honors Rafael Nadal With Cage 3 Glove "What The" Rafa
The King of Clay prepares to win his 12th career title.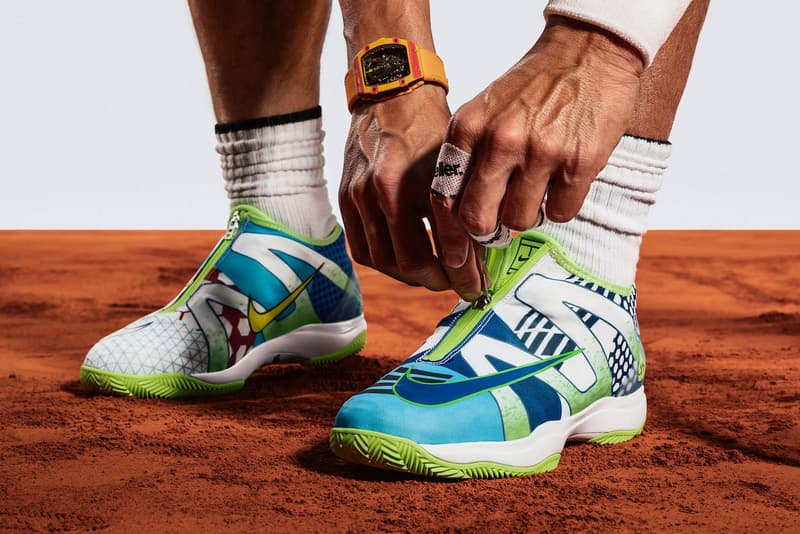 With the French Open slated to begin on Sunday, tennis great Rafael Nadal is predicted to win a record-breaking 12th title after beating out Novak Djokovic in Rome last week. To honor his prior 11 titles, NikeCourt has unveiled a limited edition of the Cage 3 Glove dubbed "What The" Rafa that Nadal will be wearing during the games.
Featuring a predominately volt glow and white colorway, the footwear encompasses a zipper shroud borrowing design elements from the Nike Air Zoom Flight. This detail not only adds to a minimal form, but prevents clay from getting into the shoe and laces. Subtle nods to all the sneakers worn during his past 11 career wins are also represented through an assemblage of graphic prints in this special rendition.
• 2006: Nike Air Max Breathe III
• 2007: Nike Air Max Breathe Cage
• 2008: Nike Air Max Breathe Cage II
• 2010: Nike Air Max CourtBallistec 2.3
• 2011: Nike Air Max CourtBallistec 3.3
• 2012, 2013, 2014: Nike Air Max Court Ballistec 4.3
• 2017: Nike Lunar Ballistec 2
• 2018: Nike Air Zoom Cage III
Nike will release the Cage 3 Glove "What The" Rafa on May 26 in limited quantities online and at select retailers. Be sure to also check out the latest NikeCourt Paris apparel collection, featuring macabre prints.
NikeCourt Cage 3 Glove "What The" Rafa