Streetsnaps: Flying Lotus
Catching up with the producer and director before 'Flamagra' releases.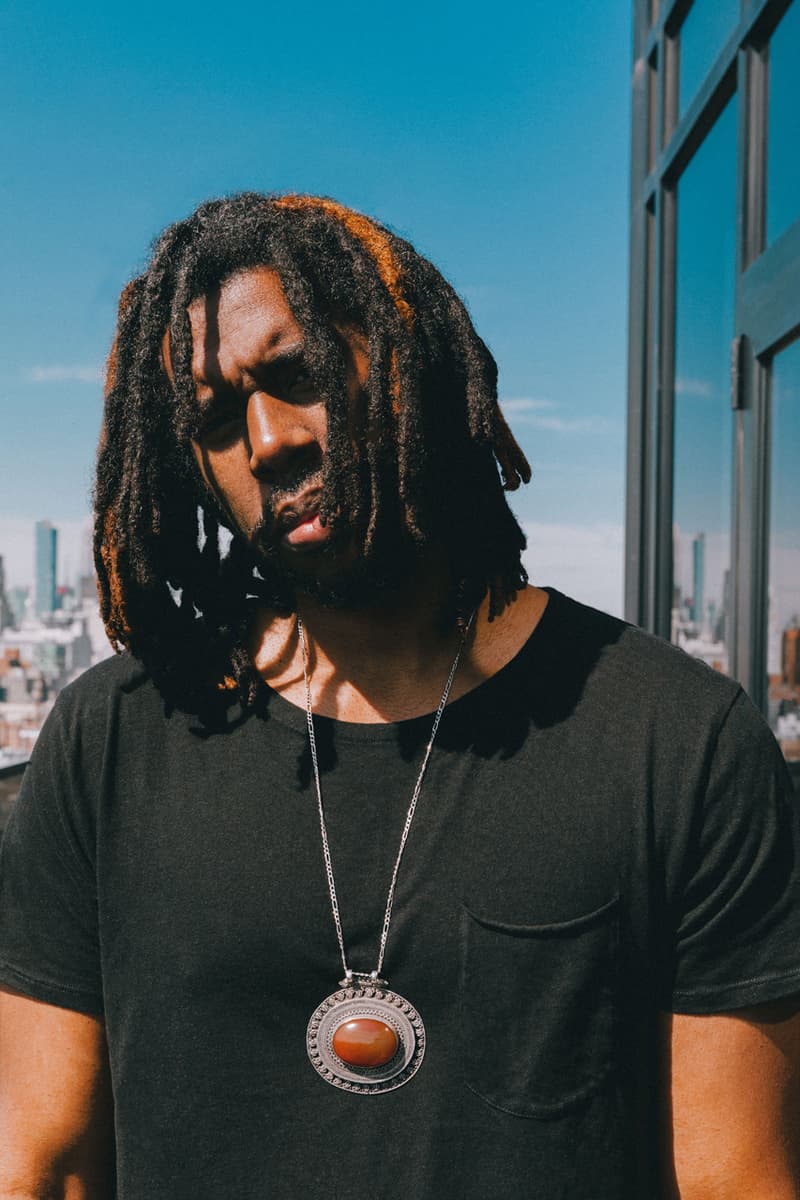 Streetsnaps: Flying Lotus
Catching up with the producer and director before 'Flamagra' releases.
Steven Ellison, better known as Flying Lotus, doesn't dress up for Streetstnaps, but it's not because he doesn't like clothes. "I don't really follow any [trends]," FlyLo affirms. "I just like my clothes feeling super comfortable. But I've been hitting the gym a bit more and summer's coming, you know, so things might be getting a bit more fitted." He laughs, demonstrating an ease and earnestness that echoes his approach to getting dressed.
FlyLo pours himself into making music, allowing his chosen craft to inform his life. Even though he's only in New York for a few days, he's already got a couple keyboards set up in the hotel room, just to make sure he can keep practicing. "You gotta practice, practice, practice," avows FlyLo. "I didn't learn to play until only recently, so I've just been enjoying it." Music is his prime concern, clothes are a distant priority.
Though he appreciates the occasional flashy piece, like his patterned kimono jacket, FlyLo prefers to keep things simple day-to-day. A black T-shirt, hoodie and jeans to match — that's his style in a nutshell. "I'm like the most boring clothes person on the planet," he admits, chuckling. "I do have a room full of shoes at home though, no brand preference, just all these shoes spread out on the floor."
Things may be taking a turn soon, however. "I will say," admits FlyLo. "I've been getting a thing for Versace. I think it's just some of the weird religious symbolism — I don't really practice, but I like that old Renaissance art vibe. Just a touch of Versace, that's kinda my thing." To emphasize, the producer roots around his hotel room, coming up with a pair of black and gold Versace sunglasses. Another seasonal staple is a Diesel leather jacket, studded with pins displaying The Punisher's logo and Freddy Krueger, who was "the first thing to ever really scare me," says FlyLo, who directed his own indie horror movie Kuso back in 2017.
Where FlyLo switches things up is his kicks, donning the Dragon Ball Z x adidas ZX500 RM "Goku." Gifted to him by his pal Thundercat, the sneakers are emblematic of a lesson FlyLo learned from his longtime friend. "When we first saw they were doing Dragon Ball shoes, we were like 'Oh man, we've gotta get those,'" FlyLo recalls.
"He gave me the shoes a day or two before they came out and I was just like, 'They're beautiful but when am I gonna wear 'em?' But [Thundercat] was already wearing his pair… He told me, 'Why are you waiting for a special day to wear the shoes? Every day's a special day.' It sounds so simple now, but I was like, 'Huh, damn.' So I've just been wearing them all the time, because I like them and, yeah, why not? Live every day like it's a gift."
Flying Lotus' Flamagra is out May 24. Stay tuned for FlyLo's upcoming episode of HYPEBEAST Radio and listen to his Anderson .Paak collaboration "More" now.