The Samsung Galaxy Fold Is Already Breaking
Reviewers have been reporting problems after one or two days.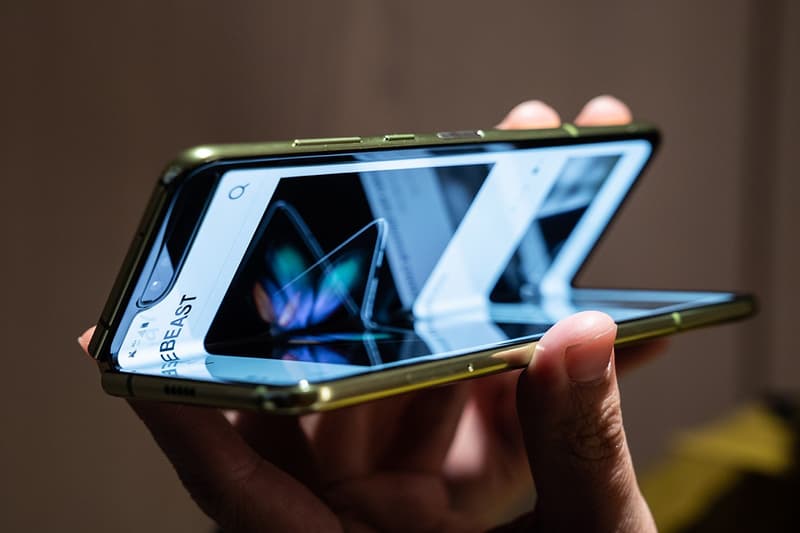 With the Galaxy Fold poised to finally released later this month, Samsung has begun rolling out the innovative model to select reviewers. So far, however, a number of these users and reviewers have reported issues and breaks with the phone after only a day or two of use.
Prominent reviewers to have reported issues include Steve Kovach of CNBC, who posted a video of a broken and flickering screen that he explained was "after one day of use," while Bloomberg's Mark Gurman posted images of his phone that was "completely broken and unusable just two days in." Similarly, Dieter Bohn wrote for The Verge that "there's something pressing up against the screen at the hinge, right there in the crease" and that "the bulge eventually pressed sharply enough into the screen to break it."
After one day of use… pic.twitter.com/VjDlJI45C9

— Steve Kovach (@stevekovach) April 17, 2019
It has gotten progressively worse. Here's the latest, photo taken now. One photo is from last night. Other photo is earlier this morning. pic.twitter.com/qzmlM0a3pL

— Mark Gurman (@markgurman) April 17, 2019
Since these issues were reported, Samsung has released a statement saying that the company "will thoroughly inspect these units in person to determine the cause of the matter." The statement goes on to indicate that the problems may come after some users "reported having removed the top layer of the display causing damage to the screen. The main display on the Galaxy Fold features a top protective layer, which is part of the display structure designed to protect the screen from unintended scratches. Removing the protective layer or adding adhesives to the main display may cause damage. We will ensure this information is clearly delivered to our customers."
Despite these issues, Samsung has confirmed that the $1,980 USD Galaxy Fold is still due to release on April 26.
Recently, we conducted our own test of the Samsung Galaxy Fold in the streets of New York City, to see how it fares with photos, functionality and, of course, folding.