Ron English Gets Mexico to Help Pay for 2,000-Foot 'Welcome Wall' Along Border
In response to President Donald Trump's wall and immigration policy.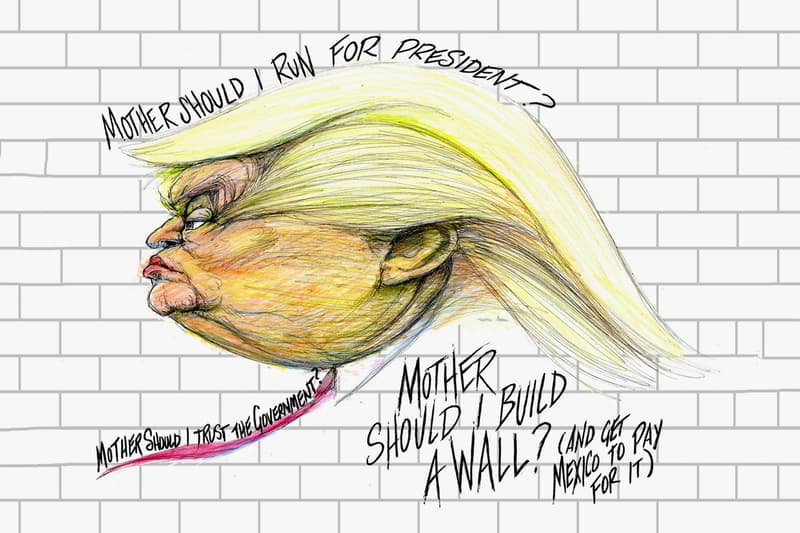 Acclaimed street artist Ron English is currently constructing a mural-filled Welcome Wall along the U.S. and Mexico border in protest of President Donald Trump's immigration policy and wall proposal. English plans to build the 2000-foot-long physical barrier designed by a number of international artists and activists. Moreover, the Mexican government has already agreed to pay for several sections of English's wall across the border, as per a statement sent to HYPEBEAST by the artist's press team. Recently, he acquired permits in Brownsville as well as the land on the Mexican side to construct the wall.
Not long ago, English took to Indiegogo to raise funds to build the first section of his wall in Mission, Texas. The artist successfully raised over $20,000 USD on the crowdsourcing platform while offering original artworks as incentives for backers. One of the offers is a print entitled Mother, Should I build a wall? for $200 USD — the artwork was inspired by Pink Floyd's The Wall album artwork (1979). Collectively, the project is a "temporary art installation to fuel the resistance against Trump's racist monument," as per a statement on Indiegogo. "The wall will most likely become a global tourist attraction, promoting tolerance, social and environmental justice in a way that only great art can do," the press team added.
The artist aims for the Welcome Wall to be on view until the next presidential election on November 3, 2020. That same day, he will auction various sections with a portion of proceeds to benefit wildlife charities, indigenous communities, and non-profit organizations. Visit the Indiegogo page to learn more and stay tuned for updates.
In other politically-charged artworks, this Extinction Rebellion mural found in central London could be a new piece by Banksy.