Extinction Rebellion Mural Could Be a New Banksy Artwork, Expert Claims
Recently spotted at the climate activists' Marble Ach base in central London.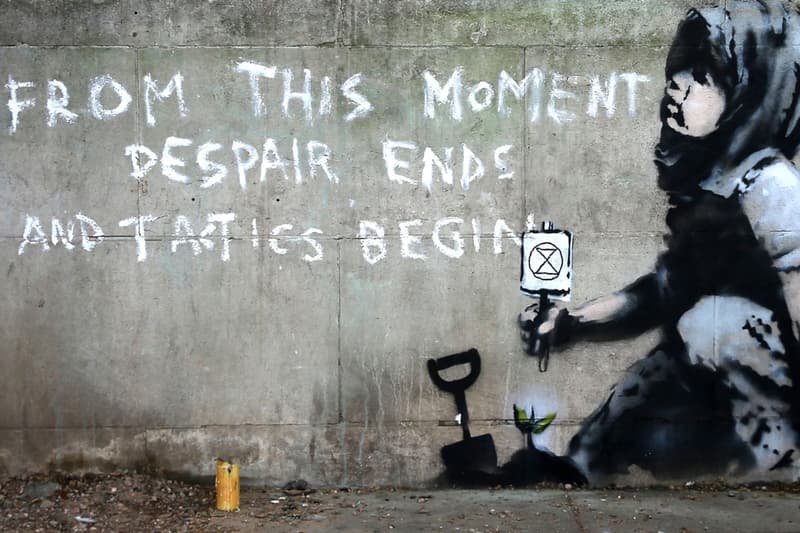 Thousands of climate activists have been taking part in the Extinction Rebellion protests in central London since April 16. Those participating in the demonstrations are protesting against "climate breakdown, biodiversity loss, and the risk of human extinction and ecological collapse," as per a public statement.
This Friday, demonstrators spotted a freshly-painted mural at their base in Marble Ache that many are claiming is the work of Banksy. The artwork features the slogan "From this moment despair ends and tactics begin" beside a young girl sitting on the ground while brandishing an Extinction Rebellion logo.
Art dealer and gallerist John Brandler, who owns several pieces by the elusive British artist, strongly believes that the mural is by Banksy. "I'm convinced about the one in London for two reasons: it's a topic that he would support, and it's a continuation of the Port Talbot piece that appeared in December 2018," he said to The Guardian. "The name in the corner is not important, the signature is the work. And this is a Banksy. It's a wonderful statement and a beautiful piece."
Banksy has not confirmed whether the painting is official. We reached out to the artist's press team to request for comments. Stay tuned.