Joan Cornellà on Exposing Mankind's Hypocrisy With His Comically Dark Artworks
"I hope the American audience doesn't get offended."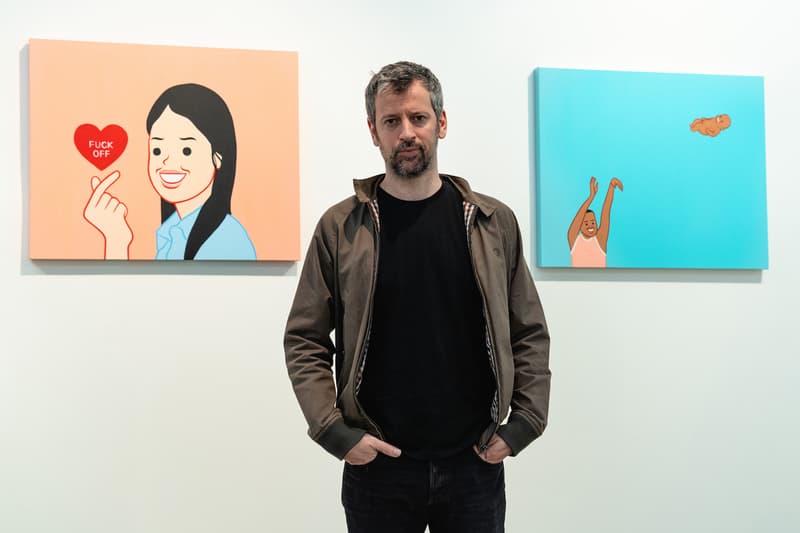 Barcelona-born artist Joan Cornellà is widely-known for his figurative paintings that are often described as morbid with a tinge of humor. Cornellà's acrylic on canvas works portray cartoonish subjects typically engaging in unsettling scenarios that ostensibly reflect socio-political issues on a global scale such as racism, abortion, and pollution. In certain cases, the artist has portrayed world leaders such as Donald Trump, Kim Jong Un, and Vladimir Putin in his visual gags that are packed with uncomfortable moments. Cornella tells HYPEBEAST that he aims to expose the inherent hypocrisy of human conditions with these pieces.
This Friday, Cornellà will launch his latest solo exhibition entitled "Keep it Real!" at New York City's GR Gallery. The body of work will include roughly 15-20 paintings that are a mix of both old and new original works. Ahead of the exhibition launch, we sat down with the artist to discuss the inspirations behind his humorously grim works, audience reactions, and his thoughts on America's current political landscape.
Tour the exhibition in the slideshow above and read our interview below. "Keep it Real!" will launch later today with the show to conclude on May 26.
"The material of my work comes from fiction."
Tell us about your new show at GR Gallery, are you touching on any new themes
My works at the show are basically the same as previous shows. I also use the same topics and themes, so it's not going to be a major difference than my previous exhibitions. I always prefer to mix ideas and not working with just a single theme or concept. For "Keep it Real!", I hope the American audience doesn't get offended. I know it's a big issue sometimes when you talk about certain topics. We'll see.
Where do these themes come from?
The material of my work comes from fiction. I rarely work from ideas that come from reality. I think that's important because people tend to think that it's related to reality in a strong way and I don't think there is. I can tell there is some social commentary, but it's not the main point of my work.
How long have you've been working in this style?
It's been six years now since I've been doing this type of work. I studied fine arts in Barcelona, a university that was really related to conceptual art so I have this background. When I was studying, I was actually interested in other things than drawing or painting. The work I was doing there could somehow be related to the work I'm doing now.
What do you hope viewers will gain from viewing your paintings?
I want to keep it as open as possible. I don't want to talk about what I think, because it's more important what the public gets from my works, their opinions are more interesting. With this comedic work, I don't like it when people take it literally. I prefer the work to speak for itself.
"These days, people are really polarized."
Tell us about your biggest influences.
At some point, Robert Crumb was one of my biggest influences or Daniel Clowes. There's a mix of inspirations in my works, old American advertisements from the 1950s and things like that. When I was studying fine arts, I was interested in the work of Barbara Kruger and Michael Ray Charles — there's a political influence behind their works and it's somehow in my works. I work with that material, but it's not the main point of my work.
What are your thoughts on today's political landscape in America?
These days, people are really polarized. There's no debate sometimes, it's more of an aggressive way of talking, especially in the United States. From there, it's been spread around the globe, like on social media.
What sort of comments on your pieces do you get on social media?
Sometimes, it can be very violent. I try not to get involved with the comments. The responses could be upsetting if they look at it the opposite way of what I'm trying to express in my work. I made a work on Trump and I lost so many followers after posting the artwork. That was my most politically-charged work and I don't like to be attached to it.
Elsewhere in art, Todd Kramer of Ross+Kramer Gallery recently launched a new group show in Brussels called "New Image Portrait" that spotlights dynamic works by leading contemporary artists.
GR Gallery
255 Bowery
New York, NY 10002