Drake, Rihanna, LeBron & More React to Nipsey Hussle's Death
R.I.P.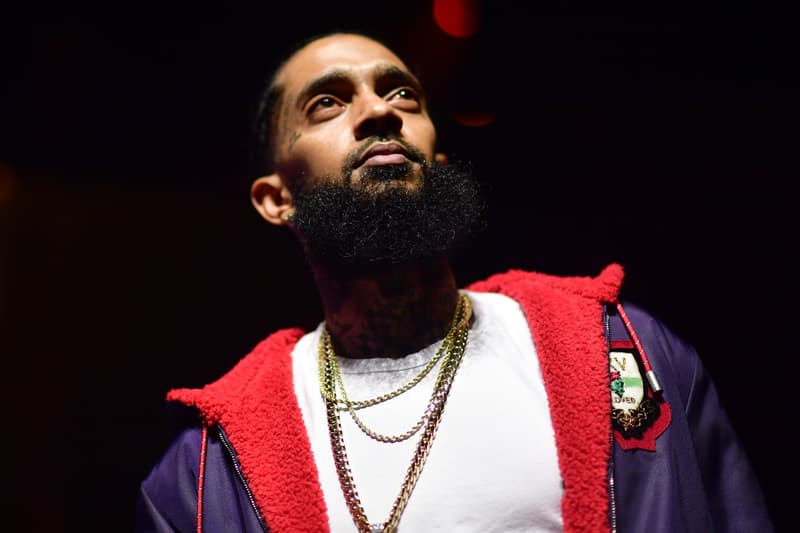 A few hours ago it was reported that American rapper Nipsey Hussle has died. Hussle, whose real name was Ermias Ashgedom, was shot multiple times just outside of his Marathon Clothing store located in Hyde Park, Los Angeles. He was 33-years-old and is survived by a daughter, Emani, and a son, Kross. Reports have also stated that three other men were shot.
Having made a strong impact on the hip-hop world with his street-savvy lyrics and ambitious anthems, some of the industry's heavyweights, including Drake, Rihanna, LeBron James, Meek Mill, Chance The Rapper, Gucci Mane, among others have given their condolences to Hussle. View some of the reactions to Nipsey Hussle's passing below.
Broke me…. we really fighting for our lives against our own kind and really have to take risk and match the level of hatred that we are born in .. I'm tired ?? prayers for my brother and his family

— Meek Mill (@MeekMill) April 1, 2019
RIP Nipsey man. This is tragic

— Chance Owbum ? (@chancetherapper) April 1, 2019
Rip Nipsey Smh sad!

— Gucci Mane (@gucci1017) April 1, 2019
This doesn't make any sense! My spirit is shaken by this! Dear God may His spirit Rest In Peace and May You grant divine comfort to all his loved ones! ???
I'm so sorry this happened to you @nipseyhussle pic.twitter.com/rKZ2agxm2a

— Rihanna (@rihanna) April 1, 2019
This is so fucking lame, one of the most genuine and authentic people I've ever met. INFINITE PRAYERS TO HIS FAMILY AND LOVED ONES ?????? R.I.P NIPSEY HUSSLE ?

— Cordae' (@YbnCordae) April 1, 2019
RIP Nipsey this shit crazy ??? https://t.co/FrWhnFNoq1

— Soulja Boy (Drako) (@souljaboy) April 1, 2019
I can't believe It damn! R.I.P. Nipsey Hustle prayers up for the family ??

— juicy j (@therealjuicyj) April 1, 2019
Watching Nipsey inspired me to invest and own in our communities. He was a solid man who loved his woman, his family and his community. This hurts.

— Issa Rae (@IssaRae) April 1, 2019
May the LEGEND rest Peacefully @nipseyhussle One of the REAL ones your place will be cemented until the end of time ?? @ Donald Lee Hollowell In Bankhead https://t.co/4dbVSmUYOp

— WESTSIDEGUNN (@WESTSIDEGUNN) April 1, 2019
That just really really hurt can't help but drop tears ! Nip is solid and stood for something that represented growth And unity . His spirit will live forever!!!sleep in peace king !!!

— ghost (@therealstylesp) April 1, 2019
Damn these folks just kilt Nipsey. That's why I don't care about being famous cause the hate is real I try to put out enlightening music and stay out the way!!! R.i.p Nip positive brother smh this one hurt ?!!!

— CYHI THE PRYNCE (@CyhiThePrynce) April 1, 2019
REST IN PEACE NIPSEY! EVERYTHING YOUVE DONE FOR US WILL NOT BE FORGOTTEN AND MY DEEPEST DEEPEST CONDOLENCES AND PRAYERS GO OUT TO YOUR FAMILY AND @LaurenLondon this shit is sick

— REASON TDE (@reasonTDE) April 1, 2019
Horrible news about Nipsey Hussle. Dude was a hustler and did a lot for his community. Watched him turn into a great artist thru the years as well. Honor to say he rapped on a few of my beats as a man. Rest peacefully.

— Statik Selektah (@StatikSelekt) April 1, 2019
RIP Nipsey ?

— ??????? (@nessly24k) April 1, 2019
Sad, mad and disappointed about my guy @NipseyHussle

— Ice Cube (@icecube) April 1, 2019
Me Spitta and Nip was all sleepin on couches when we linked up. This shit got me super sad.

— Wiz Khalifa (@wizkhalifa) April 1, 2019
MY HEART GOES OUT TO NIP N HIS FAM MAN , THIS MAN WAS ON THE RIGHT PATH AND DOING BETTER IN LIFE , N NIGGAS DO THIS EVIL SHIT, THIS GAME IS SO SHADY ITS DISGUSTING, RIP TO ONE OF THE ONLY REAL ONES LEFT @NipseyHussle ?? SLEEP IN PEACE KING

— LORD FLACKO JODYE II (@asvpxrocky) April 1, 2019
Heart aching for someone i never even met ….. i felt your reach Nipsey !! You impacted the world. ?

— Brianna Perry (@BRiANNAtheYRB) April 1, 2019
I never had the chance to meet or work with Nip, but I salute any brother working to turn his life around and make a positive impact on his community. 33 is far too young to die. Rest well, soldier.

— Phonte (@phontigallo) April 1, 2019
Wow, nipsey was genuinely one of the realist niggas in the game. Smh rip. ??

— underdog (@lilyachty) April 1, 2019
REST IN PEACE NIPSEY HUSSLE

— Vince Staples (@vincestaples) April 1, 2019
We lost 1 of tha realest today.
Rest In Peace @NipseyHussle.
Praying for your family.????

— Brent (@brentfaiyaz) April 1, 2019
#RIPNIPSEY ?? pic.twitter.com/nwW9d4pmCn

— QuavoYRN (@QuavoStuntin) April 1, 2019
PLEASE PRAY FOR NIPSEY!!! MY GOD! PLEASE! ??

— Rapsody (@rapsody) March 31, 2019
RIP NIPSEY HUSSLE

— J. Cole (@JColeNC) April 1, 2019
It hurt when you see peers go

— J. Cole (@JColeNC) April 1, 2019
Real one after real one smh R.I.P Nipsey the solid morals you stood on and your legacy will last 4L!!

— Saint Laurent Don (@21savage) April 1, 2019
That's Fucked up how they did Nipsey

— ZXLTRXN (@denzelcurry) April 1, 2019
I'm lost for words right now smh

— Jay Rock (@jayrock) April 1, 2019
Rip Nipsey Hussle I respected the Knowledge He Had & Da way he carried his self as Anotha Black man Over Comin The Same struggles that we all Suffer From Prayers To his family??????

— Polo.G???✨ (@Polo_Capalot) April 1, 2019
??????‼️‼️‼️‼️ So so SAD man!! DAMN man this hurt.

— LeBron James (@KingJames) April 1, 2019
Join Our Discussions on Discord
The HYPEBEAST Discord Server is a community where conversations on cultural topics can be taken further.