Best New Tracks: Travis Scott, Lil Uzi Vert, ScHoolboy Q, Lil Peep, Sauce Walka & More
Another strong week in music.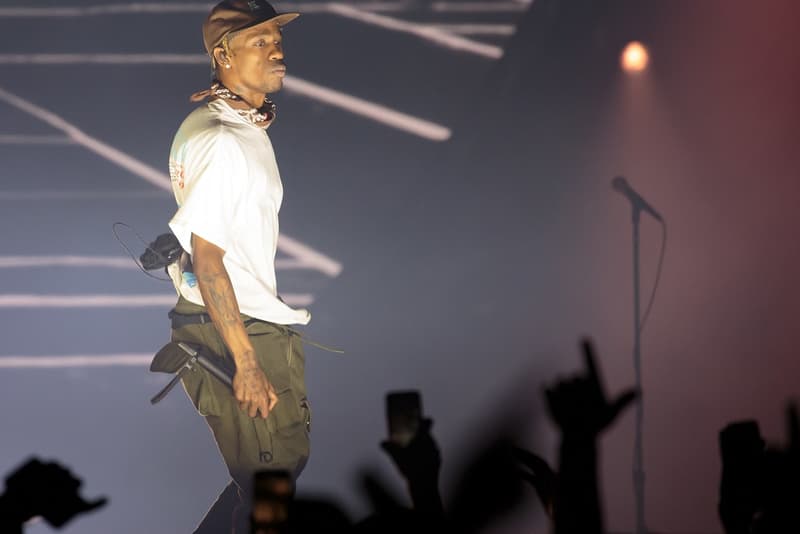 Previously, we declared new releases from Trippie Redd, DaBaby, Mach-Hommy, Jamila Woods, Conway The Machine and others to be the Best New Tracks of that week. Now, we're spotlighting new projects, videos and records from ScHoolboy Q, Lil Uzi Vert, ALLBLACK, Sauce Walka, Maxo Kream, Azjah, Anderson .Paak, Lil Yee, Yhung T.O., Haiti Babii, Kaytranada and more. You can check out our Best New Tracks roundup for this week below.
Tame Impala- "Borderline"
Australian psych-rock act Tame Impala have released their second single of the year, "Borderline." Originally premiered during their recent Saturday Night Live debut, the track relies heavily on bouncy, dancefloor-tailored synths and is rooted in the same psych-disco sounds that propelled the group's previous 2019 single.
Lil Yee, FMB DZ & Lil Pete – "Sacrifice"
A few weeks after the release of his studio album Live 4 It, Die 4 It, fast-rising Bay Area artist Lil Yee reconnects with FMB DZ and Lil Pete for the visual in support of their Helluva-produced Live 4 It, Die 4 It collaboration "Sacrifice." Shot in San Francisco, the trio's "Sacrifice" clip was put together by Mota Media and features cameos by EMPIRE founder Ghazi Shami and the label's VP of operations Nima Etminan.
"Live 4 It, Die 4 It is just a quote about life, basically what you live for and what you die for. Music is something I live for," Lil Yee explained to us this past February, elaborating on the themes of his recent full-length project and the motivations behind songs like "Sacrifice."
Maxo Kream- "Meet Again"
At the beginning of this year, Maxo Kream delivered his first release of 2019 and his first major solo single since the delivery of his critically-acclaimed 2018 album Punken. Dubbed "Meet Again," the record featured production from Teej and Mike Dean and revolved around Maxo Kream's somber and sobering portrayal of street life and his criticisms of the United States' criminal justice system. For the official "Meet Again" video, Maxo Kream and director Shomi Patwary provide viewers with an unflinching, unsettling look inside the confines of prison buildings and the lives of those who are forced to inhabit them, providing the original track with a fittingly-dark visual companion. This also marks the second time that Maxo Kream and Shomi Patwary have worked together on a music video for one of the Houston rapper's standout singles, as the pair previously teamed up for the striking "Roaches" vignette.
Yhung T.O. – "Hold It Down"
Last month, SOB X RBE star Yhung T.O. released a new solo project known as On My Momma 2. Following up that effort, the Vallejo artist swiftly resurfaces and supplies a visual for the YoRittchieHitThatShit-produced On My Momma 2 standout "Hold It Down."
Prada Mack & Geechi – Tag Team Champions
For their first formal studio albums, Oakland rappers and PRA affiliates Prada Mack and Geechi come together for a collaborative project titled Tag Team Champions. Notably, the LP features ten new tracks, including a collaboration with ALLBLACK and Offset Jim and production from DTB.
"We already had been tied in and f*cking with each other, then we did 'Sue Me,' and we were like, 'this is a crazy sound, we need more,'" Prada Mack told us, explaining how Tag Team Champions came to be. "We just started putting it down and recording. We were going back and forth and it was just so natural and crazy and we just went running with it. Everything happened so organically and it was just powerful. We recorded so many damn songs and so fast that even we were like, "damn, hold on now!" Everything we did just turned out crazy."
ScHoolboy Q & Travis Scott – "CHopstix"
Building anticipation for his next major studio album, ScHoolboy Q serves up a new joint-single with Travis Scott, "CHopstix." Along with the release of the song's audio, we have also received a Nabil-directed black-and-white video to supplement the actual single. While other details concerning Q's upcoming LP are still being kept under wrap, it looks like we can expect much more in the near future.
Kaytranada & VanJess – "DYSFUNCTIONAL"
Chances are good that the follow-up to Kaytranada's 2016 debut album 99.9% might be on the way. Teasing a potential rollout for his sophomore LP< Kaytranada releases a new single featuring VanJess, "DYSFUNCTIONAL."
"'DYSFUNCTIONAL' was really this song about not calling me back and everything, or not, a relationship that doesn't work and you want this relationship to work, but it's not gonna work. And that's what I'm aiming for on this song," Kaytranada explained to Zane Lowe earlier this week, revealing the back-story behind his new track. "I came out with this little hook that you hear in the beginning. That's me singing, and I just had this idea of whatever. Not calling me back. What's up with that? And VanJess came too, I think, like couple hours later and then just did what they did perfectly. Like in one take."
ALLBLACK & Kenny Beats – "3 Point Stance"
Continuing to support his 2018 joint-album with Kenny Beats, ALLBLACK shares another new visual for a song off 2 Minute Drills. This time around, the Oakland legend-in-the-making reconnects with Stacking Memories to give "3 Point Stance" a visual treatment.
"Kenny turned my savage up so bad. He got me walking with my chest out, he got me turnt up, man. I was maxed, but I wasn't turnt up as I am now," ALLBLACK told us last fall, sharing some insight into his studio sessions with Kenny Beats. "Kenny doctored the f*ck out of my flow, he doctored my whole shit. Every bar, every hook, every f*cking verse! I never recorded like that ever."
"ALLBLACK is one of those timeless artists and one of those timeless people," Kenny Beats told us. "There's no one like him; there's no one that sounds like him; there's no one that looks like him. You can't pull his card. There's no one I have showed his music to him that doesn't get it, whether they listen to this type of music or not, and I think this [ALLBLACK's music] is how Oakland really regains its title in the radio and the rap hierarchy."
Haiti Babii & Philthy Rich – "Without You"
Fast-rising Stockton hometown-hero Haiti Babii has announced his debut studio album and released its lead single to give listeners a preview of what's to come. Known as Warrior, Haiti Babii's upcoming full-length project is being introduced with a new video for its Philthy Rich-assisted cut "Without You."
"With me being born in Oakland and raised in Stockton, it's just a wonderful combination," Haiti Babii shares with us, opening up about his reasons for collaborating with Oakland-rap heavyweights like Philthy Rich.
"Keep it original and authentic — show love," Haiti Babii shared with us when questioned about his personal motivations for Warrior. "That's the whole point of me stepping into this game: to show as much love and leave a beautiful legacy behind … Every second is a new sound in my songs, so every time you go back to listen to my music, you find something new — it never gets tiring, it never gets boring."
Lil Uzi Vert – "Sanguine Paradise" & "That's a Rack"
After a lengthy period of anticipation, rumors, delays and controversy, Lil Uzi Vert is finally ready to unleash his long-awaited studio album Eternal Atake. Potentially giving us a preview of his next project's sound, the chart-topping superstar serves up his first new singles in many months, "Sanguine Paradise" and "That's a Rack."
Sauce Walka – "Snake"
Sauce Walka revisits his stellar 2018 studio project Sauce Ghetto Gospel for his latest visual release. Specifically, the incredibly-talented, influential Texas rapper is serving up a video for "Snake." When it comes to the street rappers who have remained relevant and active in recent years, Sauce Walka definitely stands out as one of that group's most talented artists.
Azjah – "Loved Ones"
Compton future-star Azjah is revealing plans for her first full-length studio album Princess Diaries with the debut of its lead single, "Loved Ones." Scheduled to see release on April 26 via EMPIRE, Princess Diaries is made up of 12 new songs, including a collaboration with 1TakeJay.
"'Loved Ones' was created strictly off of emotions and how I was feeling at the time. I wanted to give my respects to all my loved ones that have passed away and make sure they weren't forgotten," Azjah tells us, revealing the back-story behind "Loved Ones" and sharing her reasons for releasing the song as her debut LP's lead single. "I originally was going to drop a banger first from my upcoming project Princess Diaries, but after Nipsey passed away, the whole mood of LA changed. We lost a legend and I know 'Loved Ones' is something the West needs to hear right now. 'Loved Ones' is just one of the many heartfelt songs on my project dropping on 4/26, in the meantime I want to show my respects to the city and Nipsey Hussle."
Lil Peep, ILoveMakonnen, Fall Out Boy – "I've Been Waiting"
Visual artist and designer Sus Boy has put together an animated visual for Lil Peep, ILoveMakonnen and Fall Out Boy's "I've Been Waiting" single, and the vignette is being shared as the song's official music video.
"Peep wanted this video to bring people up into the clouds, into the fantastical world of his mind," Sus Boy explains. "Making it now, alongside Makonnen, is our way of visiting him again."
"This video is a magical one," Liza Womack, Lil Peep's mother, added, taking to Instagram to express her thoughts on the "I've Been Waiting" vignette. "Gus and Makonnen came up with the idea for it two years ago. I'm so glad the idea has been realized. You will see the subtle presence of Gus in it, if you look closely. Well done, guys!"
Anderson .Paak – Ventura
Less than six months after the release of his Oxnard LP, Anderson .Paak debuts its full-length follow-up, Ventura. Anderson .Paak's latest album features 11 new tracks, including collaborations with Smokey Robinson, Lalah Hathaway, Jazmine Sullivan, Sonyae Elise and Brandy. Notably, a posthumous vocal arrangement from Nate Dogg can also be found on the album's finale, "What Can We Do?"