Prada Mack & Geechi Unite for Their Debut Album Together, 'Tag Team Champions'
10 new tracks from the rising Oakland rappers.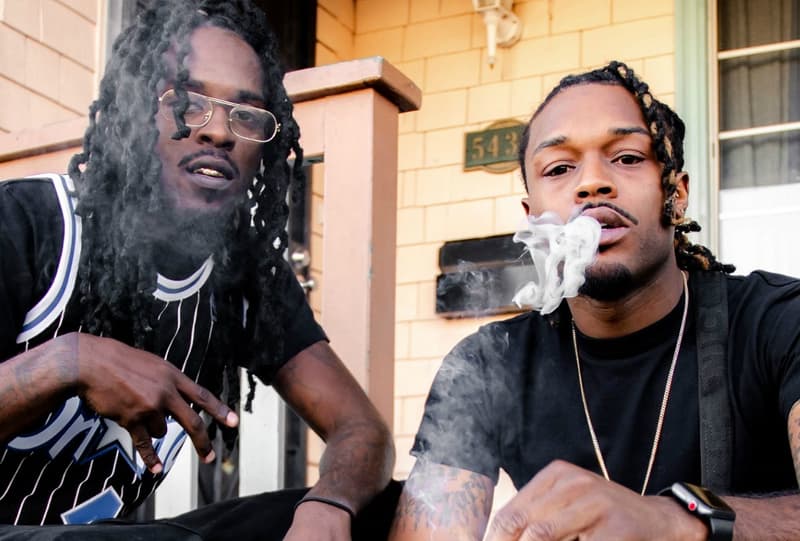 Less than one month after announcing the project, Oakland rappers Prada Mack and Geechi are releasing their debut collaborative album. Known as Tag Team Champions, the PRA pair's new project features 10 new tracks, including the previously-shared singles "Ante Up" and "TLC." Besides Prada Mack and Geechi's unique flows, Tag Team Champions also features verses from ALLBLACK, Offset Jim, making this a strictly-PRA affair. Like past full-length releases from ALLBLACK and Offset Jim, this project also finds DTB assuming the role of the primary and executive producer.
"We already had been tied in and f*cking with each other, then we did 'Sue Me,' and we were like, 'this is a crazy sound, we need more,'" Prada Mack told us, explaining how Tag Team Champions came to be. "We just started putting it down and recording. We were going back and forth and it was just so natural and crazy and we just went running with it. Everything happened so organically and it was just powerful. We recorded so many damn songs and so fast that even we were like, "damn, hold on now!" Everything we did just turned out crazy."
"Everyone will tell you, I've been making music for a long, long, long, long time. It just became a passionate thing," Geechi previously shared with us, opening up about the origins of his career as a rapper. "I just put my poems on a beat. That's why I love my gang: because the shit that we rapping about, the shit that we talking about, this shit is real — I'm seeing it. I know a lot of people out here lie about their lives in their music and I see it … we put everything in this music and it's legit, it's 1000, ain't no one telling no lies — I love this shit. That's why, to me, my gang's the realest … That man [ALLBLACK] is a legend. He's one of the realest n***as and he'll tell you, 'Geechi got me in the studio.'"
You can stream Prada Mack and Geechi's new Tag Team Champions project below, and keep an eye out for more from the PRA camp.
For more, revisit Offset Jim's debut project No Pressure.