What to Do in the UK This Week
All the best music, art and fashion events from March 15-21.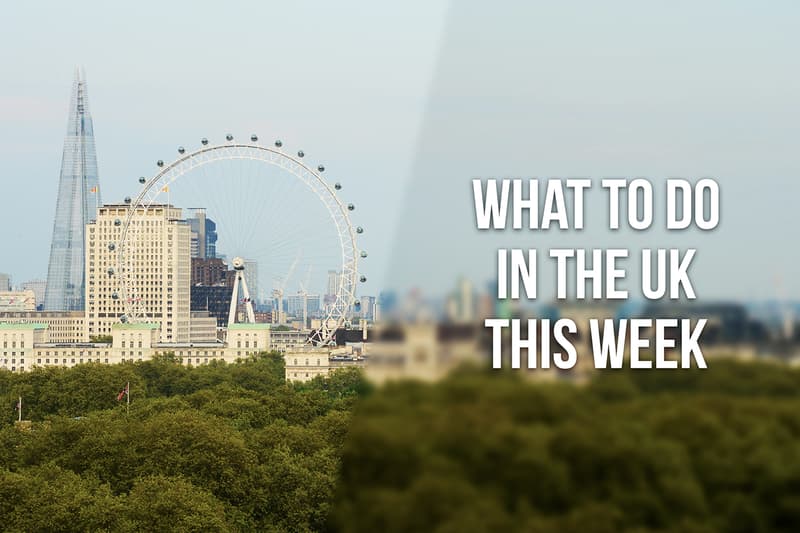 At a loose end for happenings in the UK for the next week? HYPEBEAST has plenty of options for you. There's more than enough happening this week, the concerts this time lead with Anderson .Paak, Yxng Bane, SmokePurpp and Lil Xan.
There's also more than enough sample sales, new restaurants and exhibitions to visit while you're in the city. So without further ado, here's a list of happenings on the weekend of March 15 and beyond.
Music & nightlife
Anderson .Paak & The Free Nationals
Where: Alexandra Palace
When: March 15, 6:30pm
Anderson .Paak is back in the UK to promote his recent album Oxnard as well as tease singles from his next album — including the newly released "King James" from upcoming album Ventura. Performing alongside his longstanding band the Free Nationals, expect a great performance from the musician.
Where: O2 Forum Kentish Town
When: March 15, 7pm
Smokepurpp is in town on the same day as Anderson .Paak and if you can't get tickets for the former, purpp is available. Expect him to perform hits such as "Sauce like this." 
Where: O2 Academy Brixton
When: March 15, 7pm
East London's Yxng Bane is a notable member of the growing Afro Swing movement in the UK and he appears in Brixton's O2 Academy to cap off a music-filled evening.
Where: Manchester Academy 3
When: March 16, 7pm
Smino takes to Manchester on the following day, performing tracks from his 2018 album Noir. The musician was last seen performing "Ace" alongside Noname and Saba on The Tonight Show.
Where: O2 Academy Islington
When: March 17, 7pm
Lil Xan is in Islington, performing hits from his Total Xanarchy and Heartbreak Soldiers projects. The rapper also appeared on Pornhub's Valentines album, which may or may not be performed at this show.
Food
Where: 13 Cosmo Pl, London WC1N 3AP
When: March 15
Guirong Wei is the chef behind famed Chinese restaurant Xi'an Impression and now she's opening up her first solo restaurant. Called Master Wei, the food is a mixture of traditional Chinese dishes and Wei specials, all within an affordable price range.
Where: 227-229  Hoxton Street, N1
Monty's Deli isn't a new restaurant, but it's one that's well worth a visit if you haven't already. With three locations across the capital, the restaurant specializes in what they call "NYC style Jewish soul food," creating salt beef and pastrami reuben sandwiches alongside a host of complimentary mains.
Art & Cinema
Where: House of Illustration, 2 Granary Square, King's Cross, London, N1C 4BH
When: Until May 12
Sister Corita Kent is renowned for her work in the 1960s that at first put religious texts alongside advertising slogans and then later used her art against racism, misogny, poverty and war. A nun, Kent was a key part of capturing the anti-Vietnam war movement as well as civil rights and feminism. The House of Illustration is showcasing the biggest retrospective of Kent's work in the UK and is on until Mid-May.
Where: Pitzhanger Manor & Gallery, Mattock Lane, London, W5 5EQ
When: 16 March – 18 August 2019
Pitzhanger is relaunching with a new Anish Kapoor exhibition. As we said in our feature on the news, "the exhibition itself will feature a range of sculptures and works — including some that have never been seen in the UK — that are intended to "engage the viewer and their surroundings in a constantly fluctuating form."
Fashion & Shopping
maharishi Sample Sale
Where: March 15 11am-7pm, March 16 11am-6pm, March 17 12pm-5pm
When: 14-16 Great Pulteney Street, Soho, London, W1F 9ND
The latest sample sale is a good one. maharishi are having a huge sale with daily restocks of everything from archive samples, mens, womens and kidswear as well as art, books, toys and military surplus goods. If you're a fan of maharishi, you'd be foolish to miss it.